CrossFit: The Fitness Freaks of Engine 38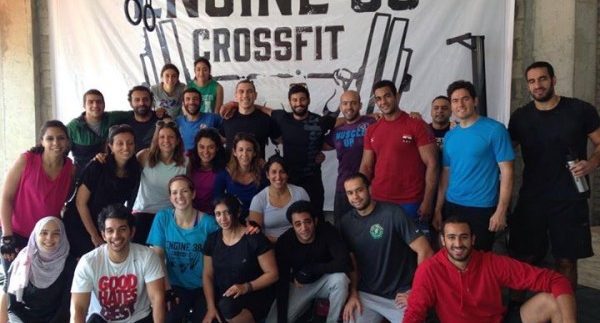 While some are born with a natural devotion to regular exercise, others feel more comfortable surrendering to the basic human instinct of avoiding any activity that requires physical effort. With that said, let's take a moment and admire those who commit to the world of fitness by creating communities, so to speak, that have motivated others to get up and start moving. With the increase of fitness popularity and the social pressures of vanity, people of all ages around Cairo have become increasingly motivated to follow a path of a healthier lifestyle.
While workouts with repetitive routines become unchallenging and monotonous after a while, global fitness program, CrossFit, encourages people to reach their goals by varying their everyday practices and combining different elements of high-intensity, physical work-outs.
First introduced in 2011 by CrossFit coach, Ramy Saleh – making CrossFit Stars the first affiliate in Cairo – the teams have now spread throughout the city, making it the most popular and challenging sport there is in Cairo. While all teams are guided by certified CrossFit trainers, the programs help set new aims by implementing a different method of exercise each day, known as the 'work out of the day', or as they like to call it, the WOD.
However, their challenging motives do not end here; taking things to a much more professional and competitive level, the CrossFit teams encourage their clients to become true athletes by training them to push their limits and competing in the CrossFit Games against one another.
While all CrossFit teams are highly motivating, hats-off goes to the newest and most high-spirited team, Engine 38. Encouraging a fierce workout with a positive, team-effort community, Engine 38 is an upbeat fitness foundation that promises to boost energy and enthusiasm. Led by Kareem Yasser, Ahmed Abaza, Dalia Badrawi, Mahmoud El Guindi and head coach, Mourad Gaber, all are ready to push their clients to train with passion and commitment to bringing out the potential athletes from within.
The Engine38 team host their sessions in Allegria at the Tempo Clubhouse, from Sundays to Thursdays, at different times throughout the day. The group sessions are one hour long, starting with a basic warm-up to get the blood flowing, followed by a strength work out. Moving onto the WOD, consisting of different methods from the day before, include Olympic weight lifting, power lifting, kettle bells, running, rowing and basic gymnastic movements. The sessions end by cooling down and stretching the body, depending on the intensity of the workout.
While some fear the intimidation of challenging themselves in front of unfamiliar faces, Engine38 help by creating an easy-going environment for their clients. For example, a beginners program covers all the basic ground rules and postures that need to be mastered in order to guarantee the safety of their clients and develop their understanding of the workouts.
For those who want to give it a try, the first trial session is free of charge and gives a basic idea of what goes on. A one-month program with three sessions per week is 450LE and for those who would like to go for the full on five days a week, the cost is 600LE. If one month isn't enough, three month package deals are also available.
Also offering CrossFit for kids, the team designs programs specifically made to help the little ones develop. In a group setting, the youngsters engage in fun workouts, consisting of functional movements to stimulate their fitness level. The groups are divided depending on their age. Group A is for ages between 3 and 6 years, where they engage in foundational activities which do not include any weights, but instead, basic, supervised exercises. Group B, made up of ages 6 to 12 years, participate in more advanced workouts, introducing core CrossFit movements and gymnastic-style training.
Engine38 have successfully built themselves a winning reputation; continuing to impress, they've recently granted their regulars with the soft opening of their latest gym, the CrossFit Box. Considered home to all cross fitters, the barebones gym is fully equipped with all the necessary gears such as bumper plates and rings needed for the WOD. With a seemingly unwavering spirit, Engine38 have successfully built their own community of enthusiastic fitness freaks.
To find out more about CrossFit's Engine 38, check out their Facebook page.