Ten Easy Healthy Office Lunch Ideas Using Bake Rolz
Ask anyone who works in an office and they'll all tell you that the hardest part of their day is lunch. The eternal question of what to eat is an everlasting struggle; do you bring lunch from home, or do you order in? If you do order, do you settle, once again, for the standard fast-food burger or pizza, or do you dare try to order something a little bit healthier, risking a potentially limp salad or a cold, slimy soup? It's an issue that we all face.
That's why we've teamed up with our good friends at Bake Rolz in an attempt to come up with some simple, pocket-friendly, waist-trimming, but above all delicious alternatives.
Mini Bake Rolz Sandwiches
Why battle with the inevitable heavy stomach that results from eating another greasy burger or sandwich when you can enjoy the veritable smorgasbord of options open to you if you decide to make your own sandwiches. Variety is the name of the game, and the choice of what to put between two crunchy golden Bake Rolz is entirely yours. You can go for the quintessentially Egyptian luncheon meat, or add a dash of decadence with a salmon and cream cheese Bake Rolz bagel.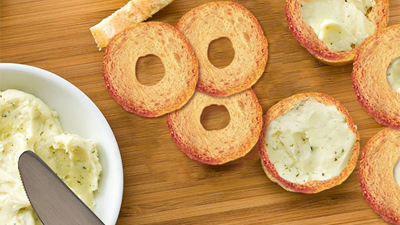 Soup Croutons
Soup is a popular option amongst office eaters due to its inherent simplicity and ease of use, being edible with one hand, leaving the other hand free to finish whatever boring report it is you're working. However, one common complaint is that it isn't particularly substantial or filling. As always, Bake Rolz is here to save the day. Take a handful of your Bake Rolz flavour of choice, throw them in the soup, and you've immediately got a simple, healthy, and filling meal. We recommend a dash of the delicious chilli and lemon flavour in a rustic tomato soup for a taste sensation.
Bake Rolz & Dip
Think of this as a throwback to the classic Egyptian technique of ghamesing. Take any flavour of Bake Rolz, grab a pot, bowl, or bucket of any dip of your choice, and don't stop until you hit the bottom. Chips and dips may seem like the mainstay, but replace those chips with a healthy, baked alternative like Bake Rolz, and eat with impunity. We recommend the delicious, simple salt flavoured Bake Rolz and some delicious homemade humus for an easy office treat.
Add Some Crunch to a Salad
A salad ordered is a salad wasted. A variety of factors like the Egyptian heat, poor hygiene standards, and a lack of care and attention means that a salad ordered from a restaurant and delivered to the office will by all accounts arrive in less than optimal condition. So why don't you cut out the disappointment, and make your own salad at home, with some delicious Bake Rolz croutons. You can throw off the shackles of the salad menu, and include the freshest versions of whatever you want. Why not try the cheese and olives flavour in a lettuce, tomato, and chicken salad for some much needed crunch.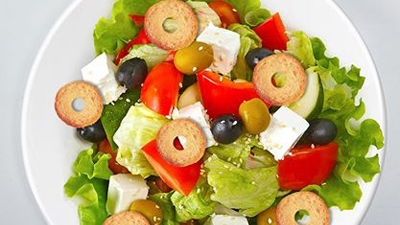 Sweet & Savoury
Mixing sweet and savoury seems to be all the rage lately, but it dates back to the age old tradition of dipping your French fries in your milkshake. Why not try an equally delicious, but much healthier option? Take a bag of salted Bake Rolz, and add a light coating of your chocolate spread of choice. You get the best of both worlds of salty and sweet, but also the best of both worlds of delicious and healthy.
Mini Pizza
Pizza is a common office lunch standby, but it can do scary things to your waistline, not to mention your bank account. It's a perfect storm of fatty, greasy and expensive, so why not save yourself the grief (and the money), and try an easy alternative. Tear open a bag of the pizza flavoured Bake Rolz, and let your imagination run free with toppings. We recommend white cheese and baby tomatoes, but don't take our word for it, try it out!
Canapé
Add a little bit of class to your lunch with some simple but delicious canapés. Using Bake Rolz as a base, stack those toppings as high as you want, and a little bit of garnish if you're feeling a little bit posh. A good starting point would be adding cheese and olives to, what else, the delicious cheese and olive flavoured Bake Rolz! The sky is the limit!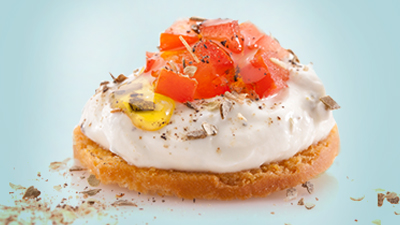 Just Bake Rolz
Why mess around? They're easy on the waistline, easy on the wallet, and above all, easy on the tastebuds. Grab your favour of choice, open up the bag, and chow down on what has become Cairo 360's favourite snack.
Click here for more info.
Photos courtesy of Bake Zone Facebook page.