The Right to Climb Initiative and How to Climb Mount Kilimanjaro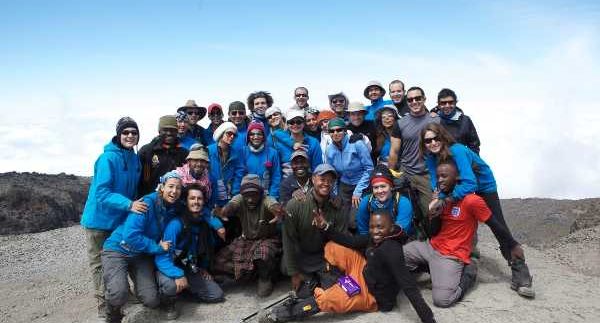 This weekend, while many of us were
relaxing by a pool, enjoying the oh-so-refreshing Cairo
weather, 26 dedicated individuals that joined the Right to Climb
initiative reached the peak of Mount Kilimanjaro, Africa's
highest, free-standing mountain peak. This is quite an impressive feat when you
consider that the climb has a 60% success rate!
Each member of the climbing crew attempted to raise a target of 20,000LE through sponsorship and personal donations, with all
proceeds going directly to the Right to
Live Foundation, a charity organisation dedicated to improving the lives of Egyptians facing mental disabilities. To top it off, the trek was designed to be completely
green, eliminating its carbon footprint through donations to environmental
reconstruction.
Although Mount Kilimanjaro is Africa's highest peak at 5,893 metres above
sea level, it is an excellent candidate for first-time climbers. Take note: this means some serious preparation for a mountain climb is necessary. However, even those that have let themselves go over the summer can whip themselves into shape– at least for the initial week climb before the grueling ascent begins – with a healthy dose of self-discipline and a little determination.
The beginning stretch makes for a
novice-friendly trek, which got us interested in finding out exactly what it
would take for the average computer-addicted, comfortably car-bound urbanite to
conquer the peak.
Ideally, your fitness training schedule should
begin about three months before your scheduled climb. Overkill, you may say;
but in this case, slow and steady wins the race. Resist the urge to cram
intense physical training into a few weeks before you embark on your Mt. Kili
adventure– this is not a university exam, and endurance is the most important skill
to develop. Sign up for a recreational class, (think step aerobics, zumba
dancing, maybe some kickboxing for the very ambitious), increase your daily
walking hours, and pace yourself– your body will build endurance and get used
to more regular movement in no time.
Take a few practical measures with your
diet. This can be as subtle yet as important as cutting out soft drinks,
junk food and candy. You'll be surprised what a few weeks without Pepsi can do
for you! Replace your usual vices with some healthy lean proteins and plenty of
non-artificial fluids; i.e. water and natural juices.
After about a month, kick your physical
activity up a notch by increasing the frequency of workouts, walking, or
jogging, and do your best to continue eating like a healthy person.
Sounds shockingly easy, no? Still, don't
forget that preparing to climb a mountain is serious business, and keeping a
steady routine can be quite a challenge. Before you go off to purchase your
fancy climbing gear to get yourself fully mountain-ready, keep in mind that your
last week before you hit the mountain trail should be spent lying low and
getting plenty of rest so as to be rejuvenated and ready to take on the ascent.
This is not an excuse to spend hours in search of those right-next-to-the-entrance-of-my-apartment-building
parking spaces, just to save the trouble of walking a few extra metres.
Hopefully, we can take
a tip from the Right to Climb crew and gear up to brave the peaks of Mount Kilimanjaro ourselves.