With Wimbledon at an end, Egyptians couldn't help but point out the success of Egyptian tennis player Mayar Sherif. While she may have been eliminated early on in the tournament, we saw immense pride on the part of Egyptians that one of their own was even participating in a Grand Slam competition. This happened after Sherif became the first Egyptian woman in history to reach the second round of Roland Garros for two consecutive years last month and was named champion at the Valencia Open a few weeks after. Her achievements have earned her a spot as 31st in the Women's Tennis Association (WTA) rankings, beating Egypt's tennis legend Ismail El-Shafei, whose career-high ranking by the ATP (Association of Tennis Professionals) was 34th. Sherif is far from the only female Egyptian athlete making headlines over the past few years. As a matter of fact, out of Egypt's six medals at the last Olympic Games, half (including our only gold medal) were won by women; yet women's sports don't appear to get much attention beyond momentary praise for winning awards.
We've all heard the stereotypes: "Women's sports are boring" or "men play better than women". Keeping human biology aside, even if men are actually stronger than women, should women's lesser muscle mass and bone density cause them to be dubbed "bad at sports"? Studies show that women's sports get less media coverage than men's. With rates in the US as low as 5.4% on ESPN's SportsCenter, one can't help but wonder why that is – even with women's sports being less popular. Arguably, one of the main reasons why people don't pay much attention is precisely because of the lack of coverage. But with so many of Egypt's top competing athletes being women, it feels difficult to ignore.
Let's take a deep dive into women's recent achievements at the Olympics. Since weightlifter Sara Ahmed Samir became the first Egyptian woman to secure an Olympic medal in Rio De Janeiro in 2016, coming third with bronze, female athletes have been on a roll. That same year, Hedaya Malak also secured bronze in women's taekwondo, securing women with two out of Egypt's three medals in Rio. And while swimming champ Farida Osman may not have won any medals, she set an African record with a time of 58.26. The following round of the Olympics in Tokyo witnessed an Egyptian record of six medals, including three for the women. Another set of records was broken in Egyptian sports, as Feryal Abdelaziz became Egypt's first female gold medalist, and Hedaya Malak became the first Egyptian woman with two medals. Karateka Giana Lotfy was Egypt's third female medalist that year.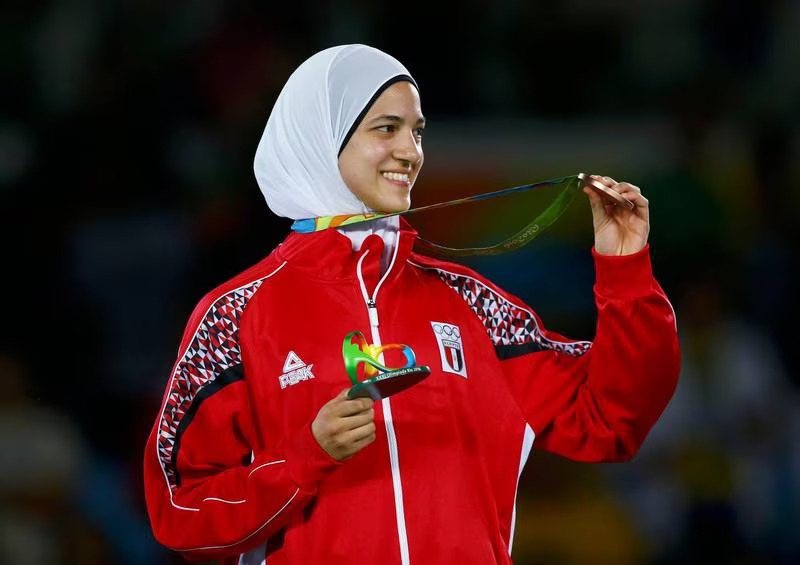 You may be wondering what the point of all of this is. While lack of coverage and attention to women's sports is a real issue worldwide, it should especially concern us at home in Egypt because of the monumental weight female athletes have had in Egyptian sports lately. Between all the names we've mentioned, from sprinter Bassant Hemida, who made headlines after securing two gold medals at the Mediterranean Games, to the Egyptian monopoly over squash tournaments (eight out of the 20 highest-rated female squash players worldwide are Egyptian), and all the names we simply don't have the space in a single article for; Egyptian female athletes deserve so much more love. It simply isn't enough to congratulate Egypt's achievements on social media comments; we need to start turning on our televisions and actively watch them. After all, we're a sports-loving people, as well as patriotic. We always turn on our TVs to watch Egyptians perform on an international scale, so why are female athletes the exception?