Yoga in Cairo: Finding a Place for Peace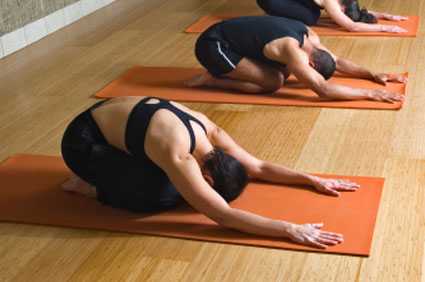 As the practice of
yoga is becoming more widespread in Cairo,
yoga classes around the city are responding to the demand; from private studios
to classes offered at various gyms. Varied options provide individuals with a
wide array to choose from, with different yoga schools practiced, as well as
time availability and locations.
Here's a list of
a few places around Cairo
that offer unique yoga classes. Choose your location and give it a go.
Inconspicuously located
on one of Maadi's tree-lined streets is the Breathing Room. With simplicity as an aim, the
establishment isn't anything fancy. Ashtanga and hatha classes are popular,
although instructor Dev Hueske teaches kundalini yoga too, focusing on
awareness and the use of one's creative energy. If you don't own a mat, the Breathing
Room has a selection for borrowed use. As the class times vary, you're bound to
find something that suits your schedule. A drop-in class is 60LE and student
discounts are offered.
Egypt
Yoga Arts in
Dokki is run by H.A. Wafaa, a long-time Yogi with over 19 years of
experience. Classes start around 80LE
and vary from nidra yoga, with a bigger dose of relaxation to yoga mudras, a
technique used to stimulate healing. Class sizes are small, providing a more
intimate session and attention from the instructor. Egypt Yoga Arts also offers
yoga for kids as well as couple and private sessions.
If something a
little more adventurous is up your alley, Chirayu Thakkar teaches from a houseboat in Zamalek.
Thakkar's style is a unique blend of ashtanga and hatha. Classes are only held in
the evenings. Sessions are a bit longer than usual at an hour and fifteen
minutes; giving you an ultimate value for your money at 60LE per class. Thakkar
also offers house calls at 150LE per session; ideal for yogis ready to go to
the next level.
Mira Shihadeh teaches ashtanga yoga in a quiet, spacious
studio round the corner from Beano's in Zamalek. Participants are welcome to
join her classes for one hour at any time from 7AM to 10AM five days a week and 7PM on Sundays and Tuesdays. Known for her strict, no-nonsense attitude and
excellent one-on-one teaching, Shihadeh has garnered a faithful following over
the years and has operated largely through word of mouth. While walk-ins are
not available, you can observe a class before signing up for their five-week
package (600LE at press time). Call 012 275 8625 for more information.
The Indian Cultural Centre, located off Talaat Harb Street in Downtown, has been
a yoga haven for years. While classes are offered on a six-week timetable,
they're separated by intermediate and beginner levels; allowing room for growth
and improvement in your yoga routine. It's recommend to sign up in advance; as
class spots fill up quickly.
While Bodyworks in Heliopolis offers two yoga classes, with a
slew of other exercise options, 40LE for an hour walk-in session will be hard
to beat. A beginner's class is available and teaches the basics of any yoga practice,
while another yoga class focuses on inner strength, flexibility and balance.
Currently, classes are offered on Tuesdays and Wednesdays only so options are limited.
Twelve hours of classes will run you 300LE making it a pretty great deal.
Yoga Classes
provide endless options for exercise and variety, based on what's best for the
individual; so try a few classes out and find your niche. You may be pleasantly
surprised by the results.