Yoga: Saluting the Sun at Home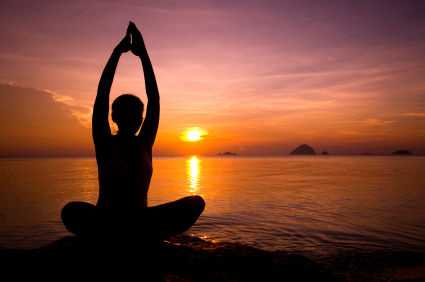 While Cairo's
outdoors environment isn't ideal for open-air exercise, the price of a gym
membership can also be sky high.
Yoga is always a
fantastic option for anyone seeking to
strengthen their bodies and be in touch with their being. Classes are offered
at various gyms and studios across Cairo, usually for a reasonable price.
However, with convenience and cost management on your side, practising yoga at
home can be just as beneficial if not more rewarding.
The ancient
practice of yoga has been alive for over 6000 years. While the word itself
comes from a Sanskrit term meaning 'the union of body and mind', yoga is both a
physical and mental exercise. Its benefits are overwhelmingly positive,
including physical flexibility, spiritual insight and healing through
meditation. While yoga's holistic approach is an important key in achieving yoga
itself, the subject can be overwhelming from breathing techniques to perfecting
those hard-to-hold poses. ­
So, here are a
few helpful tips on starting up yoga at home:
A quiet
location is an absolute
necessity for practising yoga; so choosing a space that you routinely return to
is important not only to ensure that peace, but to aid in concentration. If you
have a sun-room or balcony, these will be your best options. Otherwise, set
aside a certain space, either in the bedroom or another room that isn't used
much. Keep in mind that being able to see the sun or moon during your yoga
routine will deeply aid in the meditation process. Burning a candle or oil with
a natural scent such as ylang-ylang or lavender helps to awaken your
senses.
Although yoga can
essentially be practised on any hard surface, a yoga mat helps not only
with comfort, but also offers needed support and balance. Yoga mats vary
greatly while something non-stick and non-slip is key. Choose a simple mat that
is easy to store away and aesthetically pleasing. Mats cost anywhere from 100LE
to 400LE; the Sports Mall in Mohandiseen
carries mats for approximately 100LE to 150LE, while a mat from a Nike or
Adidas will run closer to 300LE.
Routine.
Routine. Routine. This is
where the magic happens. Yogis across the world practise various schools of yoga,
ranging greatly from Ashtanga Vinyasa, which focuses on the connection between
movement and breathing; to Hatha, which focuses on a heavily physical routine with
a linkage of both the sun and moon's energy. In terms of time, a practical yoga
session ranges from twenty minutes to two hours at max. Choosing a routine
that's right for you is imperative for meeting your goals whether you're aiming
for a more physical routine or purely meditative practice.
If it's your
first time, meet with a certified yoga instructor beforehand to provide
direction. Numerous books and DVDs are also available on the market. Simply
Yoga by Yolanda Pettinato is a DVD/book combination available at Diwan. If you can manage to locate Beth Shaw's book Yoga Fit, it also
provides fundamental basics such as various salutations and pose sequences.
Reliable websites such as the Yoga Journal
are great to check out for additional tips to help you along in your yoga
journey.
Clothing and
Music: Workout clothing
can be pricey and is not always worth the stress. All you need are a few tops
and bottoms on hand, preferably form-fitting, breathable and made primarily of
cotton, with a trace of spandex for flexibility.
While some yogis
prefer silence, having a music selection nearby isn't a bad thing. A light
instrumental compilation, or something similar to help the flow of meditation,
is what we'd recommend.
Although yoga is
an ancient practise, its modern day use could not be more profound. Yoga
enhances the individual's path to awareness while only taking a few precious
minutes of each day devoted to meditation. The benefits of yoga cannot be
fully recognized until one is a part of it. So, let your day be and do not rush. Take a deep breath and salute the
sun. Namaste..