360 Essentials: Tunes We Can't Get Enough Of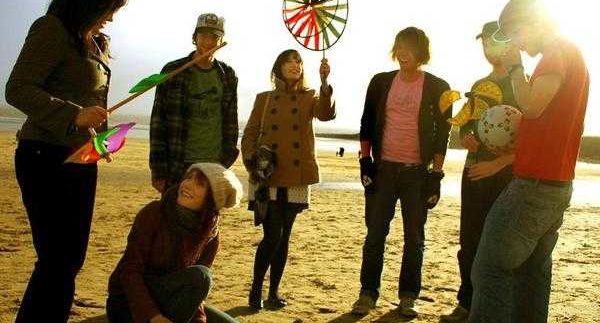 Whether
you're sitting in Cairo
traffic or jamming away at work with your headphones on, it doesn't really
matter where you are. That certain addicting song comes on and it's still as
fresh as the first time around. You just can't help but move to the beat.
Here
is a list of some of our personal favourites; so turn it up and get into it.
'Tightrope' by Janelle Monae
feat. Big Boi: If Aretha Franklin and James Brown had a baby, Janelle Monae
might fit the bill. She's a tiny, little thing, but her powerhouse vocals and
funky beats have spread like wildfire worldwide. Released in May, this song
features Outkast's Big Boi and is no exception to Monae's rhythmic, soulful
style. Monae is one of a kind, so jump on the tightrope train and work it out.

'You! Me! Dancing!' by Los
Campesinos: This song has the ability to make anyone jump up and down
while dancing and clapping hands simultaneously. Its energy is infectious and
you won't be able to listen just once. Formed in Whales without any of its
members actually being Welsh, their international origins line this indie pop
anthem with joy, excitement and love. This track is a must when you've got
friends around.
'Bring the Funk' by Ben Harper
and the Innocent Criminals: Like the title suggests, there's some major funk
here thanks to the soulful singer known as Ben Harper. Released in 1999, the
bluesy tone laced throughout the guitar riffs is addictive and whether you're
down and out or not, we all need a little funk sometimes; so join the legendary
Harper and get down!
'40 Day Dream' by Edward Sharpe
& The Magnetic Zeros: These guys aren't new to the indie folk scene in the United States
but their twelve-person band might quite possibly be one of the sunniest bands
around right now. From the song's view on adoration to the accordion and
backing vocals; you can't help but sway a bit.
'Dig a Pony' by The Beatles:
First released in 1970 and written by none other than John Lennon, this
celebratory song is one of the sexiest Beatles tracks around with its rocking
guitar licks and swoon-worthy vocals. There's something completely liberating about
the lyrics and they'll have you feeling fine in a matter of no time. For an
offbeat version by an awesome chick, click here .
'Spread Your Love' by the Black
Rebel Motorcycle Club: Taking their name from Marlon Brando's motorcycle club
in the 1953 film The Wild One, how could this
band not be rocking? The track's sexy nature and the harmonica will have you
rocking out in a matter of no time and wishing for a leather jacket and big
hair while you're at it.
'Love Someone' by Dub FX:
Warning – be prepared to have your jaw on the floor! This dude is a street
performer from Australia
known for his live music, live looping, and effect pedals brought together by
one instrument: his voice. He's taken YouTube by storm with his fantastic
rhythms and is possibly redefining what live performance really means. You'll
find yourself falling into a trance; so watch out.
'F***k You' by Cee-Lo Green: Recently released in August, this
song is a little modern-day soul fuelled by an urban go-getter feel. For obvious reasons, it's not suitable for the younger
crowd; but Cee Lo Green brings it home with his heartfelt vocals, upbeat tempo,
and the play between the piano and shakers. It's not hard to get into this
song; we've all been there right?
'Skinny Love' by Bon Iver:
Taking it down a notch and creeping into a melancholic take on love, Bon Iver's
voice is comforting and definitely carries a cooler weather feel to the
majority of his music. This tune was released in 2007 and while he's better
known for his track 'To Emma', there's something about his hopeless, yet
heartfelt vocals and airy acoustics that can resonate with anyone.
'Sympathique' by Ben L'Oncle
Soul: Let us introduce you to our latest office crush, French singer-songwriter
Ben L'Oncle Soul. He's fresh, totally retro cool, and adding a funky twist to
the soul genre that seems to be forgotten by some. From the swoony French language
to the use of the horns and synthesiser, this track is chill to the max and
just sultry enough.