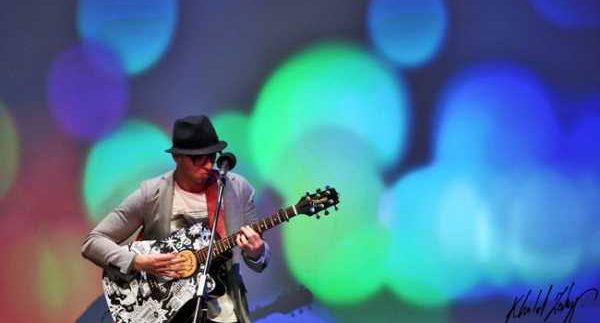 Trailing
along with his knapsack and his father's old school glasses that are hipper
than anything you'll find on the shelves at Magrabi, Rash makes his way
through the outdoor terrace at a bar in Cairo and takes a seat for a late-night
drink with friends.
You've
probably seen him around, or you may recognise him as the singer that won the 2008 Nokia Express Music
Festival and quickly thereafter hit the Nile FM radio waves. His music has been streamed
by thousands via the help of YouTube, and requests for live shows have been pouring
in ever since. He's also been featured in local publications such as Alter
Ego, Campus, Major Mag and Identity.
After
hearing singer, guitarist and songwriter RaShRadio's ethereal yet punching
vocals, one may be surprised to know that his quirky yet calmly collected
demeanour is accompanied by a serious intellect: he used to work in the stock
market, of all places, and studied nuclear science… well-rounded, anyone?
Placing
Rash's music in a single genre is like trying to explain Cairo in one word; his funky sound, tender
melodies, hints of pop and delicate vocals are unique and splashed with a
genuine love for what he does.
'This
isn't an exotic dream, it's more of a mild nightmare', Rash cleverly exclaims
as he sips down his fruity cocktail, pretentiously named Exotic Dream.
Although Rash was simply commenting on his overpriced juice, the
joke took on much more meaning as this conversation continued throughout the
evening.
Born and
raised in Egypt,
Rash picked up a guitar at the age of eighteen. Chilled out and possessing an
unabashed honesty, Rash says, 'I did it because it seemed cool.'
After sitting at home for months and playing
for no one but himself; he randomly decided to make his debut while hanging out
with a friend one afternoon. Between Rash's unmatched voice and eccentric
guitar skills, his friend was flabbergasted.
'It was
in that moment', Rash says, 'That I realised this was it.'
Rash's
talent has taken him to lead two sold-out Dave Matthews Band tribute concerts
at El Sawy Culturewheel, while his demo reached a top record label in New York City, which
manages bands including Rash's ultimate favourite DMB, Lisa Hannigan and Radiohead. 'The demo was very basic and missing a lot,' says Rash, 'But they actually
called me back, simply to say that they liked my sound.'
Since
then, Rash's passion for music has grown, but lately he has faced some serious
questioning as to where this could really take him.
'There's
no music scene left in Egypt,' he says, 'There are no venues to play at; and
the ones that do exist are too concerned with money and not concerned enough
with organisation'.
Rash believes
that there is a constant battle to see and be seen in Cairo's music scene. 'For so many people that
call themselves musicians,' he says, 'It's not about the music. It's about them.'
The
frustration that Rash feels about pursuing his passion for music in Cairo is nothing less than
a mild nightmare: with nowhere to play and little movement in what's left of
the music scene here; it hasn't been easy.
As Rash
winds up his night, the calm almost-autumn breeze has friends talking about the
picture of a perfect day.
'It's not
about anything else but the company,' Rash says, 'It's all about the company.
And maybe Reese's peanut butter cups.'
His sweet
tooth might just be the magical ingredient holding his music together. Though
Rash's musical career in Cairo
has been anything short of an exotic dream, his zeal for creating beautiful
noise is bound to lead him in great directions.
Rash is
currently taking part in the Makshoof competition; so
head over to the website, give him a listen and leave a comment! Between
keeping up with his school work and full-time job, his live shows are few and
far between.
However, you can listen to two of his new releases on his Facebook fan page or his Myspace page. On the new tracks 'Colours
of Love' and 'Ghosts', his collaboration with local artist Neobyrd is simple
yet tightly produced and presents his style in an effortlessly, comforting
manner. Be on the lookout for more collaborations from these two very soon!
And as
always, stay tuned to Cairo 360 for the latest
gigs and shows around Cairo.