Cairo 360 Presents: Zabaleen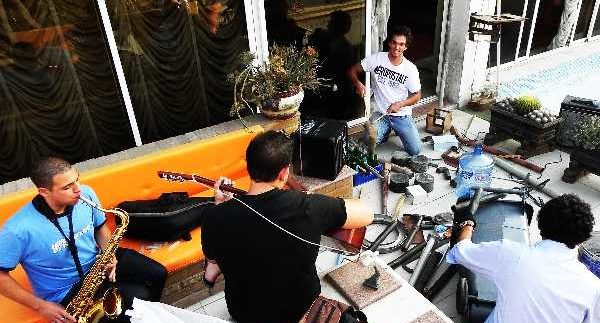 Old pipes,
paint buckets, empty bottles, discarded bits of wood and metal – to the
ordinary eye, these are nothing but trash. Yet, to a unique group of seven young Cairenes, each piece of discarded
junk has new potential: music. Think STOMP, but Cairo-style.
At an
evening jam session on a large terrace in Zamalek, chaos seems to have taken
over. Trash, clean and dry, is littered
across the floor, an amp and mic appear from somewhere, and a guitar waits patiently
on a bench. Armed with drumsticks and
more trash, three young men enthusiastically test the sound of every new piece
of junk in the pile. After a few moments
of inharmonious noise, the racket settles down.
'Ready?' asks
Noor Ayman, one of the band's four percussionists. Suddenly, the terrace is filled
with energetic, slightly jazzy and completely unconventional music. Somehow, ordinary junk produces catchy tunes
with the help of a guitar, a saxophone and some seriously talented musicians.
They call
themselves Zabaleen after Cairo's 'garbage people.' The name is appropriate: not only does the group make music with trash;
but they also promote recycling and environmental awareness. Cairo's Zabaleen recycle around 80% of the
trash that they collect, far exceeding the 20% to 30% that more developed
countries boast.
Zabaleen
was formed when drummer Youssef El Kady was asked to put together a performance
for World Environment Day at the American
University in Cairo (AUC).
El Kady asked a few friends to join him, and soon the group reached its current membership.
'We're just
a bunch of people who play on garbage and we have a saxophonist, guitarist and
a vocalist,' says El Kady. 'We weren't
planning on continuing; it just happened that we stayed together.'
'It was
unexpected that we'd actually make a band,' echoes Ayman. 'On our first performance,
we got offers to play in other places, and I think that's what made us feel
that we could actually do something.'
Since
Zabaleen's formation barely four months ago, the group has played nearly a
dozen shows at venues ranging from AUC to Al Azhar Park, El Sawy Culturewheel,
and Makan in Downtown Cairo.
Why do
audiences love Zabaleen's music? 'Because
we're different,' says El Kady. 'And we play on garbage.'
'Because we
rock!' another voice speaks up, drawing laughter from the others.
'Egyptian
people like clapping,' Ayman explains, ''They like dancing; they like to see
lots of things happening with strange things. So when they see people walking
in with a garbage bin and then spilling a bunch of metal and trash on the floor,
they get excited.'
The group perform
their original songs in both English and Arabic. 'We believe in the importance
of the Arabic language,' says Ayman. 'We sing in both Arabic and English in
order to reach the widest variety of people possible.'
Fortunately,
the band has an extremely talented and charismatic vocalist, Ahmed Safi El Din,
who is comfortable performing in both languages.
Recently,
Zabaleen provided the entertainment at a seminar for the Right
to Climb Foundation, which organised an expedition to Mount Kilimanjaro, Africa's highest mountain, to raise money for people in Egypt who face mental disabilities. The audience was extremely impressed with Zabaleen's music
and ingenuity, and particularly with Safi El Din's incredible voice.
Exclamations
of 'Yeah, Safi!'
rang out from the crowd as Zabaleen finished another remarkable performance.
Zabaleen
are media-friendly because they have a message: take care of your country. The group promotes recycling, reusing and environmental
awareness. 'For yourself and your country, be clean,' ends the first line of
one of Zabaleen's original songs, the chorus of which encourages listeners to 'Throw
your garbage away.'
'You can't
take care of the rest of the earth until you take care of your own country,' says
Ayman.
Yet,
Zabaleen's popularity stems from more than just creativity and a good message; the band members are excellent musicians. Each member
is involved in another band – or bands – outside of the group and possesses a sound
understanding of what it takes to create good music. The combination of talents
has huge potential, and the group would love to explore that potential. They
look forward to turning what they perform now into a better show with more
complex music.
Zabaleen's music
and message have found a ready audience. Ayman is right; Egyptians love Zabaleen's
performance. Audiences thoroughly enjoy clapping or singing along – the group
plays favourites in Arabic and English as well as original material – and
laughing at Safi El Din's hilarious lyrics and antics on stage.
Zabaleen's
magic on stage and the raw energy that they emit simply can't be appreciated
via YouTube only.
'We're more than just
music. We're actually a show,' says Safi
El Din. 'You have to actually see
us. And you have to see us live.'
Zabaleen will perform at El Sawy Culturewheel's Peace One Day Event on
September 19. For more information on their upcoming gigs, check out their Facebook group.