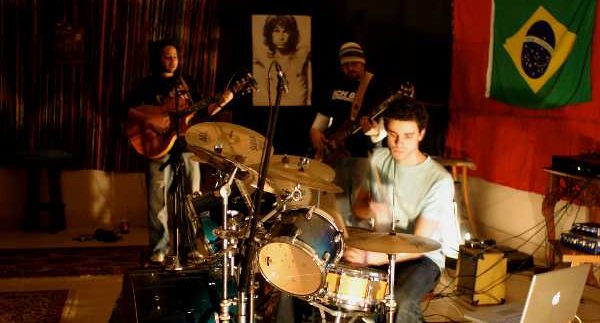 written by
Haisam Abu-Samra
Digla is quite a rarity in Cairo; a rock band that got it right. This outfit of four talented and dedicated musicians has an origin story that
reads like most bands that come and go. What sets Digla apart from high-school
cover bands is its members' admirable persistence. Truth is, to make it as a band in
the post-millennial world is a very difficult struggle, but for Digla music is
both the path and the destination. There is a sense of ease about Digla's sound
that can come only from a band content enough to focus on the harmonies.
Tarek El Borollossy, who goes by the nickname Boro, met Omar Raafat in
school. The two bonded over their love of music and performing, and soon
started playing cover songs together for the likes of Dave Matthews Band, Pearl
Jam, and Ben Harper. After raising the roof at their school's talent show, they
decided to form a band, and they called it Digla as a nod to their Maadi suburb.
With Boro taking the vocal and guitar duties and Raafat on the drum set,
Digla began to outgrow their cover-band niche and they started writing songs of
their own, all the while building this cult-like following in Cairo. By 2003, the band was playing to
sold-out crowds on Sawy's Cultural Centre stage.
The band's love for early 90s rock titans such as Pearl Jam, Live and
Nirvana is channelled through their sound. Digla is not stuck on a nineties
sound; they also derive influence from contemporaries such as Coldplay and The
Kaiser Chiefs, to name a few. They also put their own twist on their contemporary
sound; where it's more than just about infusing the Egyptian tabla and sagaat into
their songs for the sake of distinction. Beneath the instruments is music that
emotes an Egyptian tale of coming of age amidst a perilous culture.
Almost a decade since the band's inception, while other bands may have
called it a day and got lost in the abyss of 9 to 5; Digla has kept a steady
momentum, despite the pressures of securing a future in a city like Cairo. Boro
went on to study business in Montreal, and Raafat
studied business in Boston;
so the band members only had the summer to keep the band alive.
After shuffling through some members, the band met seasoned bassist
Mohammed El Hakim in 2006. Hakim has previously performed with bands such as
Forgotten Notes, the Tamariam Experience and Cairokee. A child of Maadi
himself, Hakim felt right at home at Digla and is the third official member.
The last member to join the lines of Digla is guitarist Sary. Thus in
the classic rock tradition of a four-piece outfit, Digla has grown to become
the rock group it always aspired to be.

It's hard for new artists to survive in an MP3 world. Rock bands are
becoming the new starving artists, and that goes double for bands that exist
far from the resources and audiences of North America and Europe. Digla is
unfazed by this harsh reality. 'We just love playing music,' says Raafat, 'And
no matter what; we're going to keep doing it.'
The band's commitment has paid off by accumulating a sizable following
that fills all of their shows; and the MP3 world has worked to their advantage:
their MySpace page has over twenty thousand followers from across the globe.
Now that school is over, all members are gearing up to fulfil Digla's
potential. Omar, Hakim and Sary are dividing their time equally between their
work and the band, while Boro has dedicated his time to Digla and building his
own music studio, which will help him cut down the costs of recording and
jamming for the band's future albums.
A few years ago, the band honed the best of their original material and
recorded it for a small fortune at a studio. The idea was to record a demo that
could speak for itself and not just promise potential. The outcome was far more
impressive to be just a demo, so Digla went the extra mile and polished the
songs to perfection. The album is now titled Free Your Mind.
2010 is going to be a busy year for Digla. Free Your Mind will be released in Egypt on May 28 and the band will
perform at El Sawy to celebrate the album's launch. They are writing more songs
for the follow-up album, which will hopefully be recorded by the end of this
year for an early 2011 release.
Digla is one of the few bands that give us the rock experience missing
in oriental Cairo. Their tunes are earnest and clear, and attending one of
their shows is always a memorable experience. Simply put; this is a band that rocks.