Five More Music Acts That Cairo Should Get to Know Better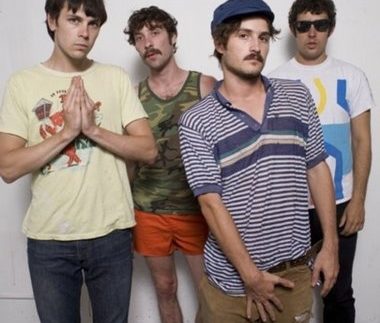 written by
Tanya El Kashef
With
essentially just the one English-language radio station playing a whole mesh of
different music, it's difficult to find new music in Cairo. There's only so
much catchy-beat-with-crap-lyrics-music we can stand. So, having imparted the likes of Animal Collective and Joanna Newsom in the first part of musical re-education article, Cairo 360 wants to do
its part in saving this great city from the Carly Jae Repsons of the world by
expanding your music horizons with another five music acts that you should definitely
get to know better.
Real
Estate
Unique in
how intricately simple their sound is, there's something intangibly special
about New Jersey indie band, Real Estate. Their trouble-free, sunshine infused
songs are floaty, easy and welcoming. Two albums, 2009's Real Estate and
2011's Days, don't stray far from the sound which has garnered them huge
a cult following and critical acclaim, and could be two CDs of the same LP.
Discography:
Real Estate (2009), Reality (EP, 2009), Days (2011)
Highlights:
'Out of Tune', 'Pool Swimmers', 'Younger than Yesterday', 'Municipality'
Cairo 360 Tip:
Several of Real Estate's members are involved in other music projects and band;
Matt Mondanile (Ducktails), bassist
Alex Bleeker (of Alex Bleeker and the Freaks) and drummer Etienne Pierre Duguay
(of Predator Vision).
Odd
Future
Wild and unpredictable, this
group's witty raps and ability to make their own beats has drawn them special
attention in the music world. Odd Future, short for 'Odd Future Wolf Gang Kill
Them All' (OFWGKTA), have a different approach to hip-hop – no bling bling, no
Crystal, no Bentleys. These young, skateboard-loving rappers have depth,
creativity and an intriguing dark side – just watch the group's leader Tyler,
The Creator munch on a bug in his video 'Yonkers'.

Discography: The Odd
Future Tape (2008), Radical (2010), 12 Odd Future Songs (2011),
The OF Tape Vol. 2 (2012)


Highlights: 'Oldie', 'Couch', 'Pigeons', 'Rolling
Papers'.
Cairo 360 Tip:
The youngest member, Earl Sweatshirt, is the son of poet Keorapetse
William Kgositsile, part of the Last Poets
group of 1968.
Black
Lips
As a
self-proclaimed 'flower punk' band from Atlanta, Black Lips formed in 1999 when
the members were still in high school. Their early theatrical performances saw
the members vomit, urinate, take off their clothes and set guitars on fire –
apparently to distract from their lack of musical abilities. There is a
peculiar beach-pop quality to their garage-punk-rock sound, one that might easily
have you up and dancing around to.

Discography: Black
Lips! (2003), We Did Not Know the Forest Made the Flower Grow(2004),
Let it Bloom (2005), Good Bad Not Evil (2007), Two Million
Thousand (2009), Arabia Mountain (2011)
Highlights: 'Bad
Kids', 'Spidey's
Curse', 'New Direction', 'Time'.

Cairo 360 Tip: Black
Lips are slated to perform in Cairo in September as part of the Middle East leg
of their 2012 world tour.
Nicolas Jaar
Having begun
his career as an electronic DJ before he was even old enough to legally be
served in a bar, Chilean-American Nicolas Jaar electro style is highly
instrumental; using drums, guitars and pianos extensively. Drawing inspiration
from his studies in Comparative Literature, he creates tapestries of music that
are unparalleled in beauty, complexity and sophistication. While his popularity
is soaring, the artist insists on remaining humble, refusing to sign to a major
label.

Discography:
The Student (EP, 2008), Russian Dolls (EP, 2010), Marks and
Angles (EP, 2010), Time for Us (EP, 2010), Love You Gotta Lose
Again (EP, 2010), Nico's Bluewave Edits (EP, 2011), Don't Break
my Love (EP, 2011), Darkside (EP, 2011), Space is Only Noise (2011)
Highlights: 'Mi
Mujer', 'The Beach', 'Stay
in Love', 'Nico's
Feeling Good'.
Cairo 360 Tip: Nicolas Jaar has
collaborated with Sasha Spielberg, Steven Spielberg's daughter, on 'Avalanche';
and with Scout LaRue
Willis, Bruce Willis' daughter, on 'With Just
One Glance'.
Timber Timbre
A Canadian folk
trio originating from Ontario, the band's name came from the fact that most of
their early recordings were done in a timbre-framed cabin out in the woods.
Although categorised primarily as folk, their sound has a strong blues element
and is often quite creepy and spooky – Taylor Kirk's voice playing the main
role in that effect. Their fourth album Creep
on Creepin' On is the band's best to date, and showcases their humour best.

Discography: Cedar
Shakes (2006), Medicinals (2007), Timber Timbre (2009), Creep on Creepin' On
(2011)
Highlights: 'Like
a Mountain', 'Lay
Down in the Tall Grass', 'Demon
Host', 'There
is a Cure'.
Cairo 360 Tip: Timber
Timbre have had two albums nominated for the Polaris Music Prize's album of the
year award.