Hana Malhas and the Overthinkers' Cairo Tour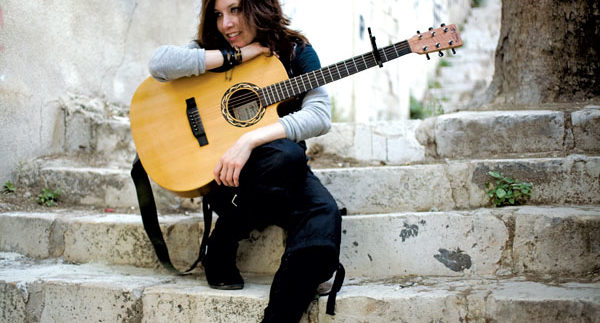 Baked
with excessive thought and glazed with a voice that fetches us back to the folk
pop songs of Aimee Mann and Feist, Hana Malhas and the Overthinkers' eponymous
new album is a heartrending sedative more potent than pound cake.

The
Jordanian singer-songwriter, who shuffles between Amman and Atlanta, primps up
the girl-on-guitar act as a global, timeless genre sewn into the modern song
and ever resonant with a generation in constant need to connect.

"It's
ridiculous to be connected 24/7. Sometimes, I want to throw my phone into the
ocean and live in a cabin. Well, maybe not a cabin—a beach house, so I can fish
for the phone if needed," Malhas told Cairo360 as she sat in a kitchen piecing
together maps of Cairo ahead of her upcoming tour.

Malhas's
yearning heart-songs in her five-track EP and second album, co-produced with
vocalist Michelle Chamuel and featuring rotating band members, convey the
sensibilities of a woman getting by with her heart on her sleeve, a pen in
hand, and a guitar in the other. She sings about the usual things, she
says—human relationships, love, and loss.

"I think
what makes them relatable—if someone relates to them—is that I take my time
trying to find the right words to describe a particular feeling or state of
mind," Malhas says.
Progressing
from her collaborative tunes in her debut LP Shapeshift (2010), which includes
an Arabic duet, the new release album contains frank lyrics and arrangements
that pivot around her real strength: her voice.

"That was
sort of the point with this EP. It is way more cohesive than the first
album because we focused on the idea of building the pieces around the voice
and lyrics," she says.
'How We
Love', played on the piano, carries a lilt to and fro that Malhas describes as
her "ship-wreck song."

"Whenever
I sing it, I feel like it's a ship wreck in the aftermath of a raging storm:
The silence that comes after, the slight howling wind, the dust, the
waves, until the end with the last chorus when the storm returns all over
again," she says.
Malhas's
personal favourite, 'Sad Thin & Reckless', is simple and vocally raw, while
'Just a Dream' and 'Run' are definitive of the
album's theme of longing. A bonus acoustic version of 'Run' completes the
introduction to the Malhas's vocal range.
Born and
raised in Jordan, Malhas traces her musical cairorevamp_users to her parent's music
collection that included Cat Stevens and Barbara Streisand and to her own early
playlists that took in '90s folk and soft rock like Tori Amos and Jewel. These
days, she's a fan of the wider indie scene and performs covers of similar bands
like Florence and the Machine.
Educated
in the US, Malhas played gigs though her university studies at University of
Michigan Ann Arbor, and only recently quit a day job that supported her since
she obtained her MBA.

This
summer, her concerts are limited to the Middle East, where she wishes to make a
dent. Choosing Cairo over Beirut for her August tour, she is scheduled this
week to perform tunes from her latest album, indie covers, and Arabic originals
on Wednesday at Bikya in Maadi and on Friday at El Sawy Culturewheel in Zamalek.

Enjoy a taste of Hana Malhas' on iTunes and SoundCloud.