Arabesque: Cabaret Revellery Back in Vogue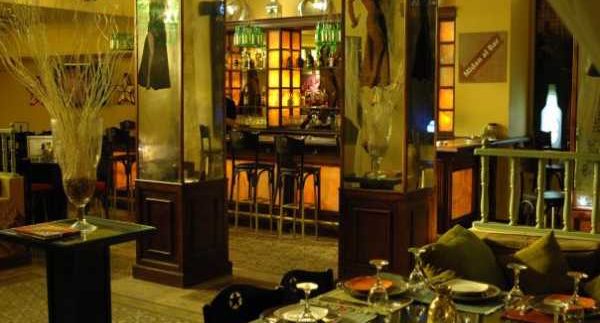 A once popular downtown Cairo bar in the seventies, Arabesque faded into obscurity before new management, a sponsorship by Stella and a re-branding by Impact BBDO helped reintroduce it to the Cairo scene in October 2009. Since then the bar has gradually gained momentum as a hip nightspot, and rightfully so—its authentic Egyptian cuisine matches its chic interior, complete with mashrabeya woodwork, belly dancer motifs on the walls and soft alabaster lamps.

Stella's sponsorship of the place is evident in the star-shapes that adorn lamps lining the walls and embellish the wooden chairs. Original Egyptian artwork adorns the place and a widescreen TV streams classic movie clips of famous belly dancers, complementing the bar's overall authentic Egyptian experience. A belly dancer performs every Thursday and Friday night and the show has become so popular that you have to book at least one week in advance. The bar has a super-strict door policy on weekends so if your name is not on the list, you're not getting in, no matter whose daddy's son you are.

We decided to check out Arabesque on an early Monday night and the place was reasonably crowded for our 8pm drinks with a clientele that was a healthy mix of foreigners, intellectuals and young Egyptians. Service was attentive and friendly without being overbearing, while our drinks and mezzas came quickly.

The Foul Mahrous (Mashed Fava Beans) converted even the non-Foul eaters among us with its creamy and subtly sweet flavour, while the Warraq Enab (Stuffed Vine Leaves) were just the right side of acidic and chewy enough to mix perfectly with the Yoghurt With Mint and Cucumber Dip. As for our Kishk order, it was the best we'd ever had in Egypt and we were lapping it up like there was no tomorrow. For a main course, the Molokheya with Chicken was impressive without a garlic overdose, whereas the Mixed Grill, too dry and tough, should be given a miss. The final surprise of the evening had to be the bill, 300LE for drinks, mezzas and two main dishes for six people was extremely reasonable, considering the quality of the food and service.