Billiard Bar: Old-Fashioned Bar in Zamalek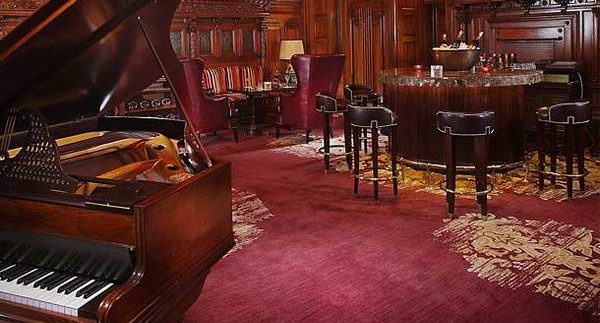 After we'd navigated our way round the labyrinth of restaurants and bars in the Marriott Cairo Hotel in Zamalek, and eventually arrived at our final destination next to the
JW Steakhouse
– the Billiard Bar – we were in dire need of a drink or two.
The Marriott Hotel was originally a magnificent palace, built in 1869, and fames beautiful high ceilings, enormous chandeliers and exquisite, detailed ornamental plaster work. Immediately after walking through the tall double doors, it felt as if we had gone back in time, back to when mobsters and dons sat in bars, suited up, drinking their expensive whisky and smoking cigars.
The dark wood panelling, deep red carpet, leather wing back armchairs and dim candle light create an incredibly suave and sophisticated atmosphere. We positioned ourselves on a very comfortable sofa, with a good view of the impressive grand piano where a saxophone player was set up; serenading us with live jazz.
The waiter arrived with the leather fronted drinks menus, complimentary crisps and salted peanuts, suitably dressed in a sharp black suit. Evidently, the Billiard Bar serves a wide range of alcoholic and non-alcoholic beverages including cocktails, bourbons, spirits and a large number of international wines.
We opted for just two alcoholic cocktails between us; an Apple Martini (75LE) and a Lemonada Limoncello (75LE) and two non-alcoholic; one Shirley Temple (45LE) and a Frozen Paradise (45LE). The waiter seemed confused at our selection and abruptly told us he thought it was 'very strange' that we should order two drinks each at one time – we were thirsty and certainly didn't think an explanation was necessary.
The alcoholic cocktails arrived first, in pre-chilled glasses so no ice was necessary. The Apple Martini was served in an elegant, classic Martini glass and made us feel particularly cosmopolitan. The drink was cold, smooth and tasted mainly of apple juice and had a sharp kick of vodka at the end. The Lemonada Limoncello had the same vodka bite but was both bitter and sweet from the mixture of limoncello with lemonade.
The non-alcoholic cocktails arrived in tall glasses, the colours bright and unmixed with a small but ample amount of grenadine settled at the bottom of both. The Shirley Temple was a delicious concoction of the grenadine, fresh, fruity pineapple juice and lemonade. The Frozen Paradise had a thicker consistency, similar to a frothy smoothie and was an equally satisfying combination of peach, orange, pineapple juice – and that essential bit of grenadine.
If you're looking for a quiet, mellow, old-fashioned but glamorous venue with tasty cocktails, the Billiard Bar is sure to suffice. Although this place is fairly pricey, an evening here would make a change from visiting other, more contemporary, bars that tend to continuously pop up around Cairo.