FIFA World Cup in Cairo: Where to Watch the Match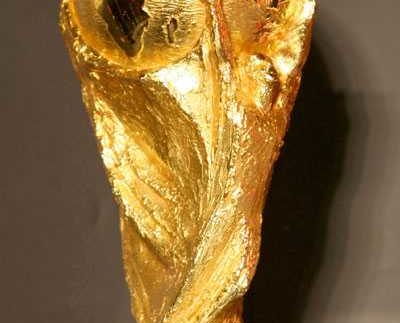 Unless
you've been living under a rock or on a desert island with no Wi-Fi, you've
probably heard, seen and felt the hype building up to the 2010 FIFA World Cup
starting this Friday. Saying that Egyptians love football is quite the
understatement, so cafés, bars and restaurants all over Cairo are gearing up to
provide great match viewing spots for you football fanatics out there.Here's a list of the top places in every neighbourhood, courtesy of the kind people at Cairo 360.

Zamalek: To many Zamalkawies, Sequoia is the ultimate
spot to watch a major game at. This spot will undoubtedly be packed on
big match nights; so book at least two days ahead of the match, and bear in mind
their all-week minimum charge of 100LE.
L'Aubergine's
second-floor bar area is a popular hangout for the young and the funky, so
park your funky self on one of their bar stools and enjoy their new cocktails
while watching the match on their two LCD screens. For a quieter viewing
experience, Deals comfortably
fits 50 people and offers four flat-screens, one of which is at the bar.
Minimum charge is 125LE and they didn't seem too concerned about making
reservations ahead of time.
For a
sophisticated football experience, Le Pacha 1901's terrace café Carlo's offers shishas and a large TV projector to watch the match on. Minimum
charge is 125LE. On the ground level, Johnny's has
four plasma screens and will impose a minimum charge of between 125LE to 150LE;
depending on if it's a big match night or not. Reserve at least two days ahead
using their hotline or their online
reservation system.
Harry's Pub at the Marriott is a laid-back spot with four LCD screens
and a minimum charge of 100LE. No reservations are necessary. For an even
better view, head on up to the Marriott's roof,
where the matches will be aired on a cinema-sized screen in the open air. Have
a meal while you're there.
Mohandiseen/Dokki: With only one
flat-screen, Le Tabasco in
Dokki is more about the atmosphere than having a good view of the TV. Book two
days ahead and the usual minimum charge of 100LE will be imposed. Sports Café in Batal
Ahmed Street boasts ten LCD screens and one large projector. The café's usual
minimum charge of 50LE will be imposed. Not to be outdone, the Cairo Jazz Club has
joined the bandwagon and has already set up TV screens throughout the venue so
that you can watch the match while having your favourite cold drink.
Imbaba: Located in a tranquil
villa in the heart of bustling Imbaba, The
Swiss Club will set up a projector screen in its garden for outdoor
viewing, with a special snack menu scheduled to appear during the matches. No
minimum charge will be imposed, and while no reservations are necessary; they
recommend calling to let them know how many people you'll be bringing so that
they can prepare your table.
Maadi: The undisputed king
of football match-watching must be Cuba Cabana on Road 7,
with well over 12 plasma screens throughout the venue and a minimum charge of
75LE. Two roads away,Villa
55 offers a spacious outdoor area with shishas and one huge projector
and four LCD screens, while the indoor seating area has one TV per room. A
minimum charge of 40LE will be imposed during the week and 50LE on weekends.
Reserve two to three days ahead of the match. Enjoy a cold drink and some cheap
mezzas at Boss
Bar, which offers one of the cheapest deals around: with a minimum
charge of 30LE and seven TV screens throughout the bar, each seating area has
around two TVs.
Fifth
Settlement: like
its Zamalek counterpart, Mojo
Lounge & Grill offers several plasma screens on the first floor,
with a projector on the second. A 75LE-minimum charge will be imposed during
the week, with a 100LE-minimum over the weekend. Again, reservations are
recommended one day ahead. Time Out in
the Fifth Settlement has a screen for almost every table, or so their
management claims. A minimum charge of 75LE will be imposed and they highly
recommend booking two days ahead of big match nights such as the opening night.

Downtown
Cairo: for
a no-frills, authentic experience, try any of Downtown's ahwas, such as Ahwa Taka'eeba next to
the Townhouse Gallery, or Ahwa Borsa behind
Cafe Riche.
While you definitely don't need reservations, you'd better show up early or
good luck finding a good seat. Further down on the corniche, Sangria has relaunched
with a new management and several plasma screens up in the garden.
Heliopolis:
Karvin Hotel's
Rooftop Garden provides open-air seating, two LCD screens and a TV
projector. At press time, the management hadn't decided if a minimum charge
will be imposed, but same-day reservations are fine. Alle Botti on El
Merghany Street offers five TV screens with a capacity of around 100 people. A
minimum charge of 30LE will be imposed on all match nights and the popular
venue will definitely be packed, so be sure to make reservations well ahead of
a match. Try their cheeseburger while you're there. Square has a
large open-air terrace with a large projector, while the indoor area has
several LCD screens. A minimum charge of 30LE during the week will be raised to
40LE on weekends.