Jameson: A Brief History of the World's Most Popular Whiskey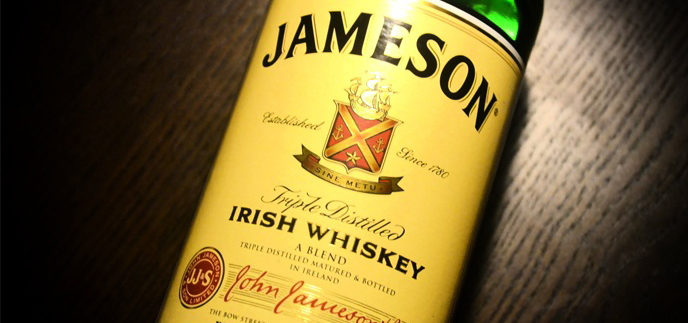 Ireland has given the world many gifts over its turbulent past; from revered writers immortalised in history, to some of the most successful and celebrated Hollywood actors. But many an Irishman will point to one particular export as his most treasured – Jameson Irish Whiskey.
He might, however, want to ignore the fact that the man who set the wheels in motion for what would go on to become the world's best-selling whiskey was Scottish.
As one of the original six main Dublin-distilled whiskeys, Jameson's humble beginnings date back to 1780, when a Scottish lawyer and businessman by the name of John Jameson founded the Bow Street Distillery. From the onset of the 1800s, Jameson became one of the largest producers of whiskey in the world, producing 1 million gallons per year – a feat that helped cement the otherwise humble city of Dublin as the global hub of whiskey production.
By 1805, Jameson had become the consensus number one whiskey on the planet. Having survived trade restrictions during the Irish War of Independence and the American prohibition era in the first quarter of the 20th century, Jameson only went from strength to strength, despite enduring ownership changes – first in 1966 and then again in 1988.
Today, in 2014, drinkers can be found enjoying Jameson at everywhere from live music concerts, to traditional, native bars. It's Jameson's unpretentious qualities that continue to ignite wide appeal; it's a whiskey without airs; a drink that finds a home anywhere and everywhere; a drink that is savoured without any complications; it's pure and unaffected; a whiskey that, like its drinkers, knows no confines or margins.
Proof of Jameson's seemingly timeless regard has, over the years, come in the form of a veritable pantheon of awards and accolades from some of the most highly coveted global spirit ratings competitions.
Many point to the unique production methods employed to create Jameson as one of the primary reasons for its undying reputation and recognition. Traditional methods call for the barley used in making whiskey to be dried with peat fire, while Jameson uses natural gas – an approach that omits the peat taste, leaving drinkers with a pure taste of the finest whiskey on shelves today.
It's this type individual philosophy that continues to see bottle after bottle of Jameson in bars, pubs and venues of all sorts; be it in hipster-chic live music spot in London, or a rustic, enduring bar in the US.