Preview: O Bar Has Much in Store for Nightlife in Cairo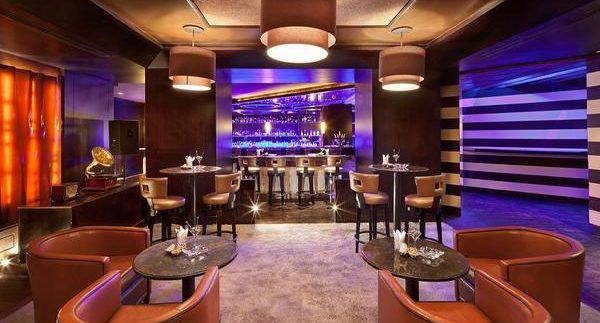 It's tough navigating
the social scene in Cairo. As lively as
nightlife in the capital is, a lot of the venues grow stale after a while. You can of course try to beat the boredom by consuming copious amounts of beverages,
but the all-night-party look only fares well for 72 hours maximum. For all the
distressed fashionistas, social butterflies and hot metro men out there; there
is finally some good news.
There's a new hot spot
in town that promises to cater to all your wishes. Freshly launched O Bar is located in the lower lobby
of the Fairmont Nile City and brings that new twist we have all been waiting
for. O Bar has a zesty décor that is diverse and sets a perfect mood; whether
you're chilling out in one the comfy leather chairs or sitting at the electric blue
bar. You will be surrounded by music legends whose iconic album covers adorn
the wall and a true Cairo music legend in the form of DJ Amr Hosny, who is no
stranger to the Fairmont Nile City having induced many a big night on hotel's
Sky Pool at Summer in the City and more recently, Fall in the City.
O Bar offers Cairenes
the chance to mellow down with an A-class cigar (cigarettes are so passé after
all) and indulge in the delicacies Chef Cory LeDrew.
Patrons with a big appetite will love Britain's national dish of fish and chips
while haute couture girls will love the antipasto platter. If you really want
to spoil yourself then you can opt for the cheesecake lolly-pops.
We've been
told that O Bar's cocktail menu has been whipped up by the best mixologists in
the business, all of whom have been 'extensively trained' in the art of the
cocktail-making- and believe us, it is an art. Not only does O Bar seem like the
perfect place to meet up with friends after work or shopping at
neighbouring Nile City Towers, but it's also set-up great for a night out. O Bar takes
its clientele seriously, especially when it comes to the ladies. Every Tuesday, Cairo's
ladies can claim complimentary sparkling wine and strawberries. We've also been
promised surprises galore; think special guest performers and exclusive
prize-giveaways.
Cairo 360
will of course be running through O Bar's credentials with a fine-tooth comb.
Stay tuned.