Top Five Ramadan Shisha Spots in Cairo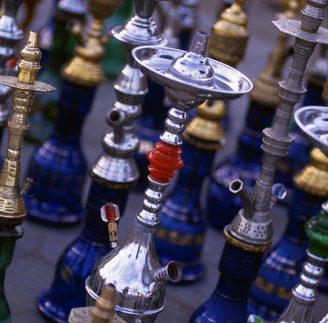 Shisha;
it's the most fun Cairenes can have whilst defiling their sacred, beautiful
bodies. Even during a warm Ramadan night, there are few things we like better
than to work fetar and sohour down with a smooth, fruity shisha. In light of
this, the most ghastly of Ramadan traditions, here are five places that will fulfil
your shisha needs.
No round-up
of shisha joints would be complete without Zamalek favourite, Wel3a. As always, this is the place to go for the
weirdest and wackiest flavours in Cairo. This Ramadan, however, Wel3a is going
the extra mile to make its customers comfortable, as they offer a home delivery
service. Outstanding. For information and reservations, call 0106 972 8533.
The
Fairmont Heliopolis & Towers' second annual Ramadan tent pulls Cairenes
from all over the city. Offering a creative shisha revolution they're calling Shishation (nice word play) and live
authentic, Oriental music in the lush surroundings of one of the grandest
hotels in Cairo, this is one of the more lavish ways to enjoy sucking on a
shisha. For information and reservations, call 02 267 7730/40.
A staple of
Ramadan in Cairo for the last seven years, First Mall's colourful sohour setup is
among the more light and playful Ramadan tents. Set centrally in the large,
airy lobby of First Mall, Tagine adds a little bit of fun to the Ramadan
festivities. Comfortable, spacious and bursting with an ambience of class and
tradition, it's a perfect shisha hotspot. For information and reservations,
call 02 3569 2557.
The name
says it all. Located in what seems like a forgotten abyss in the centre of the
Kempinski Nile Hotel in Garden City, Shishawy is as good a shisha spot anywhere in Cairo
– all year round. With over twenty delicately engineered shisha flavours and
the notorious multi-piped Medusa shisha that can be shared, Shishawy offers
Cairene's an excellent shisha experience delivered by experts. For information
and reservations, call 0227945834.
With a
stunning view of Zamalek, the Cairo Tower, the Nile and the surrounding areas, the
Novotel Cairo El Borg is keeping things simple this Ramadan. Located on the
hotel's cosy rooftop, Le Capitol is a fantastic spot to sit back and enjoy some
late night shisha while indulging in a few sohour nibbles. For information and
reservations, call 010 0010 4646.
We of course would never condone annihilating your lungs with
fruit tinted tobacco, but shisha is just one of Cairo's inevitabilities, like getting
ripped off by a cab driver, referring to your flip-flops as 'shib-shib' and
getting lost in Maadi's ridiculously named streets. Just embrace it. Ramadan
Kareem!