11 Ingenious Burgers in Cairo You Have to Try
With the amount of burger restaurants in Cairo these days, the only thing left is for that burger monster from Cloudy with the Chance of Meatballs to come to Egypt – but it'd probably get eaten too.
It seems that Cairo's gourmet burger won't be fading anytime soon, but aside from the delicious, juicy, tender beef patties that the city consumes, there are restaurants that have found new spins on the bun-patty-bun equations – from chocolate burgers, to – wait for it – Mac n Cheese Burgers. There's no place left for you to hide because burgers are taking over.
1. Stuffed-Chocolate Burger @ Brew and Chew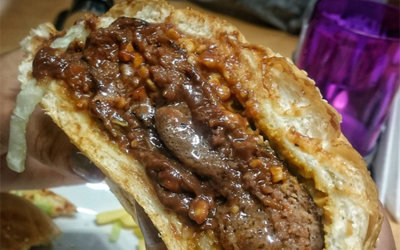 Coming all the way from Alexandria to Cairo, chocolatier and café, Brew and Chew, are known for their delicious desserts, their spin on the burger is one stuffed with savoury chocolate sauce and topped with peanut butter.
2. Nacho Burger @ Willy's Kitchen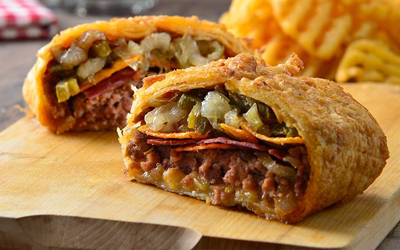 Photo courtesy of Willy's Kitchen on Facebook
A tender juicy patty infused with smoky beef bacon, jalapeños, sweet caramelised onions and chilli sauce, wrapped not in just any tortilla bread – but FRIED tortilla bread. Although frying anything seems to automatically make it better.
3. The Crispy Burger @ Manhattan Burger
They see me rollin, they hatin. Yeah, it's an awful song, but an apt one for the Crispy Burger at Manhattan Burger – grilled burger patty mixed with BBQ sauce, grilled mushrooms and mozzarella cheese, coated with sesame seeds then rolled in tortilla bread, deep fried and served like an eggroll. Need we say more?
4. The Caramel Burger @ Sophia's Garden
Aaaaand the Oscar for the Best Visual Effects award goes to… Sophia's Garden! Starring best actor nominee, Chocolate and Nuts Ice Cream as 'Burger Patty', Butter Cookies as 'Cheese Slices' and Caramel Sponge Cake as the 'Bun', the Caramel Burger is a delicious dessert disguised as a burger. Well Played Sophia's Garden, well played.
5. The Trio SGF @ Backfire
The recently assembled trio of Batman, Superman and Wonder Woman was impressive, but let's face it; Backfire's Trio Burger is more of a crowd-pleaser. Grilled burger patty stuffed with cheese and jalapeños, deep fried to a perfect crust and topped with marinara sauce and parmesan cheese, whoever created this burger is the real hero.
6. Burger Tower @ 3almashy
If you're a burger fanatic, chances are, you've tried a burger tower before. Served in the luscious Upper Egyptian Shami bread, 3almashy's Burger Tower is unlike any you've ever tried before. Consider adding it to your burger bucket list.
7. Salmon Burger @ Ravish
A piece of salmon topped with lettuce, wasenasa sauce, sliced avocados, mangos and fried onion rings, think of Ravish's signature Salmon Burger as just a large, delicious piece of sushi – all that's missing is rice bun.
8. The Moroccan Burger @ Burger Factory
Spiked with cinnamon and infused with prunes, date sauce, cream cheese and the crunch of walnut, this is one of the more out-there spins on a traditional beef patty. But if you're a fan of Moroccan cuisine, you'll know that no one quite does sweet-and-savoury like Morocco. Move aside, 'Classic Burger'.
9. The Mighty Bastard @ Butcher's Burger

Photo courtesy of Butcher's Burger on Facebook
If you've ever dreamed of taking on your own Man VS Food challenge and think you can handle one kilogram of beef topped with 8 slices of cheddar cheese, chilli con carne, crispy onion, caramelised onion and smoky mayo then you, should definitely give Butcher's Burger's Mighty Bastard a try and maybe even have a doctor on speed dial – that's a lot of beef.
10. Mac & Cheese Burger @ The Backyard

Photo courtesy of the Backyard on Facebook
Torn between a burger and a good old bowl of mac and cheese? Why not have both in one bite? A 160gm of beef patty, topped with rich and creamy mac and cheese, the Backyard's Mac & Cheese Burger was made in some kind of American diner heaven.
11. Pizza Burger @ Baltazar
Here's a quick joke: what's better than pizza and burgers? A pizza burger, obviously. Not funny? No, where' not laughing either. The Pizza Burger is the best thing to happen to fast-food since some genius decided to try pepperoni and pineapple together.