Al Araby: Traditional Egyptian Grill in Agouza
81 Abdelmoneim Riyadh Street,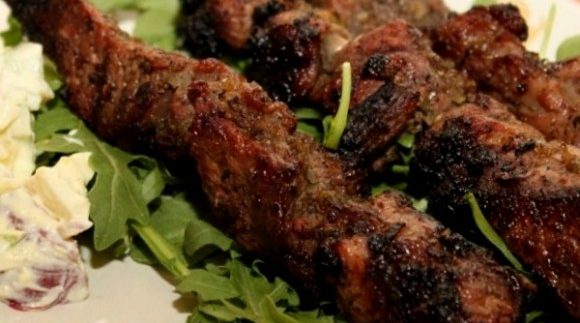 Despite the emergence of specialist eateries around the city, we are very much a carnivorous nation – something that the majority of restaurants in Cairo have no problem catering too. One of the main elements of local cuisine is traditional grilled meats and can be found everywhere from Cairo's hotels, to small winding streets of the city.
Al Araby is a time-tested grill in Agouza, known by locals and tourists alike for providing quality Egyptian food. Donning a traditional ambience, the eatery boasts Oriental decor and a spacious seating area. Stepping in, we were greeted by a courteous, suited manager, before being seated, handed the menus and assigned a waiter.
The menu includes an array of Egyptian dishes including mouza fattah (50LE), mombar (13LE), rice stuffed pigeons (29LE) and many more traditional options. Grilled choices include kebab (140LE per kilo), kofta (118LE per kilo) and tarb (118LE per kilo) along with beef or lamb ribs (150LE per kilo) amongst others.
As an appetiser, we ordered a plate of mahshi (13LE) as well as green and eggplant salads, and dips of tahina and baba ghanough. With so many tempting meat dishes, we opted for half a kilo of kabab and kofta (65LE), a quarter kilo of tarb (29.5LE) and a quarter of beef ribs (29.5LE) for our mains.
A bread basket was soon brought to the table to be enjoyed with the salads and dips, but it was disappointingly cold. Furthermore, the eggplant salad was unpleasant, lacking the signature bitterness, oil or garlic seasoning. On the other hand, the smooth tehina tasted delicious, while the green salad was made with fresh cuts of cucumber, tomato onions and parsley and tasted zesty with the dash of vinegar dressing.
Although we were expecting it to be served as an appetiser, the mahshi was served alongside the meat dishes. Our beef was served on grand, stainless steel trays covered with a bed of shredded parsley; unfortunately, while the beef tasted fabulous, it had been over-grilled to a dry, chewy texture. The kofta sported a soft feel and smoky, aromatic flavour whilst the ribs were served on the bone, grilled to perfection and full of flavour.
We were slightly concerned over the potential fattiness of the tarb – a sheet of lamb fat stuffed with minced meat before being grilled – but to our surprise, Al Araby's version of the dish was lean, without sacrificing the flavour or texture.
Desserts at Al Araby include cream caramel and mahalabeya – milk with starch and sugar (3.50LE each). With generous portions when compared to their price, the cream caramel was brought on a plate whilst the mahalabeya was served in a small plastic container; both were charmingly chilled and tasted fantastic.
With satisfying traditional food, welcoming staff along with reasonable prices, Al Araby possesses a cosiness that is rarely found in Cairo and is one of those places you'd take an out-of-towner for a quintessential, basic Egyptian dining experience.