Best Restaurants in Cairo: A Look Back at 2010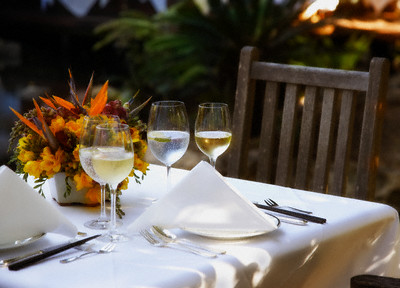 After nine months of eating and reviewing restaurants all
over Cairo, Cairo 360 brings you a recap of our favourite
dining spots in 2010.You may be surprised
by our choices; but we've based our decision not only on our reviewer's
ratings, but also on the feedback that we've received from our readers about
these venues. Ultimately, we are a user-friendly website, and your opinion
matters to us; so if you disagree with our nominations, email us, poke us on
Facebook or tweet your opinion, and your voice will definitely be heard!
1. Best Comfort Food: Casper & Gambini's
Ordered in or served at any of its branches, Casper
& Gambini's has regularly catered to our cravings, be they fat, juicy
burgers, healthy salads or gorgeous mini desserts. Its fun and reasonably priced lunch boxes
also make this Lebanese chain a favourite delivery option. Try This: good melt burger, Chèvre raspberry salad, wild mushroom
soup, halloumi and vegetables, sticky toffee pudding and their ice teas. How Much? Around 100LE for two courses
and a drink.

Honourable Mentions: Lucile's, La
Sombra, Crave, Blackstone Bistro
2. Best Vegetarian
Food: Foul Mahrous
If you've lived long enough in Cairo, you may have crossed
paths with this street stall around the corner from the Canadian Embassy in
Garden City, which our reviewer describes as serving: 'the meanest, most
delicious plate of foul' in town. With a few plastic tables and chairs lined up
next to a barb-wired wall, this foul kiosk's shabby atmosphere is overshadowed
by its fresh, creamy plate of delicious foul. Try This: Alexandrian-style foul. How Much?
6LE for a plate, 15LE with salads and fresh chips.

Honourable Mentions: Kazaz, Abo
Tarek, L'Aubergine, Taboula
3. Chicest Dining
Spot: Maison Blanche
You may have to pay an arm and a leg to eat here, but Maison
Blanche delivers your money's worth of a highly sophisticated atmosphere,
superb French cuisine and impeccable service. It's the kind of restaurant you
want to put on your best pearls and suits for. Try This: smoked salmon soup, Australian rack of lamb and La Maison
Blanche lingot-au-chocolat. How Much? 400LE for three courses.

Honourable Mentions: Floor Ten, Napa Grill, Oak Grill, Aperitivo
4. Best Steak: Steak
Out
While Charwood's has reigned
supreme for years as the ultimate steak restaurant, Steak Out in Mohandiseen 'makes
you want to set up tent and live there,' according to our reviewer. The service
is courteous, the menu is huge and the steaks are grilled to tender perfection.
Try This: fillet with creamy
mushroom sauce, grilled steak with shrimp, caramel cheesecake and Oreo
cookie shake. How Much? Around 150LE
for steak, an appetiser and drinks.

Honourable Mentions: Charwood's,
Steaks, Fuego, Pub 28.
5.Best Sushi: Okashi
Though many sushi lovers in Cairo
pledge their allegiance to Mori Sushi, our highest score went to Okashi at the
Grand Hyatt Cairo for its simple, fresh menu of sushi, which in itself is often
a rarity in Cairo. Blessed with a Nile view and an exquisite list of teas and delicious
mocktails, Okashi offers quality sushi with minimalist ingredients, allowing the real flavour to come through. Try This: miso shiru soup, the unagi nigiri, Suzuki and shake
sashimi, mixed seafood and vegetable tempura platter. How Much? Under 200LE for sushi, unless you order the platter.

Honourable
Mentions: Sapporo, Sakura Sushi, Fuego, Aqua, Mori
6.
Best Seafood: Flying Fish
There's something addictive about a fresh, creamy seafood
soup, and Flying Fish's soup was
so succulent; it had our reviewer 'moaning with delight, wishing for
neighbouring real estate.' Despite its nondescript exterior on Agouza's
Corniche and its rather empty interior, this restaurant delivered superbly made
seafood for reasonable prices. Try This:
the Flying Fish soup, grilled whole fish, and grilled oysters. How Much? 100LE for a three-course meal.

Honourable Mentions: Fandira, Samakmak,
Pomodoro
7.
Best Healthy Food:
Boosters
This stylish restaurant in Dandy Mall definitely doesn't get
the credit that it deserves. Offering healthy and fresh ingredients in all its
dishes, Boosters uses sesame and olive oil instead of butter and will list how
many spoons are included in each dish. Meals are also low on sodium and heavy
on lightly grilled or steamed vegetables. Try
This: hot and sour prawn soup, tomato and halloumi pesto salad, teriyaki
chicken, vanilla pod ice cream and lemon cheesecake. How Much? Around 150LE for a three-course meal.

Honourable Mention: L'Aubergine
8. Best European Cuisine: Vendome
Though there are several heavy
contenders in Cairo
when it comes to European cuisine, Sofitel Gezirah's French restaurant had our
reviewer fawning over its 'decadent cuts of meat, rich sauces and delectable
pastries.' On-point service, a stunning Nile
view and an elegant atmosphere only add to this pleasurable dining experience. Try This: rack of
veal with potato gratin, roasted chicken ballottine and chocolate fondant. How Much? Three courses could easily
reach 300LE.

Honourable Mentions: Villa Belle
Époque, Schatz, Little Swiss,
Bella
9. Best Oriental
Cuisine: Dargedodna
This unpretentious Syrian restaurant in Mohandiseen is so good;
it may make 'Grandma's food pale in comparison,' wrote our reviewer. The
restaurant's comfortable atmosphere also makes it an excellent option for a weekend
lunch with your family. Try This: lentil soup, grilled whole
chicken, bamia with mutton and the cheese and nut konafa. How Much? Around 150LE for a three-course meal.

Honourable Mentions : L'Amphitrion, La
Palmerai, Papillon, Amar El Sham

10. Best Asian
Restaurant: Kamala
This pan-Thai restaurant in the
Conrad Cairo Hotel won our third perfect score ever given to a restaurant, and
deservedly so. The restaurant's graceful
interior, quiet and impeccable service coupled with the exquisite Asian fusion
cuisine will have even the most difficult of diners sighing blissfully. Try This: the pad Thai, roast duck
curry, pisang bakak and the flowering white tea. How Much? Around 250LE per person.
Honourable Mentions: Nawab, Indigo,
Maharaja, Massala, Kandahar