Cairo 360's Best Shawerma Restaurants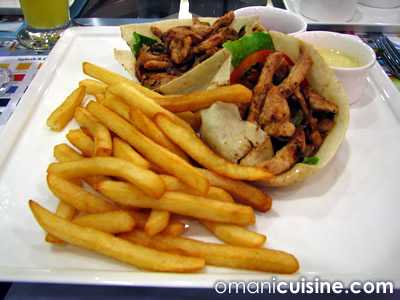 written by
Aleksandra Sekinger
Although Cairo
streets are laden with shawerma restaurants, there never seem to be enough places
offering the mouth-watering shawerma that you're hoping for. Whether it's a
problem of being too greasy, having too little meat or way too much bread,
there are plenty of unsatisfying shawermas in Cairo. So Cairo 360 has done the dirty work for you and
found the five best spots that make delicious shawermas.
Kazaz: Kazaz serves up Downtown Cairo's finest shawerma. It's
a classic shawerma sandwich that is always hot and dripping with tehina sauce;
while the meat is fresh and sautéed with tomatoes, onions and peppers. The
larger sizes come in long sub rolls, but the smaller size comes in a lovely
semi-sweet sesame rolls that compliment the savoury taste of the meat quite
nicely. Prices range from 4LE to 9LE.
Abou
Mazen: Shawerma is a house specialty, both chicken and beef.
The shawerma meat is cut to order and mixed with finely chopped onions,
tomatoes, pickles and the right amount of tehina sauce. Unlike other shawerma
sandwiches in Cairo,
this sandwich lets you enjoy the quality of the meat and ingredients thanks to
the flat Syrian bread. Open 24/7 with locations in Mohandiseen and Heliopolis, Abou Mazen makes one of the best shawermas in Egypt, hands
down. Orders can be placed at their stand or from your car. Shawerma costs
9LE.
Felfela Takeaway: Have you ever tried shawerma on koshary? It's shawerma
on a whole new level and there's only one place where you can get it: Felfela's
Takeaway Restaurant. The meat is a nice addition to the garlicky tomato sauce,
crispy onions and hot sauce. As one
could assume, it's a very serious food coma inducer, but the fresh shawerma
that is cut to order adds a juiciness and serious injection of flavour to the
koshary, all for only 9LE.
Shawermer: Like Abou Mazen, Shawermer serves its chicken and beef
shawerma in flat Syrian bread. The chicken shawerma (11LE) is especially
recommended. It's not overly greasy and full of flavour. It's served sliced with
fresh pickles and garlic dip. Shawermer is open 24 hours, and has become a
popular spot to seize the shawerma craving amongst Heliopolis residents. If driving there, park
the car, place your order and have your delicious shawerma come to you! There's
another Shawermer location in Maadi.
L'Amphitrion: Can shawerma be eaten in style? You better believe it.
For decades, L'Amphitrion has been servicing Korba with perfectly fresh beef
shawerma. Where else in our fine city can one eat a delicious sandwich and
drink a cold Stella beer outside by a large fountain with a tiny Buddha? The
best thing about this shawerma is the way that it's cooked with lots of fresh
herbs. Although L'Amphitrion offers plenty of delicious sandwiches, they're
known for their shawerma, which can either be served as a meal with fries and
pickles or as a huge plate of shawerma with a side of flat bread; so that you
can make the sandwiches yourself. The plate of shawerma costs 35LE, while
the sandwich combo costs 20LE.