Cairo Guide to Where to Go for Fetar & Sohour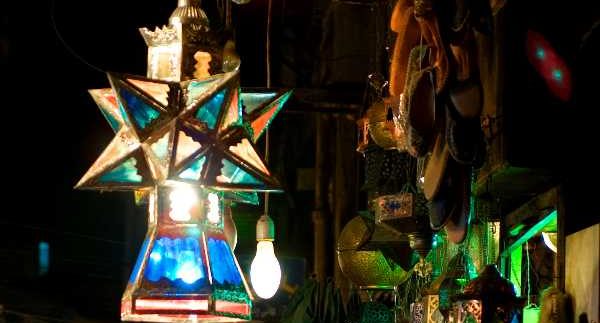 We all know that the first few days of Ramadan are spent in the comfort of your family home with your twenty closest relatives over a feast of food. Sooner or later, though, you'll get itchy feet and long for a late sohour or a quality fetar with your friends. Cairo 360 has tracked down the best in fetar and sohours on offer in Cairo. For the best in hotel fetars, check out our Cairo Guide to Hotel Fetars This Ramadan.

The Tents:
3al Nil: Running from 11 August until 10 September in Mojo's
on the Imperial Boat Zamalek, the lounge offers set menus 100LE on weekends, 75LE on weekdays. No kids, no veiled
women (this is according to their reservations operator). Call 018 065 5560 for reservations.
El Shagara in Sangria offers
sohour is for 100LE per person, excluding shisha. Call 02 2579 6512 for reservations.
Le Deck offers a five-course fetar menu at a set price of 190LE
and a three-course sohour menu for 125LE. Call for reservations or book online.
Bab El Nil at the Fairmont Nile City offers an open buffet for fetar at 188LE and a sohour set menu for 145LE. Call 24619633 for reservations.
The Restaurants:
Crave
has its regular menu, but the minimum charge will be raised from 70LE to 80LE;
the same applies for the Zamalek branch.
Cellardoor Bistro has a special Ramadan set menu for 130LE, consisting of three courses, alongside its standard menu.
Condetti
has added special Ramadan dishes to its menu, including cream of chicken
soup (20LE), mixed grill (80LE), and zalabya (18LE). An oud player will perform
every night from 11:30PM to 1:30AM.
Fuego will serve its regular menu, with the addition of Ramadan drinks. Fusion
in Maadi will be closed throughout Ramadan, though its Giza branch will stay open. Cortigiano serves
its regular menu.
El
Shader will serve a special sohour menu at a minimum charge of 35LE during the week, and 50LE
on Thursdays and Fridays. The venue closes at 4AM.
Cuba Cabana has three set
menus of Lebanese cuisine for fetar ranging from 110LE to 175LE depending on
your selection. Their standard menu is also available, while a sohour set menu
costs 75LE. Reservations are necessary.
Grand Café
has an open buffet for fetar at 111LE, and a sohour buffet for 56LE.
Reservations and a deposit are required ahead of time.
Arabesque
has a set fetar menu for 85LE and will include items such as molokheya. The
sohour menu is set at 100LE per person and will include the traditional foul
and eggs dishes.
Manial/ Giza:
Sky Lounge on
the Nile Lilly Boat offers a set fetar menu for 140LE. For a main course you
can choose between Cajun shrimps and Moroccon beef fillet with apricots. The
sohour menu is for 100LE.
Pepe Pizza on the
Ruby Tuesday boatoffers an
all-you-can-eat buffet for 75LE at fetar time, while Ruby
Tuesday on the Ruby Tuesday boat offers an open buffet for 120LE,
including grilled meats, seafood and salads.
La
Gourmandise in Giza's
First Mall holds a Ramadan tent and serves a special Lebanese and Moroccan a la
carte menu from 8PM to 3AM.
Indigo
has adapted its menu to an oriental buffet as well, serving a mixture of Asian,
Chinese and Spanish dishes along with traditional oriental fare. The buffet is
open from fetar to 9PM.
Zamalek:
Abou
El Sid in Zamalek offers its usual menu, though it can be reserved for
large fetar groups.
36O
Revolving Restaurant at the Cairo Tower
will serve a set fetar menu for 150LE from Saturday till Wednesday and for
190LE on Thursday and Friday.
Le Pacha's River Boat
restaurant on the deck will have an open buffet for 155LE. OnTop will be shut throughout Ramadan, but Carlo's will be serving sohour for its usual 125LE-minimum charge.
Nile Maxim Boat offers a set fetar menu at
195LE with 90-minute cruise and a live oriental band, while Sequoia
will serve a set fetar menu and an open buffet sohour (both for 200LE) as of
August 14th.
Dar El Amar
will serve an open buffet for fetar and sohour at150LE.
Both Mori
Sushi and Pub
28 will continue to serve their standard menu throughout Ramadan.
MezzaLuna
has a special fetar menu in addition to its usual pasta menu. Items include
hummus tahini, Daoud basha and shish tawook. Call 012 2446190 or 012 7455722
for reservations.
Six October/Sheikh
Zayed:
Mo
Café will have its standard menu and will be
closing its doors at 1AM, so no late sohours here. Try Plat D'Or for some
Lebanese cuisine (no fetar menu), while Boosters'
healthy menu may be a welcome change from the heavy fetar meals.
Heliopolis/Nasr City:
Abo Shakra
will not be serving a specific fetar menu, but will remain open until 2AM for
sohour.
Casper And Gambini's: will serve Ramadan dishes alongside its traditional menu.
Check out El
Shabrawy, Mossab
or Amo
Hosny for some cheap fetar bites, or head down to Wagamama
in Citystars, which has one of the fastest fetar-time services; your order will
be on your table within mere minutes.
5th Settlement/Katameya:
Swing Café in Katameya Heights will host fetar with an a la
carte menu at a mimum charge of 150LE. For sohour, Breeze offers
sohour until 1AM for 80LE; note that Ramadan is the only time that shisha is
served here.
Andrea in
Mokattam has four set-menu choices to choose from; prices vary from
55LE to 70LE depending on your choice of main meat courses. The main course
price does not include the accompanying salads, vegetables and rice buffet. Make
sure you reserve a day in advance and all cancellations should be made two
hours prior to fetar.
Please note that some prices listed above may not include service and tax charges. If you're planning a weekend fetar or sohour, be sure to book several days ahead. Tents like 3al Nil and El Shagara require reservations days ahead.
Happy Feasting!