Cairo Restaurant Guide: November Favourites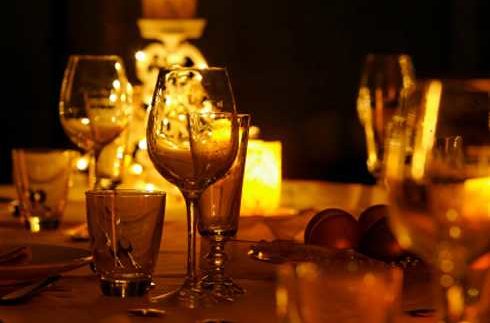 written by
Melissa Howell
It is with full bellies that
we look back fondly on some of our favourite restaurants in Cairo reviewed in
October. Our November Restaurant Guide
is a mix of some of Cairo's
old favourite eateries and a few new spectacular menus around the city. So if you're looking to change up your dining
routine or rekindle a culinary romance; read on.
Gandofli:
Cairene seafood lovers have long loved
this restaurant. With several branches scattered around Cairo, Gandofli is known to serve up some of
the freshest fish around. We simply
cannot get enough of the creamy seafood soup, which is so popular among customers that waiters walk through the restaurant with a kettle and ladle to pour bowls
upon bowls of the delectable potage. While the restaurant has been known to expertly grill a fish or two,
most diners go for the delicious deep-fried marine cuisine and who are we to
argue? Their fried clams give this restaurant its name and its fame.
Essence:
Our love of curries has led us to
some of Cairo's
best Indian and Thai restaurants; so when we heard there was a new kind of heat
in town, we had to check it out. Essence in Mohandiseen serves up the rich, layered
flavours of Pakistani, Afghani and Indian cuisine, contributing to the
ever-expanding diversity of Egypt's
culinary scene. Take advantage of the wait staff's knowledge and order
according to their recommendations. We were definitely steered in the right
direction with their suggestion of smoked yogurt lamb. And we appreciate any
restaurant with an elegant atmosphere, where you can have a delicious dinner
for two for under 250LE.
Floor
10: It is without bias that we
state the following: the Kempinski Nile Hotel Cairo has been raising the
standards for hospitality and food since their mid-summer's opening in Cairo. The recent opening of Floor 10 is no
exception. It was love at first bite of
foie gras for us, and the restaurant's elegant yet creative pairing of flavours
was spot on from beginning to end. Oh,
and there's a Nile view at this chic and
expensive tenth-floor dining room, but you'll likely be too enraptured in your culinary
experience to notice.
Shogun:
We find that many of Cairo's teppanyaki restaurants
are a little heavy handed with the salt and soya. Thankfully, this is not the case at
Intercontinental Heliopolis' Shogun, where the food is fresh and the flavours
are clean. Although we might go
elsewhere for a sushi roll, Shogun slices fresh sashimi and knows their way
around the teppanyaki. From the grill to
the customer in a matter of seconds; the meat is tender, juicy and full of
flavour. This is a restaurant to head to
after some bargain hunting at Citystars, since it's going to set you back a few hundred
LE a head; but they have unlimited sushi on Monday.
Fandira:
Craving some seafood, but can't be bothered
to leave the house? Well, if you live in
Maadi you're in luck.Brand new delivery
and take-out restaurant Fandira has got you covered. Do not pass on their garlicky stir-fried
prawns or their tuna steak, both prepared exquisitely. We suspect having a chef with Four Seasons
experience has something to do with the elegant flavours of this upscale
take-away restaurant. With a variety of
preparations ranging from deep-fried to Thai curries, simple grills and sautés;
there is something to please every seafood loving palate.
Nola: Okay, we know that Nola is technically a pastry shop and not a
restaurant, but try convincing us of this on Cupcakes for Breakfast Tuesday. Starting
off with apple cupcakes and moving right along to peanut butter, we can satisfy
our fruit and protein needs before preventing scurvy with lemon meringue. We usually finish with one of Nola's smaller-sized
red velvet cupcakes, because one should be sensible when eating dessert. In all
seriousness, though; Nola's cupcakes are artistically prepared and come in two
sizes and a slew of sweet flavours. Nola
delivers; but we recommend at least one visit to the adorable Zamalek shop.
French
Cultural Centre: A low-key
al-fresco lunch at the French Cultural Centre has some of the best value for
money that we've seen in a while in Cairo.
Serving simple but fresh omelettes, crêpes, pastas and paninis; the restaurant
manages to keep costs low while using a number of hard-to-find and imported
ingredients; this is one of the few places around Cairo that still serves ham. This is not fine
dining; but for what you pay, you'll be pleased, and a large crowd of regulars
is testament to that. With free wireless internet available; this is the ideal
spot for students on a budget.
Aura:
Located inside The Four Seasons
Hotel Cairo at The First Residence, Aura serves Levantine food in a gorgeous
Lebanese-themed dining room with a contemporary edge. In addition to the warm and welcoming
interior, the fourth floor, poolside restaurant has outdoor seating; making it
an utterly romantic location for late-evening dining under the full moon. We admit that the fatta falls a little flat; but
the flavourful shish barak is a delightful dish. For Four Seasons dining, Aura is not as
expensive as you might think, so if you're looking for an Oriental evening of
luxury before a night out at Club 35; head here for some scrumptious mezzas.