Cairo Restaurant Guide: This Month's Favourites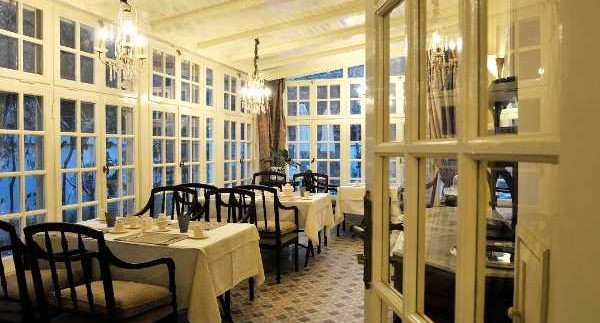 Here at Cairo 360, we're a little
addicted to food; and we're not ashamed to admit it. We order multiple courses at every meal, we
aren't afraid to try anything once; and we're occasionally prone to giving
ourselves stomach aches from sampling too many burgers and sweets. For you, dear 360 Reader, we've convinced
ourselves that elastic waistbands are, in fact, quite fashionable. We have a
great time critiquing Cairo's
most popular restaurants and discovering some of the lesser-known dining
treasures along the way. Here are a few
of our favourites from recent history.
La Gourmandise (Maadi)
We've long
loved the freshly baked breads, fresh salads and delectable desserts at La
Gourmandise in the First Mall and the quiet neighbourhood of Maadi seemed like
the perfect location for a sister branch. Located on Road Nine, the venue is
larger than we'd anticipated, sweetly decorated and brimming with display cases
of gourmet macaroons. Sandwiches, quiches and salads make this a great spot for
a fresh, trendy lunch and decadent cakes available for carryout give us a real
reason to celebrate. Although this high-end restaurant/café/bakery isn't ideal for
budget dining, we were pleasantly surprised to find prices are lower than those at the
First Mall branch.
Maharaja
(Downtown)
A recent
curry craving had us heading Downtown to the Ramses Hilton for dinner at
Maharaja. We found an authentic but approachable menu at this Indian restaurant,
where the tandoor oven is located right in the dining room to give guests a
show while they eat. Maharaja's exciting
and spicy menu includes everything from hearty soups and flavourful daal to
rich curries of seafood, chicken and paneer, as well as tender meat straight out
of the tandoor oven. If you share our
dining habits, you may be ordering extra orders of naan to soak up the curry
long after you're full from this Indian feast.
El
Sit Hosneya
(Dokki)
For a long
time, Abou El Sid has been the go-to choice for upscale Egyptian cuisine. However, El Sit Hosneya provides healthy
competition for fine local dining. For
heart-stopping fatta, incredible molokheya and velvety chicken liver; this
restaurant is as authentic as any home-cooked meal that you'll have in Egypt. And it doesn't hurt that the prices are much
lower than those at Abou El Sid, either.
Villa
Belle Époque
(Maadi)
Hidden in
the heart of Maadi, this exquisite boutique hotel has been stirring up a quiet
storm over the past year for its elegant dining atmosphere. The menu blends
local flavours and ingredients with a gourmet twist, and every dish is
presented in an artistic arrangement. Sauces are homemade and produce is
incredibly fresh. Their bread is heavenly and arrives hot out of the oven, and
their sea bass is roasted and arranged over sweet-sour potato puree, ruccola,
tomatoes, kalamata olives and goat's cheese. Heaven!
147
Soho (5th
Settlement)
Suburban
sushi lovers will rejoice for 147 Soho, a
restaurant/game room located in The Meeting Point, 5th Settlement's newest
shopping centre. 8LE-pieces of nigiri
are fresh and fairly priced, and the crunchy rolls come highly
recommended. For the non-sushi lovers among
you, the menu has a fair deal of burgers, soups and appetisers to snack on
between games of snooker. 147 Soho is still
new enough to be a quiet spot for dinner and a game, but once word gets out; this
may become a 5th Settlement hotspot.
Blackstone Bistro (Maadi)
Located
behind the Sofitel on the Maadi Corniche, this bistro has potential to become a
neighbourhood favourite with its quality food, diverse cuisine and freshly
baked goods. Blackstone Bistro's atmosphere may be a little forced, but their
food easily impressed us during our first visit. Hand cut, homemade fries mix white potatoes,
sweet potatoes and beets for a flavourful side dish on one of the better
burgers that we've tasted in a while. Though a little on the pricey side for
some items (115LE for a rib eye steak), Blackstone Bistro actually provides
excellent value for money on a three-course meal.
Al
Faqeer (Haram)
A Haram
treasure buried deep in Faisal
Street, Al Faqeer serves some of the most tantalising
Egyptian grilled meats that we've had in a long time. 55LE will get you either
a platter of two roasted stuffed pigeons (we recommend the bulgar wheat) with
tender, juicy meat encased in crisp skin, or half a kilo of grilled kofta and kabab,
well-butchered and served on flatbread; so you don't miss a single
dripping! Although Al Faqeer serves
other Egyptian specialties like mahshi and molokheya; we urge you to stick to
the meat if you're going to brave the traffic on Faisal Street.
Bella (Garden City)
Last, but
certainly not least; lunch at the Four
Seasons Nile
Plaza's Italian
restaurant, Bella is divine. A three-course business menu for 175LE features plenty
of fresh ingredients, such as baby greens, toasted pine nuts, cured mozzarella
and beautifully cooked salmon and steak. Try the salmon, which is crusted with black
pepper and honey, and cooked to perfection. We recommend passing on the crème brûlée
in favour of the molten cake; but nearly everything at Bella is beautiful.