written by
Nesrien Abdelkader
Nobody does Italian food better than the Italians themselves, and Vivo Restaurant in The Nile Ritz-Carlton hotel has just added renowned Chef Leonardo Nucera to their highly talented team. As the new Italian Chef de Cuisine, Leonardo will be serving up authentic dishes so tasty that you'll be questioning whether you're still in Egypt or a local restaurant in Rome. 
There's nobody better suited to head the kitchen at this legendary spot in Cairo than Leonardo whose love for food stems from watching his grandmother prepare traditional dishes. While other kids were busy playing, he grew up spending his free time sneaking into restaurants trying to watch the chefs at work. Before The Nile Ritz-Carlton managed to snag him, Chef Leonardo spent time perfecting his craft all over Italy in cities like Rome, Florence, Milan and Taormina. 
He toured through Europe afterwards and blessed the people of Spain and Greece with his cooking skills before settling in Kazakhstan to work as the Italian Sous Chef at Ritz-Carlton Almaty. In 2018, he made his way to the distinguished Ritz-Carlton Riyadh. 
Although he was head-hunted by Intercontinental hotel in Muscat, Oman thanks to his skills and passion in the kitchen, Chef Leonardo couldn't part ways with the Ritz-Carlton after all and is making his glorious return to the Ritz-Carlton family at its most iconic location. 
"My first impression of Cairo is that it's a busy city, a bit crowded and very historic. l was utterly surprised when I arrived in July at 12 midnight.  The streets/roads were busy and people were still out and about. I didn't think it will be like that," Chef Leonardo said. 
Since arriving in Cairo, he's left his mark on Vivo's menu by introducing some of the finest Italian dishes to ever grace the streets of our city. Even if you aren't aware of his qualifications, Chef Leonardo's cooking speaks for itself.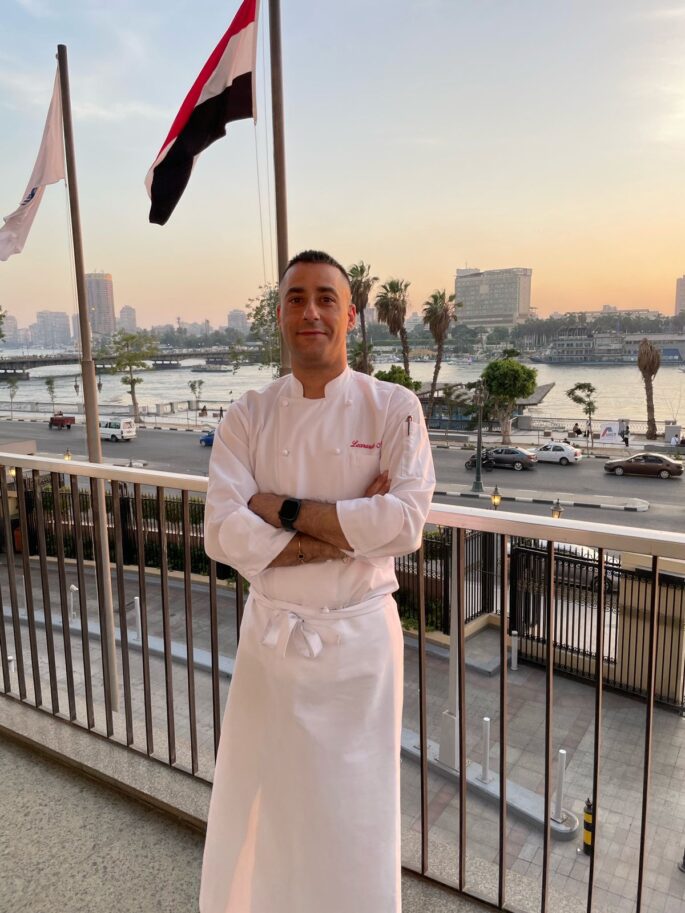 From his beginnings in Southern Italy through all of the places he's travelled, Chef Leonardo has grown and developed his personal style to create dishes with a tantalising flavour and immaculate presentation. However, he still claims that it can't rival the food his grandmother makes thanks to her extra special ingredient, the love that can only come from a grandmother. 
If you're wondering what his favourite ingredient is, it has to be the king of Italian cuisine, the tomato. 
"The colour and the scent speak of warmth, of earth.  In the south of Italy there are my favourites: San Marzano, ramati, pachino, cuore di bue, datterino and ciliegino e regina," he said. 
By taking inspiration from tradition, and adding his own personal flair, alongside always using top quality ingredients, Chef Leonardo has designed a Mediterranean-creative menu that never sacrifices flavour. He loves experimenting and uses everything from a taste or smell to gestures and memories. 
"I go deeper, losing myself in the flavours of tradition, trying to bring them back to light in a new form, respecting the value of each ingredient. My dishes always arise from the encounter between the memories of my childhood, made of simple flavours that taste like home," Chef Leonardo said.
Paired with the sounds of smooth jazz music by Okasha every Saturday night, Vivo's authentic Italian dishes are sure to impress even the pickiest eaters. If you want to indulge in an evening of fine dining courtesy of one of the most talented chefs in Cairo alongside stunning Nile views, head to Vivo now for a memorable experience.
Follow @thenileritzcarlton to stay updated with all their latest creations, or call +20 127 7233582 for reservations.