Christmas in Cairo: Where to Buy And How to Cook a Turkey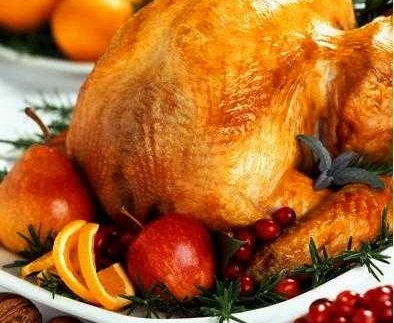 written by
Melissa Howell
Finding
and roasting a turkey in Cairo for Christmas can seem like a daunting task,
especially when many ingredients are not easily available. With some
preparation, the proper tools and tips from Cairo 360, cooking this bird will
be a breeze. If buying and cooking your own turkey still seems overwhelming,
we've included some catering options for a stress-free Christmas dinner.
Where to
Buy a Turkey:
Metro
Market: Love
them for their convenience or hate them for their overpriced products; Metro
Market has a wide selection of food stuffs that are hard to find at the local
grocer. Every Thanksgiving and Christmas, turkeys are displayed predominately
in the meat corner. Turkeys at Metro can be purchased frozen or thawed and
wrapped in plastic to preserve moisture. If you're cooking for a large party,
you can order fresh turkeys weighing between seven to nine kilos for 29.50LE
per kilo.
Local Butcher: For the freshest meat in Cairo, your local butcher
is the only place to shop. Although it's normally beef and not turkey that we
see hanging from the butcher's window, if you give him a few days notice, your
butcher can probably order a fresh turkey to be slaughtered, gutted and cleaned
for you. Expect to pay around 30LE per kilo of turkey, but be ready to bargain
for that price.
Gourmet Egypt: Gourmet Egypt is not just your one-stop shop for
fine imported cheeses, fish and fruits; but for meaty Christmas cheer too!
Their frozen turkeys range in weight from six to eight kilos and cost 35LE per
kilo; so an average turkey on the website goes for around 210LE.
How to
Cook a Turkey:
Brining a turkey is a good way to start
if you want to ensure that the meat is tender and moist. The salt water
solution helps to break down proteins and tenderise the meat. Note that the
meat will pick up the salty flavour; so you should not add salt to your dry rub
later. Any other spice added to the brine will infuse the meat with flavour, so
you can opt to add garlic, sage or citrus to your brine. After removing the
turkey's innards, place the bird in a large pot and cover it with a solution of
two gallons of water and two cups of dissolved kosher salt (less if using table
salt) and spices of your choosing. Let the turkey soak for eight to ten hours for
the best results.
Roasting the turkey will be the same
regardless of if you brine or not. Wash the turkey thoroughly under running
water and pat dry with a paper towel inside and out. Place the turkey
breast-side up in a roasting pan. Add a dry rub of pepper and herbs, omitting
salt if brined. If you stuff your turkey, be sure not to pack the stuffing too
tightly or it won't cook through. Start at the neck, with just a few spoonfuls,
then stuff the rest from the back. If you choose not to stuff, place onions cut
in half into the bird's cavity. Lastly, and probably most importantly, drizzle
three tablespoons each of vegetable oil and melted butter all over the bird.
Lightly tent the turkey in aluminium foil and place the roasting pan in the
oven, heated to 163°C.
After two
hours of cooking, remove the turkey and baste thoroughly before recovering the
pan and returning it to the oven. Continue this every fifteen minutes until the
last half hour of cooking. Baste one last time, remove the foil and cook uncovered.
Remember to let your turkey rest for about ten minutes before you carve the
meat. For every kilo of meat, expect to cook the turkey for about 40 to 45
minutes. The meat is ready if pierced with a fork and the juices run clear.
Where to
Order a Ready-Made Turkey:
Bon Appetit: That's right; this Cairo fast food chain known for
roast beef sandwiches and chicken pané also caters turkey dinners. For 750LE, a
roast turkey (averaging at 11 kilos) is stuffed with rice, served with potatoes
and delivered to your doorstep. With branches around Cairo, this is one of the
most accessible catering options.
Marriott Cairo Hotel: Whether you're planning a small
family dinner or inviting the whole neighbourhood over, the Marriott Cairo
Hotel in Zamalek can accommodate your turkey needs. The hotel offers stuffed
roast turkeys served with vegetables in three sizes. A small turkey of six to
eight kilos costs 690LE, a medium of eight to ten kilos sells for 855LE and a
large turkey up to twelve kilos will set you back 980LE, tax excluded.
La Bodega: If you are particular about how
you take your turkey, try Zamalek's La Bodega. You'll have the option of having
it stuffed with rice or stuffing and sides of potatoes with gravy, sweet
potatoes or mixed vegetables and cranberry sauce. A twelve-person turkey dinner
costs 895LE, and with a twenty-person turkey costing 1495LE, La Bodega is the
most expensive (and most decked-out) catered option of the three.