Eating out in Ramadan can be a difficult task because choosing from the host of restaurants in town can be quite confusing. But if you're looking for a safe bet that will prove to be a satisfying experience, let us tell you about what Conrad Cairo Hotel has to offer.
Amazing Iftar Options
What's better than delicious food for Iftar? Well, it's delicious food with a stunning view. Conrad Cairo's Solana Restaurant is a wonderful restaurant with a spectacular view of the Nile. You can enjoy an extravagant Iftar buffet at the Hotel's restaurant that features numerous salads, a generous selection of hot & cold mezze, and of course, a number of sumptuous hot specialties.
But if you're in the mood for Lebanese Iftar, you can hit OAK Grill for their delicious and filling set menu. You'll be served a deluxe setting of traditional hot and cold mezze, Lebanese roasted chicken freekeh, chicken fatah, and a tasty assortment of oriental sweets. Their food is quite delicious, and the ambiance is excellent.
Delicious Sohour Options
Your Ramadan nights are never complete without a nice Sohour meal with the family, and at Conrad Cairo's Jayda Nile Terrace, home to the hotel's mesmerizing Ramadan tent El Lama El Helwa, this is exactly what you'll get. The tent not only offers delicious Sohour meals, but it also offers daily live entertainment.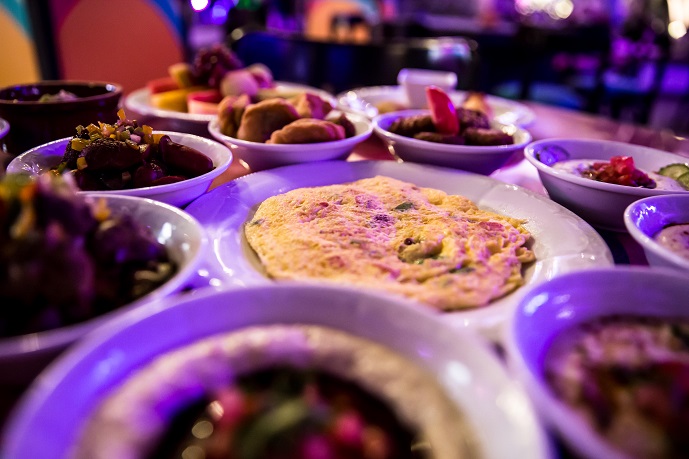 Large Group Options
Ramadan is all about gathering with your loved ones, so if you're looking to gather a large number of your friends or family, call Conrad Cairo to get more information on their event organisation. You can get a family-style set menu or buffet to satisfy all your guests. Conrad Cairo also offers Iftar and Sohour options for corporates looking to have a great meal with their employees.
Sweet Tooth Options
Heading to a Ramadan gathering and not sure what to get? Well, just pass by Conrad Cairo and check out the mouth-watering selections of oriental desserts they have. You can expect special prices at the Atrium Lobby Lounge.
For more information and reservations, call Conrad Cairo Hotel at 02-25808000.