Cortigiano: Wholesome Family Diner in Maadi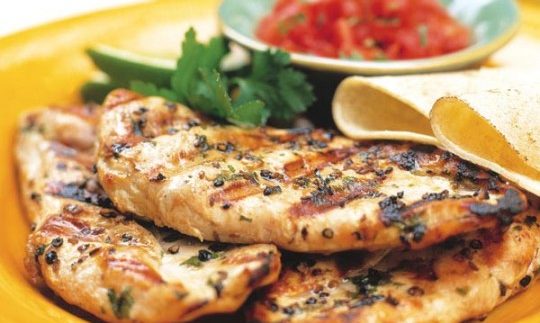 There's something about these quintessential family restaurants in Cairo. It might be the wholesome meals or a sense of nostalgia from hundreds of Fridays spent eating together. Cortigiano is one of those. It's come a long way since we visited their original branch in Dokki, so we decided to stop by one of the other branches in Maadi.
Located on the quiet Road 7, Cortigiano takes up a cozy spot that you can identify from the red brick and plant pots exterior. Inside, the décor is different shades of brown and beige, with all the seating options looking quite comfortable.
A friendly waiter showed us to our table, handed us our menus and retreated for a bottle of water.
We opted for the surprisingly pricey Shrimp Cocktail (76.95LE) from the appetisers and a Grilled Chicken Caesar Salad (36.95LE). For our mains, the Beef Tenderloin with Black Pepper (93.50LE) caught our eyes, as did the Pollo Alla Griglia (61.95LE)
Serving time isn't as fast as you'd hope, unfortunately. It's not that the service wasn bad – it just slow. When the Shrimp Cocktail arrived, we were quite disappointed; rubbery shrimp, that tasted quite bland, with a slightly metallic-tasting cocktail sauce.
The salad came next, featuring the regular iceberg lettuce, grilled chicken strips, and Caesar dressing. The dressing was thin, diluted and ultimately quite weak in taste, and there were minimal croutons.
The Beef Tenderloin was a pleasant surprise, but we're unsure if that's because the starters set the bar so low. Served with the traditional two sides of sautéed vegetables and fluffy white rice, the Beef Tenderloin, albeit not being the greatest quality meat, was cooked to the requested medium, and the sauce pleasingly subtle.
The Pollo Alla Griglia is a barbecued chicken breast marinated with lemon, herbs, oil, garlic and thyme, and served with two sides. While again, the chicken wasn't incredible – the marination didn't leave the kind of mark that the potency of its ingredients would have you believe – it was cooked nicely and the dish was extremely filling.
Practically all the items on the menu were huge in portion, but the prices aren't as affordable as they used to be. In fact, they've almost doubled since our 2010 review. But while some of the food is hit and miss, the pleasant atmosphere and all around comfortable feeling you have at Cortigiano seems to keep people coming back.