written by
Nesrien Abdelkader
Imagine yourself dining 41 stories high as the restaurant constantly rotates 360 degrees, bringing you views of the majestic Pyramids of Giza and the stunning Nile River. Home to some of Cairo's finest food and beverage outlets, The Revolving Restaurant at the Grand Nile Tower Hotel offers authentic cuisine to suit anyone's taste with its delectable Skyline Steak Menu.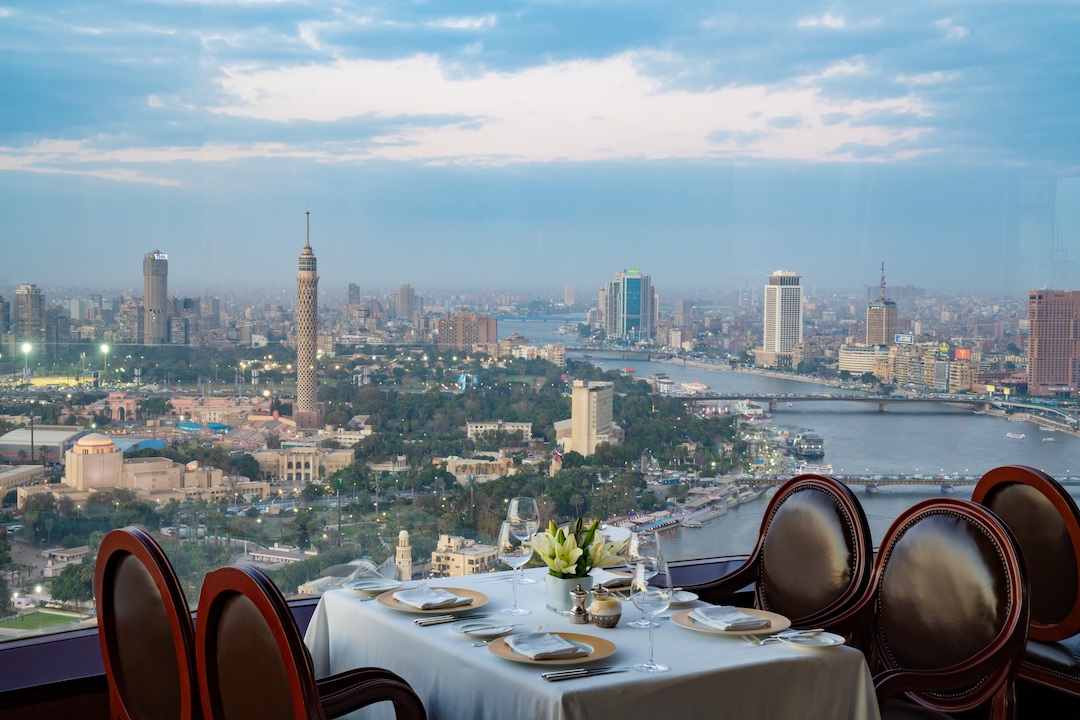 For over 18 years, the Grand Nile Tower hotel has been an iconic landmark, a haven within the vibrant city of Cairo. As the most spectacular restaurant in all of Cairo, the Revolving Restaurant provides diners with staggering panoramic views of the ancient cosmopolitan city of Cairo as they savour culinary delights from an international gourmet menu prepared in the restaurant's show kitchen.
Their expansive menu has an array of appetizers that will leave you wanting even more, like their Smoked Salmon Two ways or Spring Quinoa Salad with Shrimp. Next, you can enjoy a rich, warm soup such as their Blue Crab Bisque. 
Indulge in dishes made from the finest quality cuts of beef from the US and Australia, like their Australian Wagyu Tenderloin or USA Black Angus Sirloin. Each can be paired with a savoury sauce to elevate the meal. Don't forget to choose your favourite side dishes from their wide selection, including Grilled Asparagus, Potato Gratin, Truffle Mashed Potatoes, and more.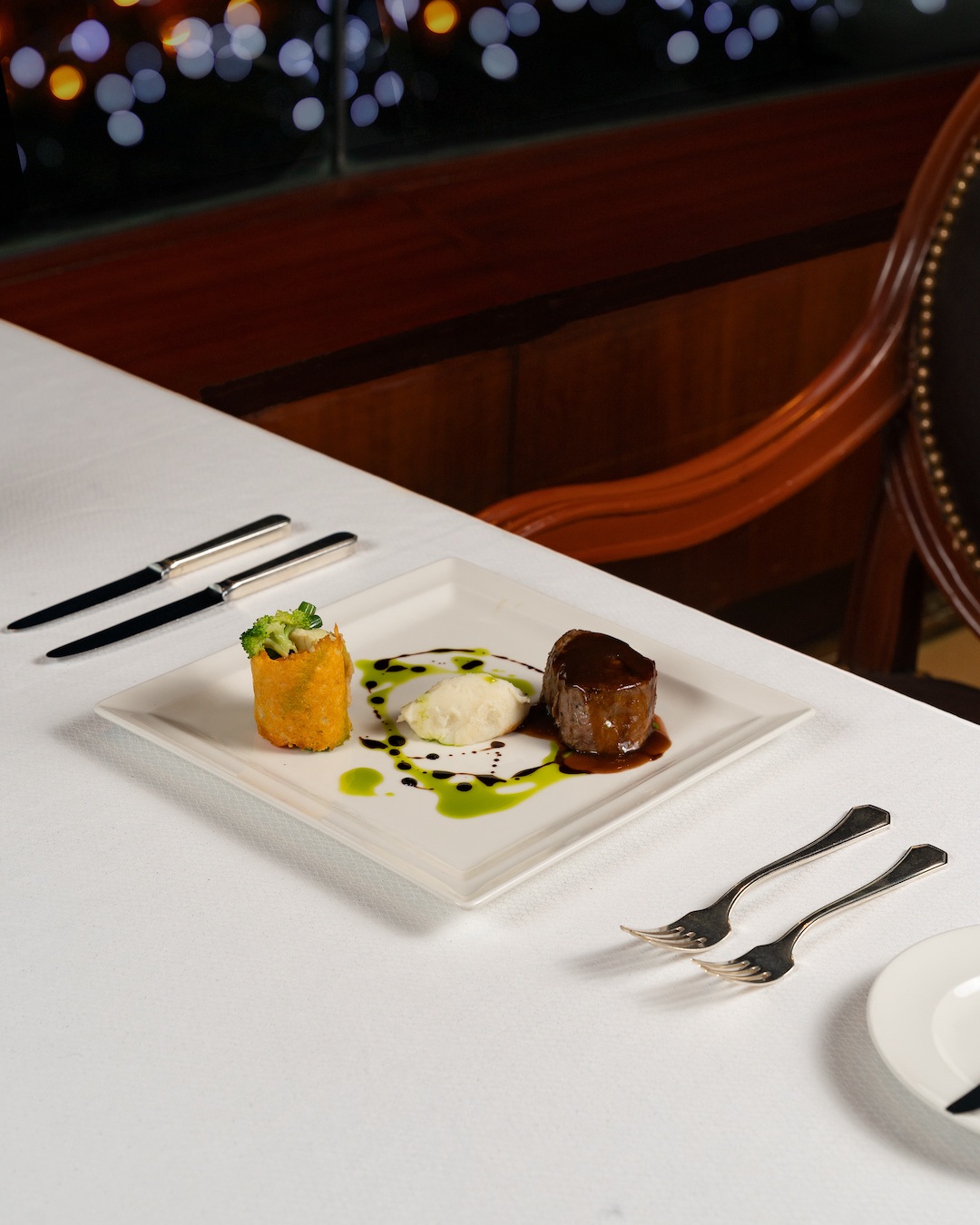 Of course, no meal is complete without dessert, and the team at The Revolving Restaurant are experts in all things sweet! So end your night on the perfect note with a Warm Chocolate Fondant or Lotus Cheesecake. For something a little lighter, opt for their Fine Apple Tart or Vanilla Crème Brûlée.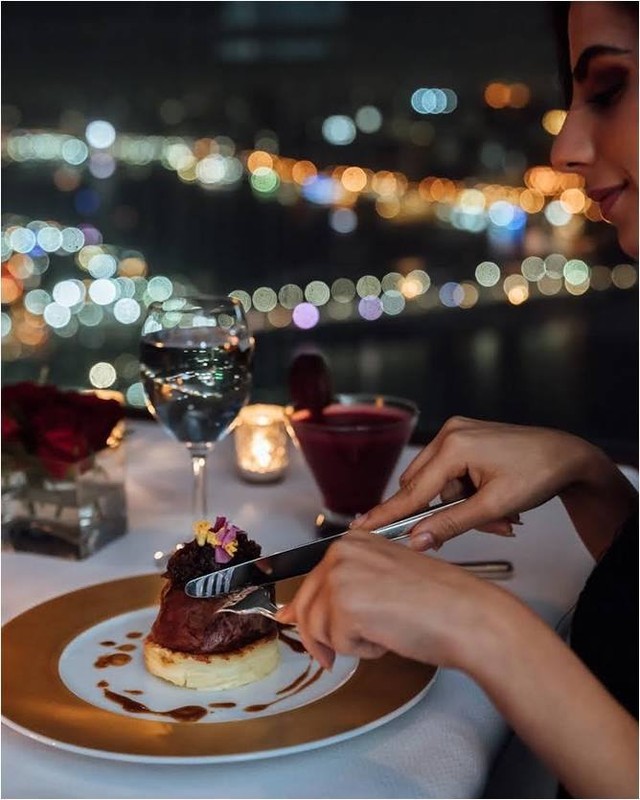 The restaurant, which seats 120 for dinner every day starting from 6:00 pm, rotates a full 360 degrees over 90 minutes, and is located on the 41st floor of the Grand Nile Tower Hotel and can be reached by an exclusive elevator.
Located one floor below is the stunning Revolving Restaurant Lounge, where guests can enjoy the matchless sunset view over the Nile while gazing out upon the distant Pyramids of Giza. Guests can enjoy a quiet drink with a friend, floating high above the illuminated city and the shimmering Nile. With seating for 40 and access via a dedicated elevator from the lobby, the astonishing 360-degree panorama makes the Revolving Restaurant Lounge Cairo's pre-eminent meeting place.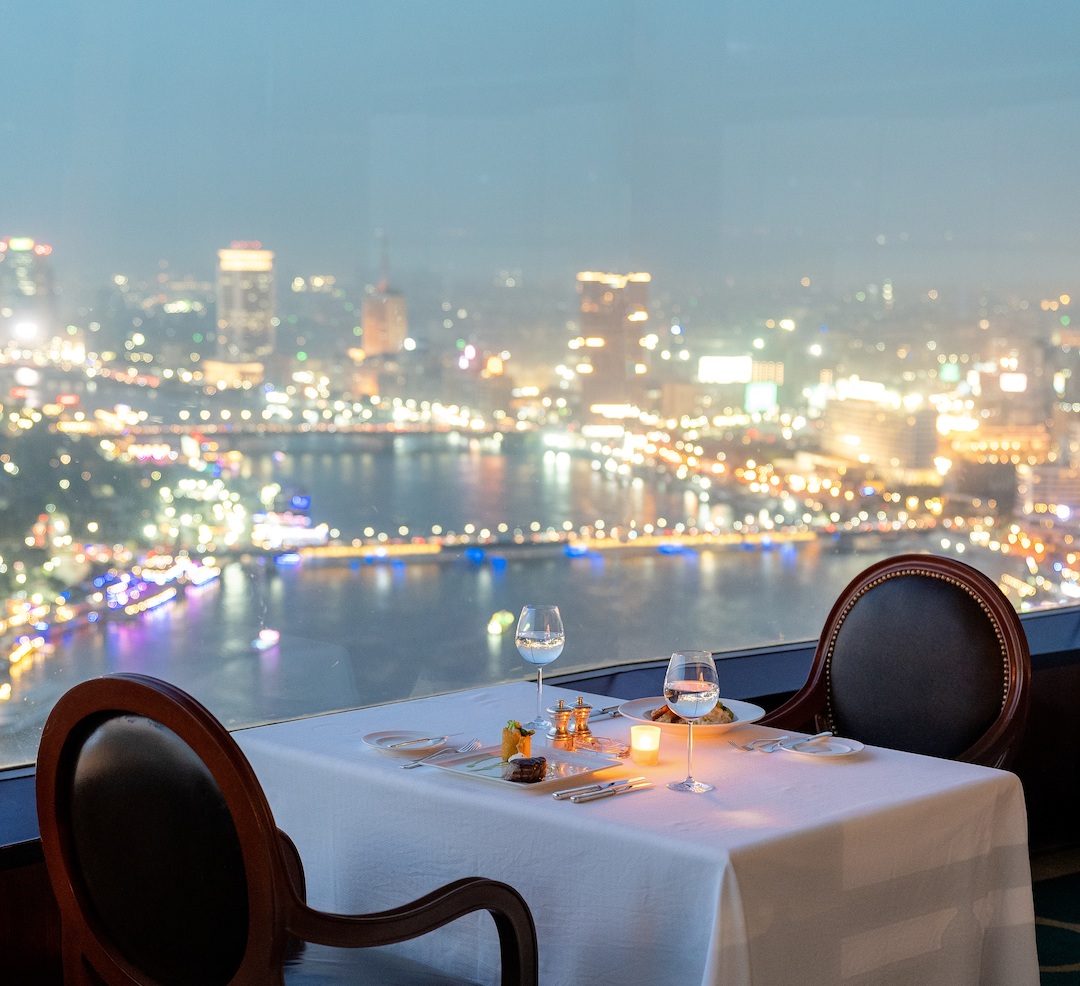 They also have special deals for all you lovebirds out there. So spoil your partner and share an intimate romantic dinner for EGP 1850, inclusive of taxes and service charge per couple, with live entertainment every Thursday and Friday.
Where else can you enjoy a mouthwatering meal with a once-in-a-lifetime moving dinner experience? Reserve your spot at The Revolving Restaurant now for an exquisite night.