written by
Haajar Abu Ismail
With sea views, urban life, and perfectly cool weather, Alexandria is a Mediterranean city with undeniable charm. As the days get colder, the Four Seasons Alexandria is shifting gears from being a centre for outdoor activities to the ultimate city getaway. It's hard to miss the spectacular culinary selection available at this luxurious hotel, considering the sheer quality and variety of the restaurants on site.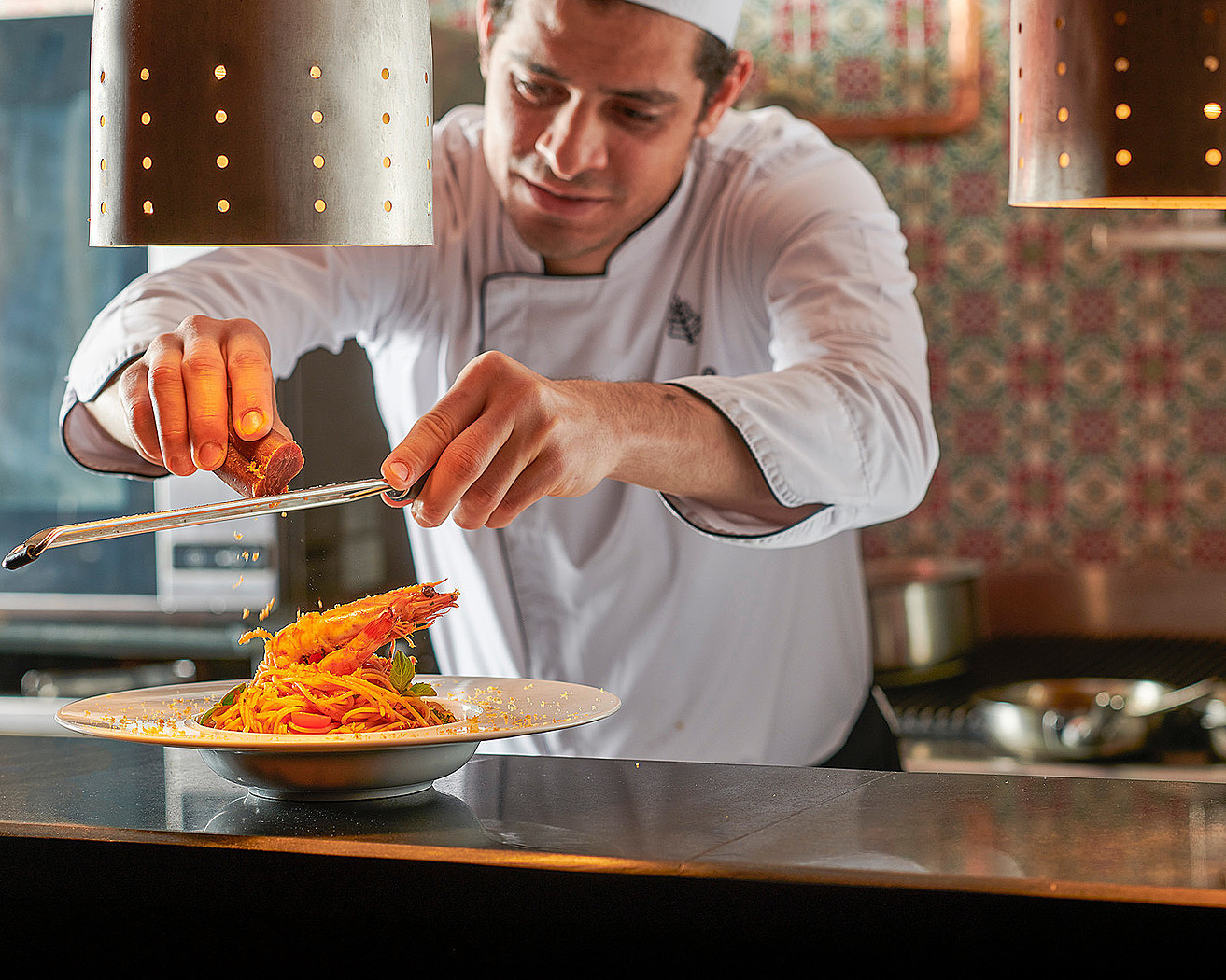 Stefano is a restaurant headed by Chef Alessio Pizalis. Born and raised in Sardinia, Chef Alessio has lovingly created his recipes with inspiration from the elements of his beautiful Italian home island. The meal options are sure to revitalise your taste buds, be it with the Ravioli Neri, with seared sea scallops, beetroot espuma, and beetroot dust, or the Risotto Alla Pescatora, with prawns, calamari, black mussels, and octopus.
Byblos is a space for Middle Eastern cuisine featuring the iconic flavours of saffron, zaatar, and pomegranate molasses. The mastermind behind the menu, Chef Essam Arabu, is sure to impress, offering a selection of classics like the Kibbeh Mabroumeh with lamb, pistachios, almonds, and nutmeg, or the Shakriah Bel Lahm, which is braised lamb shank with onions, pine nuts, yoghurt, and vermicelli rice.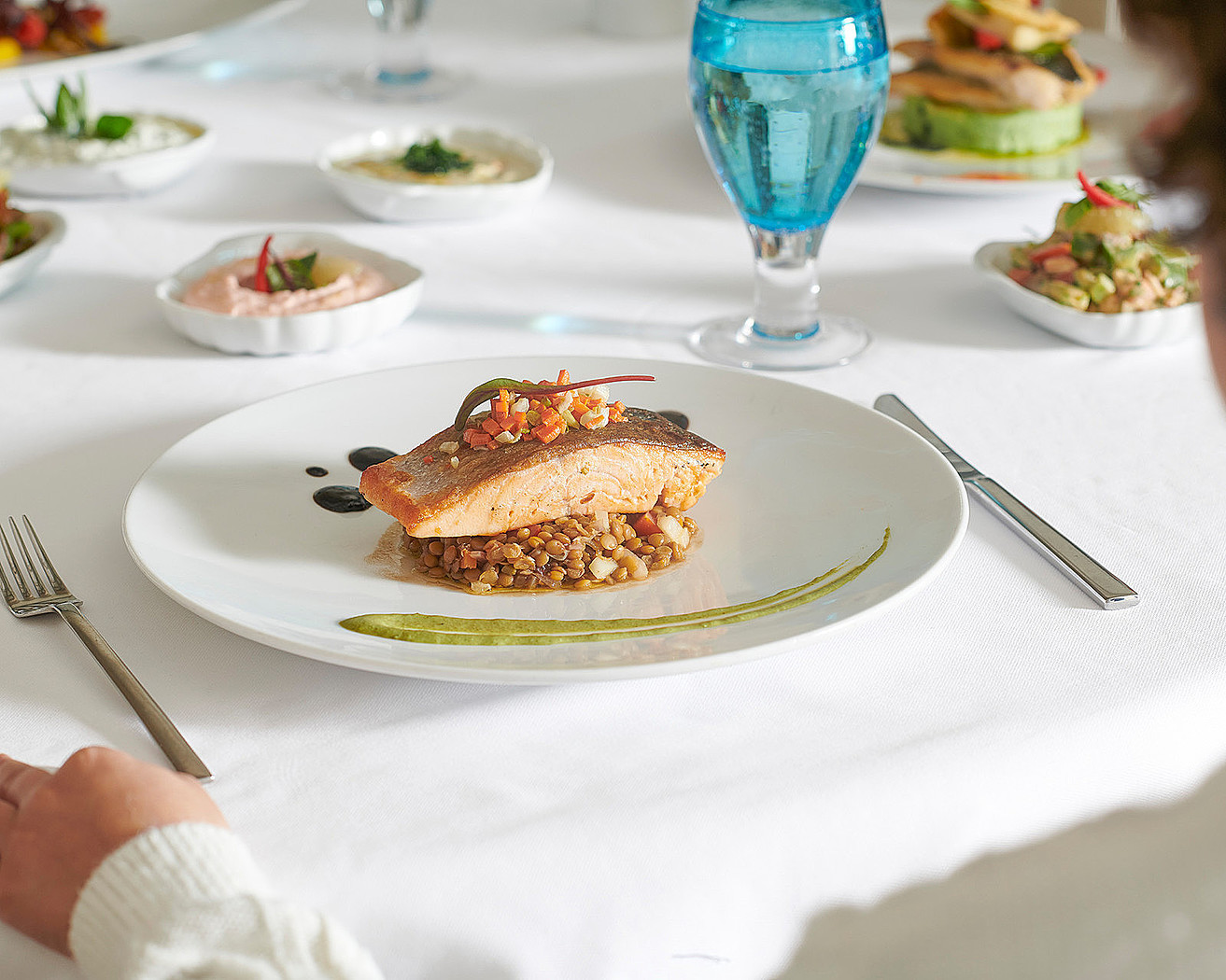 Kala, which means 'good' in Greek, has earned its name as this restaurant features top-tier dishes for the pleasure of its guests. With sea-toned décor of blue and white, the soothing atmosphere is a perfect companion for their amazing seafood meals. Between the Salt-Crusted Sea Bass with lemon butter sauce, tomato, olive sauce, grilled vegetables, and roasted baby potato, or the Assorted Grilled Seafood with lobster, sea bass, prawns, squid, grilled vegetables, and seafood rice, you can't go wrong.  
"We are all excited to welcome back our dear guests to another tasty season in the heart of this Mediterranean city filled with exciting flavours and culinary journeys around the restaurants," said Christophe Laplaza, Food and Beverage Director for the hotel.
After all, what better way to create warm memories than by trying incredible food right in the heart of Alexandria's Mediterranean charm?
Join one of the restaurants' special events for an unforgettable experience:
Byblos Restaurant: Levantine Reimagined
Wednesdays with a live Arabic singer
From 7:30 pm until 11:00 pm for EGP 790 
Stefano's Restaurant: Trattoria Night
Thursdays with live entertainment from 7:00 pm until 11:00 pm for EGP 790
Kala Restaurant: A Taste of the Sea
Saturdays, Sundays, and Wednesdays – Seafood speciality with a la carte menu from 6:00 pm until 11:00 pm
Kala Restaurant: Friday Brunch
From 3:00 pm until 7:00 pm for EGP 895 with live entertainment and a kid's corner