written by
Haajar Abu Ismail
The Four Seasons Hotel Cairo at Nile Plaza is bringing the spirit of the Italian coast to Cairo with the opening of Riviera. Riviera offers authentic Italian cuisine that embodies the coastal lifestyle, making it more than simply a destination but the optimal place to wind down and enjoy life.
The Italian Riviera is a relaxed setting of year-long sunshine, refreshing summer breezes, and top-tier fresh produce. Located right on the banks of the Nile, Riviera's location emulates the coastal atmosphere while providing incredible views of the river, a vista matched by the tasteful décor done by renowned French Designer Pierre-Yves Rochon.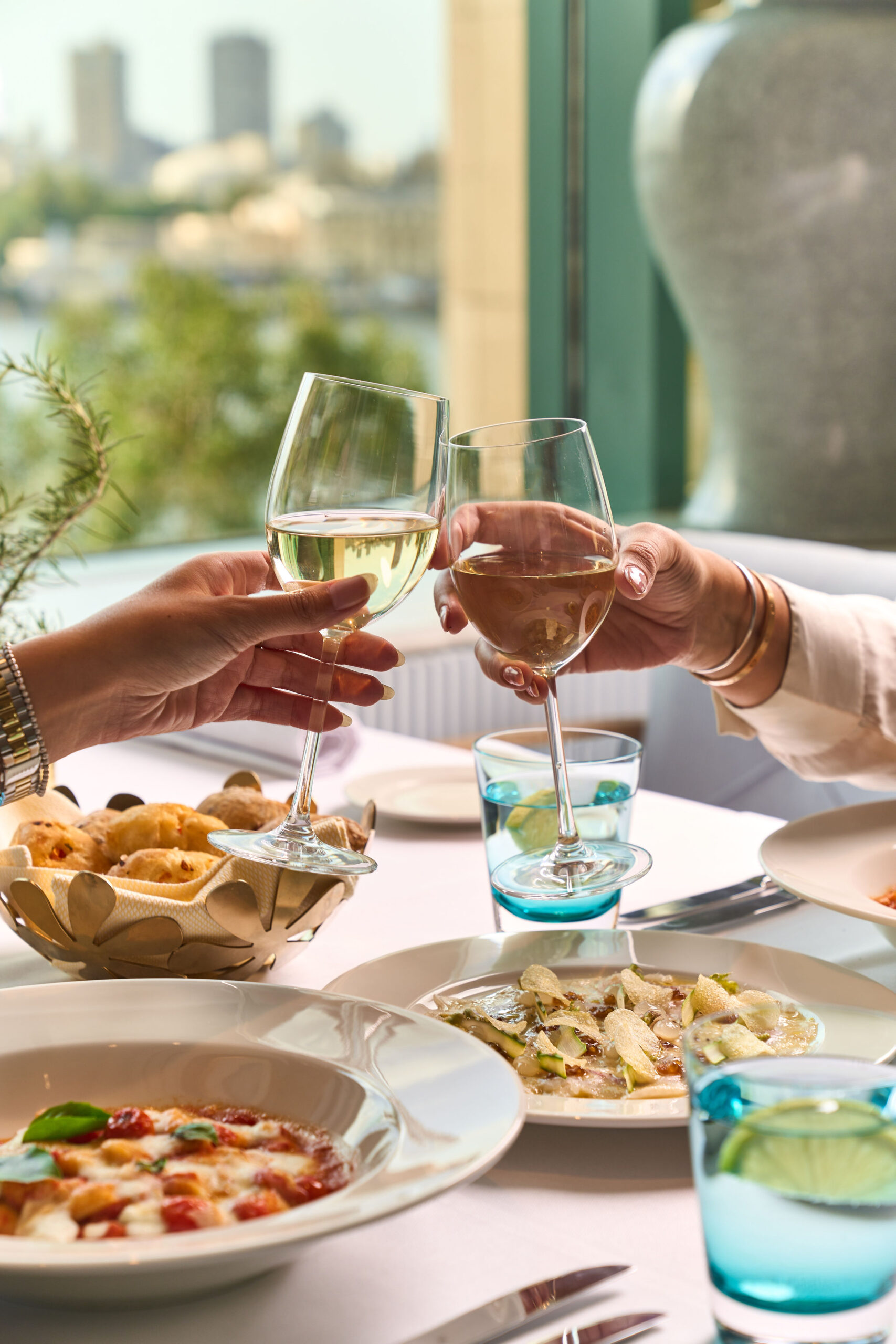 With sea blue accents, wooden shutters, light-filled space, and ceiling frescoes of sunny skies, the interior design truly embodies the spirit of the Italian coast. In addition, there's also a beautifully intimate private dining room with the same soothing ceiling frescoes that seats up to 18 guests and has its own extensive wine cellar.
At the helm of Riviera's kitchen is Italian Chef de Cuisine, Fabio Strammiello.
"I grew up admiring all the intricate details that come together in perfect harmony to create a delicious dish," he said.
At Riviera, these details have come together to form Strammiello's interpretations of classic Italian recipes, such as agnolotti with smoked aubergine, lemon butter sauce, and homemade baked ricotta, or the strozzapreti with sautéed lobster, roasted cherry tomatoes, and star anise. For those more in favour of lighter dishes, there is also the delectable Gamberi Crispy Prawns in Almond Pastella, or the Branzino Sea Bass Carpaccio with horseradish dressing, pickled tapioca, chips, and lemon gel.
Riviera's three-course lunch menu, served between 12:30 pm – 4 pm, is the ideal option for a relaxed lunch. The menu includes the ever-popular Caprese Salad, Grilled Octopus, and their in-house signature salad with summer flavours. The mains are equally impressive, ranging from risotto or short ribs to sea bass. Not to mention, Italian dessert lovers are sure to be impressed by the authentic tiramisu.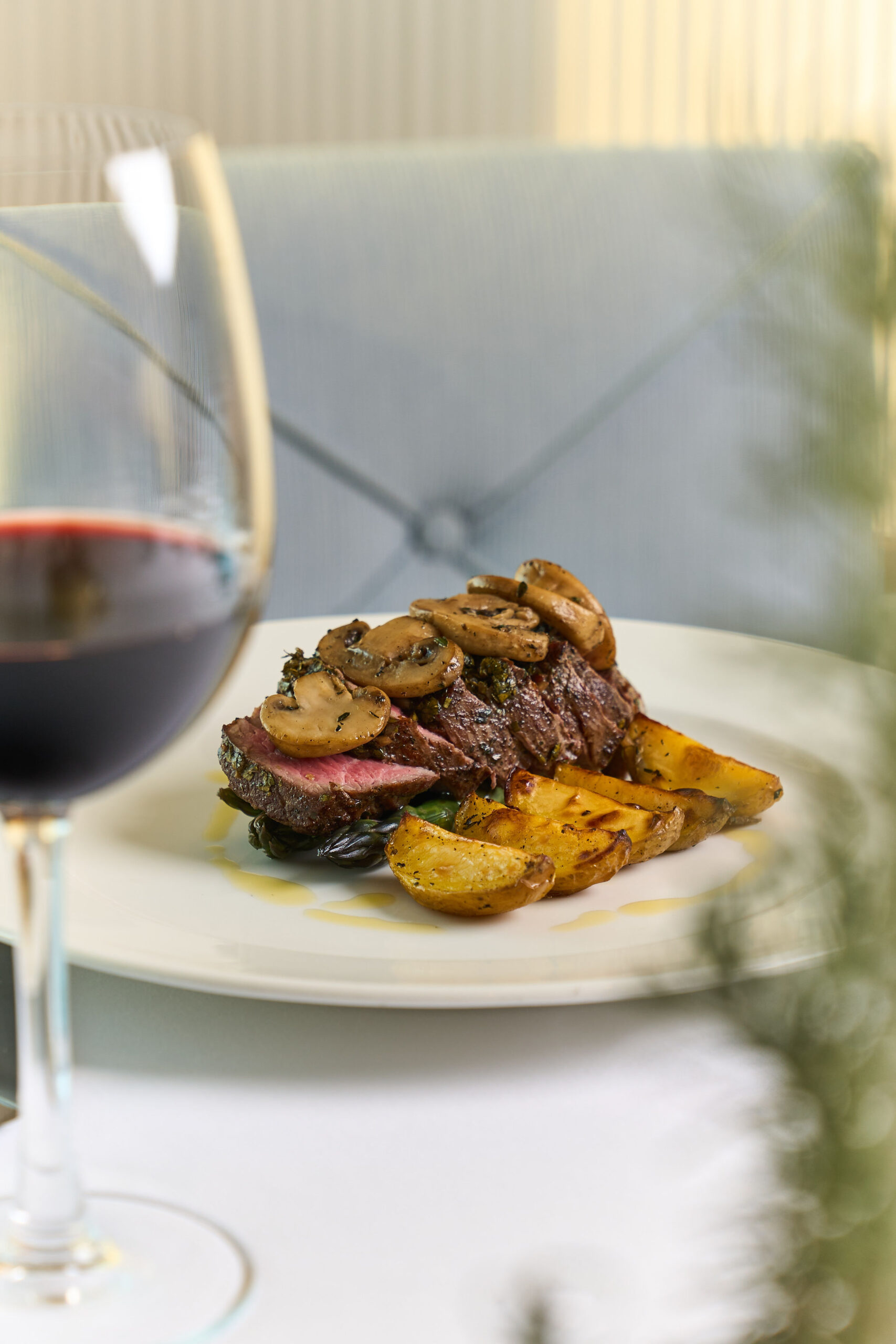 Those impressed by the lunch menu will love Riviera's dinner selection. Seafood fans can go for the Meditteranean Risotto featuring clams, calamari, and prawns, or the Tegamaccio, a seafood stew with sea bass, mussels, salmon, calamari, prawns, and roasted cherry tomatoes. Other delectable mains include the Agnello, a pistachio-crusted roasted lamb loin, or the Polletto, a crispy half chicken with roasted mushrooms, parsley purée, garlic confit, and tomatoes.
With its lively atmosphere, stellar riverside location, and authentic Italian cuisine, Riviera is set up to be a favourite in the city. But, above everything, it is a space optimised for the comfort of guests. In the words of Chef Strammiello, "I want them to feel that Riviera is a homey, welcoming restaurant, where conversation flows naturally, and where the food they eat with us is authentic, delicious, and comes from the heart."
Guests can also look forward to special seasonal items beyond Strammiello's signature menu, such as Italian winter truffles, evening aperitivo hours, and a Saturday brunch coming soon.
Riviera is open Wednesday to Monday for lunch from 12:30 to 4:00 pm and dinner from 7:00 pm until midnight. For reservations, call +20 2 2791 6875 or email riviera.cai@fourseasons.com. Visit their website or @riviera_cairo on Instagram for more inspiration.