The Executive Chef of the Conrad Hotel in Cairo inspires us with his innovative and creative passion for food and world cuisines. We were able to talk to him about the enticing menus for the Conrad Cairo's Christmas and New Year's events this year, and if we weren't already excited, we most definitely are now. Paolo Rocco has been living and working in Egypt for the last three years. Previously, he worked at Hilton Beirut, and many other places before that, such as the United States, Dubai, London, and the Bahamas.
He has been working in the restaurant industry since he was only 16 years old; he would work in a small restaurant near his home during summer vacations. Rocco also credited his mother as being a major inspiration for his current line of work; "the best thing I still remember is Sunday morning when she'd prepare food for us. She'd wake up very early in the morning, 7 or 8 o'clock, and she'd start to make the roast, the fresh pasta…I still remember the smell coming from the kitchen." Because of this, he became more and more impassioned with food, and decided to go to culinary school.
Today, Chef Paolo has been working as a chef for over 32 years. As a chef in a hotel, housing various restaurants in a major Middle Eastern city, it is important for Rocco to ensure that he appeals to Egyptian diners, while also incorporating international tastes and cuisines. When asked about his strategy for crafting the menus for Conrad's Christmas and New Year's events this year, he gave us some insight on this process. Rocco explains that while they try to stay global, they incorporate as many local items as possible. Even though the menus feature dishes such as the classic Christmas turkey and baked sweet potatoes, they also include Egyptian-inspired dishes. "After being here three years, I know the Egyptian flavor, so I adjust some items that aren't qualified for this flavour, and I fix the taste to fit the local community."
The menus are diverse and full of unconventional dishes, at least for Christmas anyway. Chef Rocco listed lamb, fresh sea bass, and some meals suitable for Coptic Christians in Cairo following a seyami diet, such as assortments of baked vegetables like pumpkin and beetroot. "To have a good variety, I have to put not only turkey on the menu." We were especially interested in one menu item in particular: the dessert for Oak Grill's (The hotel's Lebanese restaurant) Christmas Eve dinner.
The menu describes a coconut milk panna cotta with hibiscus caviar, kiwi sorbet, and so much more. We were pretty blown away at how unique this dish seems, as well as pretty curious as to what goes in to making it, and Chef Rocco was kind enough to explain the whole process: "The panna cotta is just a normal panna cotta but made with coconut milk. We have what looks like caviar, but is actually made from hibiscus (karkade): there is a special syringe used to turn the hibiscus into caviar. There is an edible flower, of course, and the kiwi sorbet is a regular sorbet made with kiwi, a little bit of sugar, and lemon."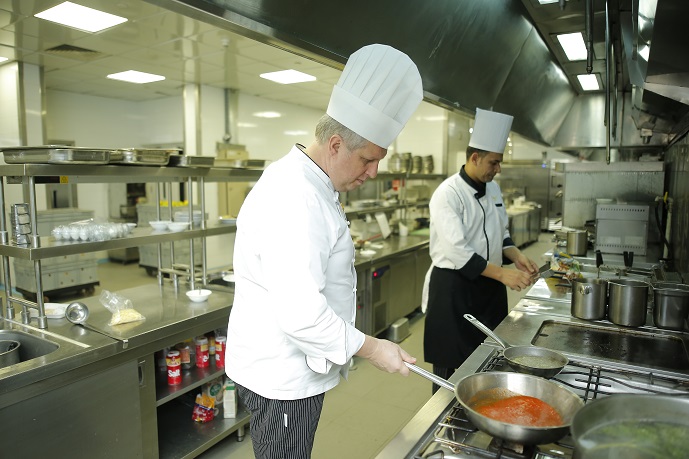 All of these delicious elements will be held together by a tuille made from almonds and hibiscus. It's not hard to believe that we were salivating the entire time he described this sweet treat. Not only is it a unique dessert in general, but especially for a Christmas Eve menu! You won't find anything else like this at any other dining location. Before closing the interview, we just had to ask him about his experiences as an Italian chef living and working in Egypt. Rocco said, of the Egyptians, "They are very proud of their culture, you need to be able to reach their heart." His favourite Egyptian food? Koshari, of course!