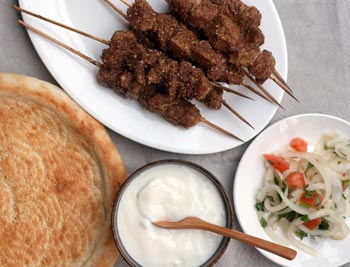 It's not exactly news that dining out in Cairo can get expensive. Whether it comes down to a 12LE can of soda with dinner or steep minimum charge, it adds up quickly, often leaving us to feel more robbed than satisfied. The upside is that Cairo isn't in short supply of budget-friendly restaurants. And as luck would have it, a few of these gems have managed to please even the pickiest of epicureans.
One of the latest hotspots on Cairo's dining scene, Arij is a dive kind-of place on El Hagar Street in Dokki that serves up a mean array of Sudanese-Ethiopian cuisine. One important note, though: expect to get your hands messy. You'll want some tissues after your chow-down on their salat aswid (eggplant and sesame) and rizla (spinach sauce) – using the injera (crepe-like bread) as your utensils. While Arij's menu is primarily vegetarian, on certain days you can catch meat and lamb dishes, too.
It's possible we could write a love song for this one as we've sang its praises for a while now. This charming foul establishment is located in Garden City (around the corner from the Canadian embassy); think al fresco style on a quiet street. The best par-none, the foul comes with that Alexandrian kick including freshly cut vegetables, tehina and spice – not to mention their delicious sides platter including crispy homemade chips, white cheese, betingan, potatoes and a chilled tomato salad.
This roadside shack in Maadi is dangerously located next door to
Crumbs
and is one of Road Nine's newest additions. Whether you're opting for Syrian falafel or shawerma, Moroccan style, the fresh Saj bread makes all the difference. Still, their simple menu is incomplete without a mention of their waffle selection. Yes, waffles at a shawerma stand because hey, why not? Seeing as how they're the 'cool' thing to eat right now, you might as well throw some chocolate and fruit sauce on top and go to town on it.
Run by students, this Chinese restaurant might just be one of the only venues Cairo to actually serve truly traditional, authentic Chinese food. Located in Abbasiya, near the large Taki Mattress building, Al Azhar Chinese Restaurant is nothing fancy, but the giant soup servings sweep away the coldest of hearts – comprised of homemade noodles, mixed with beef and plenty of spices, it's pretty special. Other beef options are aplenty, though the tofu in tomato sauce, paired with tasty green tea, usually nails it.
The longest standing restaurant on the list, Abou Tarek's koshary is hailed as one of the tastiest in the city. Staying packed to the max, it's no surprise that this Downtown establishment is as popular as it is. There's something about Tarek's extra crunchy onions, thick tomato sauce and flavourful oils that set it apart from its competitors. Despite the number of people in and out, you'll be served in the blink of an eye. Take a gander at the giant fish tanks upstairs in the meantime.