Fuul House: Creative Foul Dishes in Mohandiseen
39 Iraq St. (off Shehab St., infront of Safa Hospital)

01210701033,01210701011,01210701022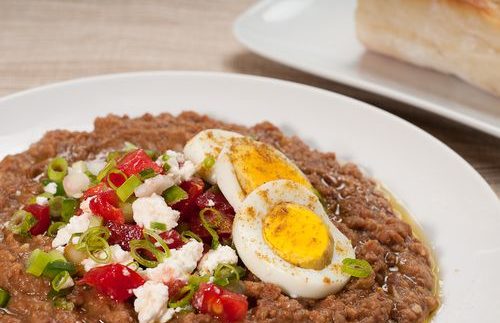 As the name suggests, this is a house full
of foul dishes. But not any old foul dishes – this new place on Iraq Street, in
Mohandiseen, boasts the claim of having the best foul in town; homemade, fresh
and tasty. The small shop mainly works on takeaway and delivery basis, but
they do have two side bars where you can have a quick sit in to eat or wait for
your order. However, during Ramadan, they also have a small seating area
outside with a few chairs and small tables. The décor is simple and colourful
with an antique blue door at the back which is the highlight of the
place. Inside, you'll see a counter made in the shape of a foul cart where they serve the foul, along with homemade chips and
salads.
The menu is full of variety with traditional Egyptian foul dishes, as well as Lebanese and Syrian
versions, not to mention their own special mixes. Prices start from 2LE for a plain
foul sandwich to 3.50LE for a special foul mix; and from 6LE to 10LE you can get
a box of foul.

We tried the Syrian foul, made with hummus and olive
oil; the Lebanese mixed with salad that had lots of green
coriander leaves and a hint of garlic; and the Gulf mix with whole foul
beans, garlic and tomato sauce. We were blown away by the Vinaigrette
Foul; with sliced onions and a nice tanginess, it was by far our favourite.
The shamy falafel, made with hummus, were crispy on the outside, light and
very tasty as a whole – they were made in the shape of a small doughnut with a hole in the middle. Prices are 3LE for a sandwich and 5LE for a box
of four falafels. The sandwich, made from fresh, round shamy bread, is full of
salad and your choice of tehina or hummus spread.
Takeaway sandwiches are wrapped up nicely
with a colourful wrapper and sealed with a neat label indicating which is
foul and which is falafel.
Egg dishes on the menu are particularly
unusual like boiled eggs with oregano (5LE) or da'a (a mix of dry salt, pepper
and cumin) and omelette with vegetables and cheese (4.50LE), which you don't
normally find in foul shops.
The salads are great too; the baba ghanough
bursts with garlic, the tehina is flavourful with the right texture and we
especially liked the classic white cheese with tomato, which also green had peppers
on top.
If you want a homely version of foul and
want to try out new mixes, this is the place to go.