IKEA Restaurant: Wholesome Scandinavian Dishes at Cairo Festival City's Biggest Attraction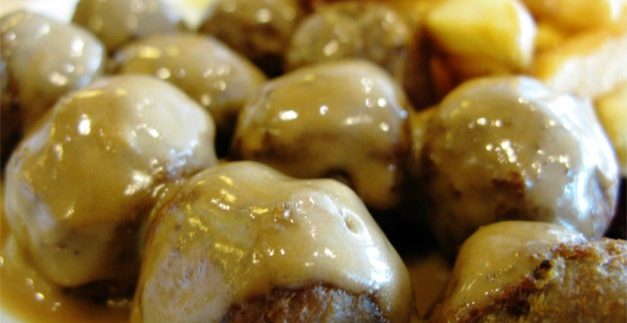 People have raved about IKEA's Restaurant for years. With the Swedish home furnishing giant having landed in Cairo at the end of last year, you can be sure they brought along their restaurant which occupies an entire floor at their venue in Cairo Festival City.
IKEA's food market is known for offering Swedish (or Scandinavian) food and groceries including meatballs and salmon. The meatballs in gravy with mashed potatoes might be their most famous dish so we decided to stop by since we were in the area.
Relatively easy to get to from the inside, we took a set of escalators up to the restaurant which is spaced out like a cafeteria. The concept is interesting; customers take a tray and are served what they want from the buffet. When you're done, you pay at the cashier. Later you can deposit you're tray in allocated areas. The idea takes from the same corporate attributes that IKEA employ to reduce end user cost.
So we proceeded to the buffet and opted for the 15 piece portion of Meatballs with Mashed Potatoes and gravy (35LE) and Herbed Grilled Chicken with Basmati Rice (39LE). We also tested out the Salmon Cake (12LE) and that's what we dug into first. Basically, it's a ball of mashed potatoes stuffed with cooked salmon and covered in a layer of fried breading. The cake is hot on the inside and has a nice mix of textures between the tender salmon, creamy potatoes and slight crunch of breading.
While the meat balls were tasty, especially with the gravy, we couldn't help but feel they were a little stale. It might the fact that we knew they were frozen and sent over from Sweden. The mashed potatoes were creamy and similarly complimented nicely by the gravy.
The Grilled Chicken, made with rosemary in the marinade, had a strong herby aroma and, along with its sauce, created a good harmony with the Basmati Rice, which has a herby flavour of its own.
All in all, a pleasant experience that definitely beats having to go hungry while shopping. Would we ever go there specifically for the restaurant? Unlikely; it's too far out and there's all of Cairo Festival City behind you with countless other restaurants. But for what it is – a decent and relatively cheap meal – it definitely works.