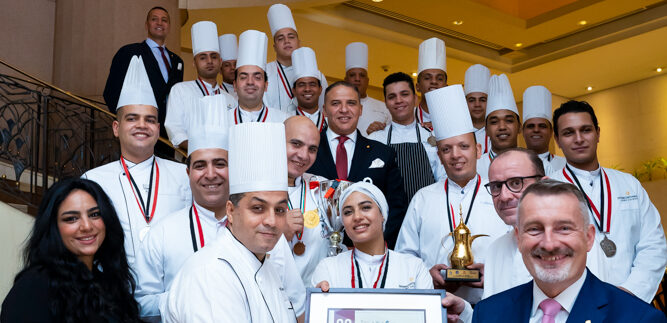 written by
Christina John
InterContinental Citystars recently hosted the prestigious 2023 National Salon of Culinary Arts event, organised by the Egyptian Chefs Association. This spectacular culinary extravaganza left no stone unturned, captivating audiences and capturing the attention of all of the industry as it highlighted the achievements of the InterContinental Citystars complex.
Bringing together a wide range of talent, the event featured a diverse group of professional chefs from various renowned restaurants, hotels, and culinary establishments across Egypt, with the primary aim of showcasing their culinary skills to a wider audience. The event drew the attention of diplomatic representatives from various embassies who were keen to witness these culinary artisans at work.
A significant part of the event was the participation of several accomplished chefs who engaged in friendly yet fiercely competitive battles across various categories. These categories included finger foods that were a symphony of flavours, vegetarian menus that tantalised the taste buds, four-course gastronomic delights, three-course Egyptian menus that celebrated local cuisine, main dishes that demonstrated culinary innovation, and delectable, sweet, and petit four creations that were basically art on a plate.
What set these culinary competitions apart was not just the incredible taste but also the impeccable presentation. The chefs showcased their skills by utilising a unique food preservation technique using aspic. This method involves creating dishes with a delicate gelatin layer that ensures that the freshness and excellence of the culinary creations are preserved for hours.
The culinary team at InterContinental Citystars emerged as true stars at the 2023 National Salon of Culinary Arts, bringing home an impressive 12 bronze medals, four silver medals, and the crowning jewel, the prestigious ECA Culinary Trophy of 2023. This remarkable achievement speaks for the team's expertise and unwavering commitment to culinary excellence.
Dieter Franke, the General Manager of the hotel and Regional General Manager of IHG Egypt and North Africa, expressed his immense pride in the team, stating, "We are incredibly proud of our chefs for their outstanding accomplishments at the 2023 National Salon of Culinary Arts. Their dedication to their craft and passion for culinary excellence is truly inspiring. We are honoured to have hosted this prestigious event and to have showcased the talents of our world-class chefs".
With the unwavering support of dedicated sponsors and the collaborative efforts of passionate chefs and hospitality experts, the event proved to be an exceptional showcase of culinary artistry. This occasion was a testament to the talent and dedication of the Egyptian culinary industry, leaving a mark on all attendees.
InterContinental Citystars not only lived up to its reputation as a luxurious destination but also to its status as a culinary haven for connoisseurs and enthusiasts alike. The 2023 National Salon of Culinary Arts was an event that celebrated the fusion of skill, art, and passion in the world of gastronomy, and it is destined to be remembered as a highlight in Egypt's culinary calendar.