Ramadan in Cairo 2014: Five Special Must-Try Ramadan Menus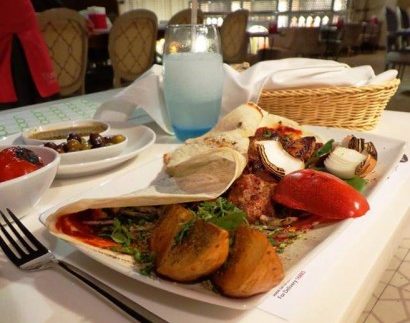 For a foodie, Ramadan is quite an experience – a positive one at that. You may think that the practicalities of Ramadan my hinder any food enthusiast's ventures across Cairo's eclectic dining scene, but it's really quite the opposite – many restaurants jumble things around for the Holy Month, offering special menus and new dishes.
Here are five such menus worth your hard-earned cash this month.
There's no better example of the adage that less is more than Cairo Kitchen. The restaurant's tight menu, daily specials and good value for money have made it many a Cairene's go-to for simple, wholesome Egyptian cuisine. This Ramadan, Cairo Kitchen is offering a set fetar menu for 119LE per person. The five course meal includes, soup, salad, appetizers, a main and dessert, as well as a range of traditional Ramadan drinks – an excellent deal.
While many still object to the very notion of paying more than a couple of pounds for a foul or falafel sandwich, there's something to be said for Zooba's creative take on traditional Egyptian street food. This Ramadan, the quirky restaurant has come up with a small, but slightly fascinating, menu including items such as Besara & Coriander Hawawshi (9LE) and Mahalebeya with Dates (12LE).
Lebanese cuisine is as popular as ever in Cairo and one of the best in the city, Tamara Lebanese Bistro, is doing Ramadan in style this year. The colourful eatery is offering a special set fetar menu for 170LE per person and there's plenty to choose from with several options across tajins, grills, salads, sides, dessert and drinks – not one for the indecisive.
Since opening earlier this year in Maadi, the Tipsy Teapot has become a popular alternative for diners and cafe-loiterers. The quaint venue has even got into the World Cup spirit, screening all the games in its breezy garden. Like its seemingly chilled outlook on life, hangout spot is taking a simple approach to Ramadan with a crisp and concise a la carte menu that includes traditional Middle Easter mains (65LE), light salads (20LE), tempting desserts (25LE) and some special fresh fruit smoothies (30LE).
Now, this may be a somewhat surprising, maybe even controversial, choice – but hear us out. Yes, Ramadan is synonymous with classic, largely meat-based, mostly heavy Middle Eastern dishes, but what if we told you that you can satisfy the tummy rumblings without any of that? As crazy as it sounds, the Vegan Kitchen's special set fetar menu looks great. At just 100LE per person, the menu will change its main course every week and there are refillable Ramadan drinks. Score.
Happy Ramadan!