Sandwich: Affordable Fast-Food Joint in Zamalek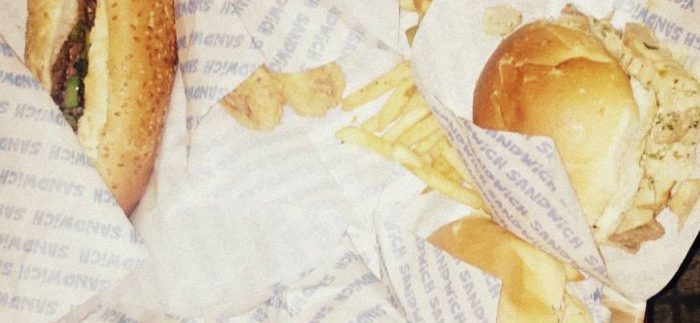 While Zamalek maintains a reputation for being the dining hot-spot when it comes to Cairo restaurants, eating on the island tends to come at a hefty price tag. However, breaking the neo-tradition, Sandwich is the newest addition to 26th July in Zamalek, offering cheap fast food over the counter.
The magic number of Sandwich is 5; with the exception of sandwich extras such as cheese, sauce, mushroom and pickles (2LE each), everything else on the menu costs 5LE.
Burgers are available in three varieties; tahina, barbeque or cocktail sauce. Chicken is only available fried with barbeque or cocktail sauce, and as crispy chicken wings. The restaurant also serves beef shawerma, available with or without mushrooms. Other choices available include hot dogs, Alexandrian liver and sogo'. Extras include onion rings, cheese fingers, sambousek with Kiri cheese or vegetables, along with fries and several other variations of patato.
We ordered one beef shawerma – without mushrooms – a burger and an Alexandrian liver sandwich, along with a serving of French fries. All of the sandwiches were served in buns, with the exception of the liver which was presented in fino bread.
As we stood on the sidewalk, we could clearly see the staff busy behind the ordering counter, hastily preparing our food. In next to no time, we were handed a bag filled with our sandwiches, tidily wrapped in paper adorned with their blue logo.
The beef shawerma was succulent and tasty with a generous sprinkle of herbs and spices; while palatable, it was nothing special in comparison to the common versions of the sandwich enjoyed at local eateries. The burger, meanwhile. was dominated by the taste of tahina and parsley while the meat itself was disappointingly tasteless.
Served spicy by default, the largest sandwich of the selection was the Alexandrian liver; prepared with slices of green pepper, onion and parsley, the sandwich boasted an inviting aroma, and although it was nothing special, it was very much a case of it being decent value for money.
Whilst we appreciated the fresh taste of the French fries, they were unfortunately overly seasoned with an unusually pungent blend of spices.
For dessert, Sandwich only serve Nutella with roasted hazelnut paninis. Toasted in a sandwich press, the bread had a crispy texture. Along with the all-time favourite chocolate spread, the addition of crunchy nuts gave the sandwich its edge.
While their food is decent, their strategic position, along with competitive prices will be the factors that push Sandwich to succeed.