Six Reasons Ayadina is Winning the Lebanese Leg of the Ramadan Race
There aren't many cuisines that are as pleasant a sight for a hungry, cranky, tired Cairene faster, than that of Lebanon. From that little nugget of goodness called a kobeba, to that perfect combo of rich liver with tangy pomegranate molasses, to a perfectly grilled and unbearably juicy shish tawook – there's just something that gets the proverbial loins going at a mere sniff of Lebanese food.
The race for the city's favourite Ramadan restaurant is a competitive one as always, but among Cairo's Lebanese restaurants, one has broken away from the pack – and for good reason…
The Fetar Buffet Has Some Redonkulous Food…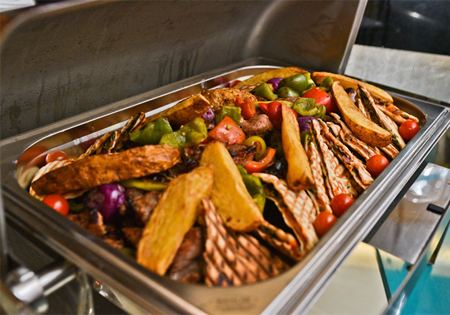 If you think you know Lebanese food, then think again – some of Ayadina's most unique dishes include kofta with blueberries and tabouleh with kiwis. What.
It's Been a Hit with Cairo's Foodies This Ramadan…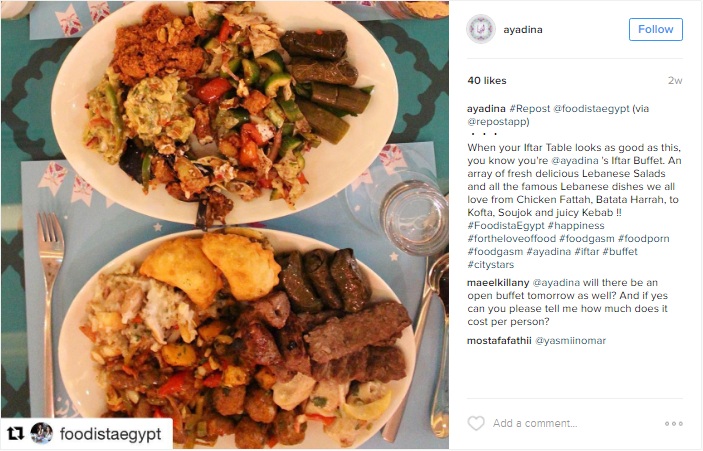 Foodista Egypt and Mido Eats are just a few of the social media influencers – of the food porn loving variety – that have waxed lyrical about Ayadina's fetar buffet, while Giraffe Eats chose the restaurant when we asked foodies for their Ramadan recommendations earlier this month.
It's Been the Most Popular Choice at Galleria40's 3al Tawla Kheima…Probably…
The Porsche of foodcourts, Galleria40, has taken a colourful and kitschy approach to its kheima, 3al Tawla, and what better foods than that of the Levant to pepper the broth that is the Ramadan sohour experience.
Your Gluttony Will Actually Go to A Good Cause…
Yes, for every finger of kofta you munch on and every piece of shish tawook you chomp down, a percentage of the sales will go to local charity, Ahl Masr – 10% in fact.
They Opened a New Branch at Point 90 Slap Bang in the Middle of Ramadan…
Ayadina's newest branch opened at New Cairo's Point 90 Mall this month, bringing the count up to four branches across the city – city-wide domination is imminent…
Ayadina's Ramadan promo is the Most Intense Video About Fetar & Sohour, Like, Ever….
No, this is not the trailer for a food-based thriller of a mosalsal starring Amr Youssef as a renegade cop out for revenge against the men who killed his brother, or whatever, but it's just a glimpse – a heart-racing, adrenaline-inducing, edge-of-your-seat at one to be precise – at what awaits you.
You don't have long left – call 01000-450-052.