Special Ramadan Menus in Cairo That You Have to Try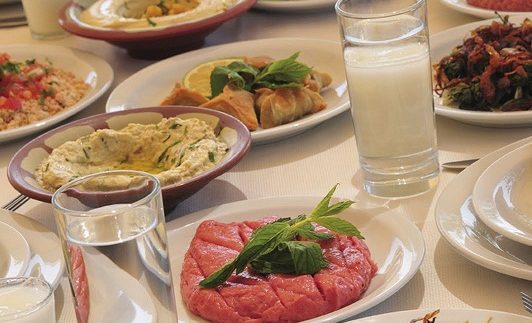 Cairo turns
into something else during Ramadan. Frowns turn to smiles and the city turns
into a month-long carnival of celebration and treats. One of said treats is of
course the cacophony of special Ramadan menus adopted by the city's hundreds of
restaurants – both fetar and sohour.
So in the
spirit of Ramadan, here are just a few of the many restaurants that the gourmands
of Cairo 360 will be descending on in the next month, in search of the perfect
Ramadan experience.
In true
balady-chic style, Cairo Kitchen brings simplicity to Ramadan in Zamalek with
special fetar and sohour dining options. An appetizing three-course meal with
rotating specials is right up Cairo 360's alley and offers wholesome classics;
think kabab halla and moussaka. It gets better though; you can order shisha from neighbouring Wel3a. Huurah! For reservations, call 02 735 4000 or
02 735 9000.
The guys
behind Zooba seem incredibly excited for Ramadan, as they have promised forty
or so new dishes for their special fetar and sohour menus. It doesn't end there
though, because they're pushing the boat out with desserts too; konafa with
banana? Apricot-stuffed atayef? Mental. For reservations, call 010 2315
2510/11.
Even Sufi
is getting in on the fun. The bookshop-come-art-space-come-live-music-venue is holding
no punches, offering everything from stuffed pigeon to molokheya with chicken.
Probably shouldn't try and read while eating though. Add to that a sohour menu
full of customisable dishes and this truly is a blessed month. For
reservations, call 0100 569 6878.
Cairo's premier Turkish restaurant is offering something
for everyone this Ramandan at the Kempinski Nile in Garden City. At 225LE per
person, the restaurant offers a buffet of classic and new Turkish dishes for
ravenous Cairenes who want to break their fast in style. Add to that live
entertainement and a designated kid's area, and you have a perfect evening. For
reservations, call 02 2798 0000.

Also at the kempinski, the Roof offers a sohour
with one of the best views of Cairo. Perched on the eleventh floor, the
open-air venue offers the perfect wind-down on a warm Ramadan night with a
light and simple menu and some of the best shisha in Cairo from neighbouring
Kempinski venue, Shishawy. For reservations, call 02 2798 0000.
Taking a decidedly
un-Ramadan approach, C&G are offering a more polished option for fetar,
with a choice of three set, delivery-only menus at 120LE. Faraway from Egypt's beloved dining
traditions, here you'll find goat cheese & raspberry salad, seafood
minestrone soup and roast chicken among the options. They have retained some
Ramadan spirit though, with some traditional dessert options. For delivery, call 02 2461 9199 (Nile City Towers) or 012 2666 8880 (Mall of Arabia) .
As one of First Mall in Giza's most beloved
restaurants, Indigo always knows how to do fetar in style. With a buffet of
Lebanese treats at 200LE all inclusive and an impressive view of the Nile and
the Giza Corniche, you won't find much better examples of Ramadan meeting
luxury head on. For reservations, call 02
3570 0121/ 125.
Sitting
pretty in the Nile City Towers, Zeitouna is bringing a little Lebanese flair to
Ramadan in Cairo. At 129LE, the set fetar menu affords you choices within every
course, as does the 99LE sohour menu. You can now even introduce shisha into
the equation for an authentically smoky Ramadan evening. For reservations, call
02 2461 99944.
This year,
the Marriott's dining venues are offering one of the most inclusive sohour buffet's
in the city, the first of which is the stations menu (180LE) where everything from
foul and falafel to steak is made for you in front of your eyes to your liking.
Other options include a barbeque buffet (185LE), a healthy buffet (105LE) and a
set menu at (165LE). Set fetar menus are also available (175LE-290LE). For
reservations, call 02 2728 3000
Cairo's
premier wings specialist has done the unthinkable and will introduce up to
thirty mezzas and soups for its Ramadan menu. Although highlights include a
courgette béchamel dish and grilled chicken with molokheya, WIF wouldn't be WIF
without a few oddities – chicken pumpkin soup for example. Overall, WIF is
offering one of the more affordable Ramadan menus. For reservations, call 02 2736
5160.
The Mohandiseen and Heliopolis branches of La Pietra, as well as the Cairo-Alex Desert Rd branch, are going all out this
Ramadan. The restaurant has ditched its Italian menu for an old-school carte du
jour of hearty Egyptian grub, including an impressive collection of tagine
dishes and gluttonous Nutella-filled ateyef. For reservations, call 011 1333
6036 (Mohandiseen) or 011 1333 6033 (Heliopolis).
Carrying
the slogan 'The Only Elegant Way to Spend Your Ramadan', Abdel Wahab's plans
are shrouded in secrecy, promising weekly theme nights. Things kick off on the
first day of Ramadan with a Lebanese night that will include live music, while
a special set menu for four offers authentic Lebanese cuisine. For
reservations, call 010 9313 1313.
Although deliver only, Grilla is on the ball this Ramadan,
with a menu that exceeds all expectations. Their usual menu consists of all
type of meat-filled wraps, but the Grilla kitchen has ventured into classic,
full-blown Egyptian meals including something called the chicken konafa. The
mind boggles. For delivery, call 010 0296 7777.

With a perfectly timed opening, Citystars' newest culinary addition is hell-bent on delivering the perfect Lebanese Ramadan experience. Having already impressed with some extravagant dishes, Tamara is offering a set fetar menu at 140LE, a set a sohour menu at 100LE and plenty of shisha options. For reservations, call 0120 000 6066.
A heavyweight in Cairo dining, Andrea's Maadi boat offers a playful menu of Egyptian classics for both fetar and sohour at very reasonable prices (40LE sohour minimum). So, you can eat easy knowing that you won't get heartburn at 3AM on account of ordering more food than you can eat to reach the minimum. The boat isn't moving though. Lame. For reservations, call 010 0136 8949.