Summertime Kitchen Recipes: Satisfying, Easy and Local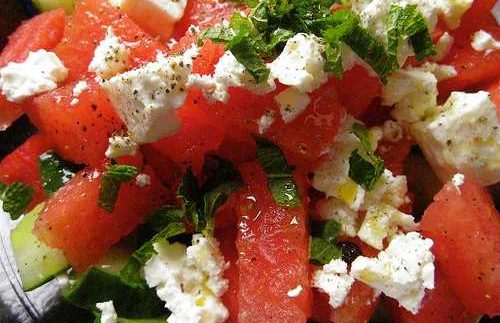 It's hot in Cairo, and the last place that we want to be is slaving away
over a stove top for hours on end; causing sweating bullets to multiply in
number and force.
We've
gathered up a few of our favourite summertime eats that are easy to throw
together, making them great for a quick lunch or dinner. Not only do
they include Egyptian produce, but are full of nutrients; so you won't feel
guilty indulging in some ice cream afterwards.
Hearty
Gazpacho Soup:
It's rich with nutrients and quite refreshing. Chop up your favourite fresh
vegetables and fruit– the fresher the better. We tend to stick with tomato
(one kg), cucumber (1/4 kg) and one onion, as well as a handful of cilantro,
a dash of chilli peppers and lemon. The tomatoes are usually the heaviest
component; so throw in a little vinegar
to both combat their acidic nature and to keep the gazpacho fresh for as long
as possible. Add your spices of choice– we recommend red and black pepper– and
blend to a desired thickness. Chill for an hour or so, leaving a portion of
your favourite ingredient (we spared some fresh cilantro) to the side to add
later on for a fresh texture and bright presentation. Fresh flatbread pairs
well with this dish.
Eggplant
Burgers: Eggplants
are high in fibre and potassium, and they're also beautifully delicious. Coat
thin slices in a mixture of egg, flour and bread crumbs. If you want to take it
up a notch, include parmesan cheese and Cajun seasoning in the mix. Sauté the
slices in a minimal amount of olive oil until golden brown, then toss them in
the oven for twenty minutes on each side at medium temperature. For vegetable
toppings, we recommend onion and lettuce for an added kick and fresh palate.
Pile it all between some baladi bread and voilà! If you don't happen to have
fresh bread, turn the burgers into a salad; it's healthier anyway.
Watermelon
and Feta Salad: This takes one of our favourite childhood summer treats to a whole
new level. Pick up your own watermelon baby and chunk it up to your preferred
size. Throw in a hearty amount of freshly diced tomatoes and basil. After
allowing the juices to saturate for a while, top it off with some crumbled feta
cheese and balsamic vinegar. It's quick and requires no chill time; so serve it
up right away. If you're looking for a way to use the leftover watermelon; make
a granita by adding freshly chopped mint and lemon. Leave it to chill in the
fridge and stir every half hour for two hours till the juice develops the icy
consistency of a granita.
Curried
Apple Tuna Salad: Tuna packed in water provides a protein boost without the pesky
calories. Grab a few apples, either red or yellow, some onions and bell
peppers. Dice all and mix to your liking with a smidge of olive oil, curry and
mustard; along with any other preferred spices. While we tend to stick to
whole-seed mustard; Dijon
or simple yellow mustard works as well. The salad can either be eaten as a
sandwich or on its own. Choose your way to go and don't forget the apples,
which add a tasty sweetness and a crunchy bite.
Zucchini
and Tomato Pasta: Zucchini is also a great source of fibre, and while this pasta can
be eaten either hot or cold, it does require a bit of extra attention and extra
fat. Sauté diced onions in an appropriate amount of olive oil, butter and
garlic. After the onions are lightly brown, throw in the sliced zucchini
(ribbon-sized slices work best) and cover with water. Leave on medium-to-low
heat until the zucchini reaches your consistency of choice; we prefer the
slices a little al-dente. In the meantime, cook your pasta– capellini is
recommended. At serving time, pile on the zucchini and freshly diced tomatoes. For
a touch of luxury; crumble some goat cheese on top.
Be a
little innovative and feel free modify these recipes to fit your summertime
taste buds! As always, wash your vegetables extra well (we hear that soaking
them in cold water and a little vinegar does the trick) and use hand-picked
local produce.
Need some tips on how and where to buy vegetables in Cairo? Check out our Guide to Vegetable Shopping.