Tried and Tasted: Our Five Favourite Pizzas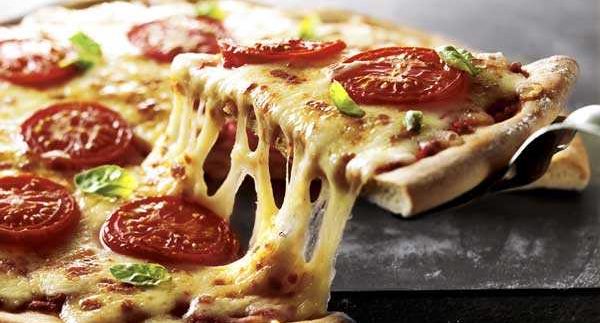 written by
Aleksandra Sekinger
There's no food that can brighten up a smoggy Cairo day quite like a
good pizza. With lots of pizza options in our fine city, we've tried and tasted
dozens to give you a list of our five favourite individual pizzas in Cairo. Whether your budget
is 10LE or 50LE, whether you're a vegetarian or a carnivore, whether you prefer
gourmet or baladi fare, consider this your guide to finding Cairo's best pizzas.
Leonardo Pizza at Maison Thomas
It's no secret that Maison
Thomas makes a delicious gourmet pizza. The mere thought of fresh
ingredients on their signature thin crust, straight from the brick oven, makes
us salivate. Though there are a few pizzas that we would recommend, including
the classic margherita or basterma pizza, our personal favourite is the
Leonardo pizza (38LE), a combination of smoked roast beef, marinated peppers,
artichokes, oregano and mozzarella that is heavenly.
True to gourmet style, it feels more like a meal than most pizzas. However,
one word of advice: we suggest that you eat in the restaurant rather than ordering
delivery. The pizza is always significantly nicer when it's fresh out of the
oven.
Spicy Chicken Pizza at Pizza Master: Pizza
Master is one of Cairo's greatest pizzerias. Their menu offers a range of
pizzas with beef, seafood, chicken, veggies and our personal favourite– their
spicy pizzas! Food that is listed as spicy in Cairo is often disappointing, but these hot
and spicy pizzas pack a surprising amount of heat, thanks to the fresh hot
chilli peppers, that come with seeds and all.
We recommend the spicy chicken pizza (37LE), topped with chicken
shawerma, olives, fresh tomatoes, chilli peppers and mozzarella. The plentiful
toppings help take the edge off the spice but don't come close to diminishing
it. Chilli pepper lovers; look no further. What's another great thing about
Pizza Master? The menu is buy one, get one free. So for under 40LE, you get two
delicious pizzas.
Gouda Cheese Lovers Pizza at Pizza King: When you suffer from cravings for a good-old cheese pizza, look to Pizza
King, a local pizzeria that sells affordable, fresh pizza of several varieties.
Pizza King makes a killer cheese blend pizza (39LE) made from gouda , mozzarella and cheddar cheeses. The
cheese speaks for itself and stands confidently atop a freshly baked thick
crust. Like Pizza Master, when you buy a pizza at Pizza King, you get another
pizza of less or equal value for free, making this an affordable option for a
party.
Chicken BBQ Pizza at Schatz: A popular choice for many is pizza à la barbeque sauce, so we went out
searching for the best of its kind and found ourselves at Schatz,
a family-owned Italian restaurant in Heliopolis
that has an authentic brick oven offering up delicious pizzas and calzones.
The chicken barbeque pizza is a thin-crust pizza glazed with barbecue
sauce and topped with bbq chicken, fresh mushrooms, red onions and lots of
mozzarella cheese. The ingredients are exquisitely baked, and it's so
refreshing to eat fresh mushrooms – as opposed to the usual canned ones we so
often see – on a pizza. The pizza is topped with delicious parsley that gives it
an extra fresh taste.
Schatz has also begun delivering, so if you're seeking one of their many
pizza options, you don't even need to leave home.
Fatatri El Tahrir: A best pizza feature wouldn't be complete without mentioning where to
buy the best baladi pizza in town. Fatatri
El Tahrir offers fiteers and pizzas with various toppings, including vegetables,
beef and tuna.
Our personal favourite is the cheese pizza with vegetables (10LE), a
large filo pastry pizza topped with onions, tomatoes, peppers, olives and rumi
cheese. It's extremely delicious, served piping hot and so filling that even a
small pizza is enough to feed a very hungry person. One of the great things about Fatatri El Tahrir is that they deliver 24 hours
a day to residents of Downtown, making it a popular late-night option for warm,
delicious and affordable snacks.
Once again we've put our tasting skills to work, in the interest of identifying
Cairo's very best on offer. In the process, we've discovered that Cairo has its
own unique way of serving pizza, each of which can be equally delicious.