Tried & Tasted: Juiciest Burgers in Cairo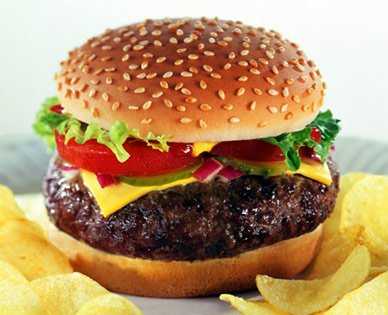 In
the Cairo 360 office,
not only do we believe in treating ourselves but our connoisseur tendencies
lend us to both scathing and glorious reviews as well as a keen sense for
detail… and taste. As we take our food quite seriously, we're quick to offer
a god honest opinion.
It's time for another
tried and tasted session – and what says good all around deliciousness more
than burgers? Burgers are an all time classic meal, any time of year and for
any occasion. While a burger's quality can range greatly including various
toppings and seasoned meat, a burger with fresh bread, dripping with cheese and
juicy meat is always appreciated… it's a go big or don't go at all sort of
thing.
So, we put our brains
and stomachs together. Twenty added kilos and a lot of moaning later, we've
tried and tasted burgers from five different establishments in Cairo, some
known and some not-so-known, that claim to serve up some of the best burgers
around. Here are the results. We will only warn you once that this is not for
the weak-of-stomach.
Buffalo Burger: We opted for the standard, 200 gram cheeseburger and the
Cholo's chilli burger, consisting of added jalapenos and spicy chilli sauce. The plus side is that the vegetable toppings come in their own separate
container, but the patties themselves have a peculiar spicy after taste. 30LE for a
combo of coke, tasty curly fries, and a burger isn't bad but between the
aftertaste and over abundance of mayonnaise gracing the layers, you might as
well have pumped it straight into your arteries… be ready for heartburn.
Lucille's: While they only deliver to the Maadi area, Lucille's
reputation for true-to-style diner food is absolutely true. Not only do they
mix their own hamburger meat but the homemade bread is grilled to perfection.
For 34LE, an appropriately sized, juicy cheeseburger topped with fresh vegetables
is served paired with a large portion of crispy fries. If you're looking for
consistency and freshness; Lucille's has it.
Spago: We had never heard of or dined at Spago in
Mohandeseen before, so we chose this one with our eyes closed. Not only did the
burgers have a divine freshly grilled and smoky taste but the bread, topped
with sesame seeds, was also grilled accompanied by veggies and a sufficient
amount of mayonnaise and mustard. Delicious yet really messy, for 35LE, the double
beef patty Spago burger weighed in at a whopping 500grams, enough to send
anyone into an instant red meat coma… hands down, Spago makes an allround
fantastic burger.
Burger Kitchen: Unlike others on this list, Burger Kitchen is a
little more accessible citywide, with locations in nearly every major
neighbourhood of Cairo.
With standard burgers and unique options, this place is a safe bet. For 17LE,
the standard TBK burger is as original as they come and like buffalo burger,
comes accompanied with fresh veggies on the side so no worries if you're not a
fan of tomato or onion. If you enjoy a little spicy kick, the
teriyaki treat cheeseburger is fantastic. Burger Kitchen's bread is always
fresh too, which is a must for us.
Crave: While you may dismiss this casual eatery as just
another Euro-menu café on the scene, you would be wise to give the kitchen's
formidable zombie burger a try. For 37LE, the burger combines a generous slab
of beef bacon and barbecue sauce, or copious amounts of melted cheese and
mushrooms– or both, if you're up for it. Add or subtract fixings to your
heart's content, and a pile of tasty fries are included. Crave's fresh baked
bun also makes a difference; no flimsy fast food white bread fare, the bread is substantial, crispy and seasoned
with sesame seeds. Other options include a mushroom-heavy combination that always
satisfies our deepest burger cravings. The patty itself is well-grilled and
juicy with a hint of smoky flavour. Crave serves fixings of standard lettuce,
tomato, onion and pickle on the side; a polite gesture for those who wish to
assemble their own plate. However, we're a bit put off by Crave's lack of
delivery.
We've done it again and
eaten ourselves into a stupor on your behalf. We firmly believe that burgers
are a paramount fixture in any diet, and while we say the juicier the better, all you health-conscious diners should
remember that they don't always have to be greasy fast-food mishaps. Just don't
do what we did, and practice a little moderation.