Weird & Wonderful Restaurants in Cairo That You Need to Try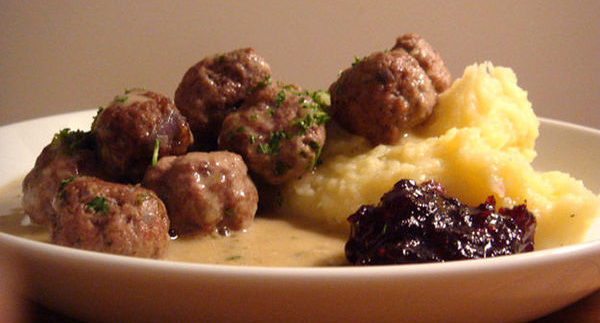 Just like any self-respecting
metropolitan city, Cairo is home to countless dining options. Everything from Chinese and sushi to Italian and French is available. Even local cuisine is on the up, with baladi-chic concept restaurants taking on the hundreds
of street stalls serving authentic Egyptian food.

However, there are some who have chosen to bravely
introduce a new cuisine to the city. Enticing the residents of Cairo to step out of their
comfort zone is like fighting a losing battle sometimes, but nonetheless, they have
prevailed and in turn brought us exotic flavours from around the world.
In an effort to go
about our list in an organised way, we begin in the heart of Cairo.

The Tahrir Table:
Swedish meatballs & Hovmästarsås
The most peculiar
element about the Tahrir Table is undoubtedly its location. The restaurant is
in the middle of Tahrir Square, opening shortly after the revolution. Being the
first to introduce Swedish food in Cairo (the IKEA we've been supposed to get
for the past four years will surely be next) we can now indulge in quality
meatballs, potato dishes and, more importantly, quality salmon.
For a taste of
Ethiopian and Sudanese food, you have to be persistent as Arij is difficult to
find. The restaurant is literally a hole in the wall and disguised as a regular
ahwa (coffee shop). Inside, however, is a treasure cave of food ready to be discovered. There
you will find the most succulent lamb, delicious stews and pancake bread
that also serves as plates. For just 20LE you can eat your full round and
enjoy the delectable cuisine from our southern neighbours.
Al Azhar
Chinese: Uyghur Beef & Succulent Tofu

What do you do when
you're stranded in a foreign country and you can't find any food you like? Simple: you open a restaurant. That's exactly what the Chinese students from Al
Azhar did. Its deviant location on the borders of Abbasiya, Islamic Cairo and
City of the Dead near the Al Azhar University dorms makes this restaurant all the more
exciting. The Chinese food here differs
from your usual Chinese food because it derives specifically from the Uyghur region where
the population is predominantly Muslim. Apart from having the best tofu in town,
they also serve a bowl of top noodle soup. Prices are low as are the hygiene
standards, however it all adds up to the uniqueness of this restaurant.
Amelia's
Kitchen: Salgadinhos & Brigadeiro
If you are looking
for some uncensored Brazilian food then say obrigado to Amelia's Kitchen who
are the sole providers of Brazilian food in Cairo. Though the main courses are a
lot like Italian, Spanish and Portuguese food (blame that on colonialism) the
desserts on the other hand are very typical Brazilian. Amelia's Kitchen prefers
if you take out the food instead of staying for dinner.
When the great
warlord Genghis Khan ventured out to Asia and Europe to 'take over the world'
he probably couldn't have imagined that 1000 years later a restaurant in the
neighbourhood of Maadi in Cairo would bear his name. Hell, he would probably
roll over in his grave a little if he heard that; the warlord wasn't famous for
his cooking after all. Though we found it difficult to identify the original
Mongolian cuisine, their hot pot apparently is just that; the rest of the dishes
are primarily Chinese. That being said though, they do claim to be the only Mongolian
restaurant in Cairo. We especially enjoyed the Chinese soft-porn on the walls
and wondered if in 1000 years from now someone will open up a restaurant and
call it Hosni Mubarak.
El Mazaq El
Iraqi: Biryani & Tashreeb El Lahm
If there is anyone who
has a fond memory of Iraqis and food then it's probably Suzanne Mubarak who saw
Uday Hussein slaughter a designated food taster in the middle of her dinner party.
Thankfully this sort of business doesn't take place at El Mazag El Iraqi.
Instead, the restaurant offers some exclusive Iraqi dishes such as tashreeb el
lahm. Though a lot of their food is similar to Egyptian and other Middle
Eastern cuisines, there is still an Iraqi twist to most of the dishes like the biryani.
For those who don't want to venture out to the country itself, this restaurant
is a pleasant alternative.
The Yemen
Restaurant: Turmeric & Cardamom
If there is one
thing Yemenis love to do, other than emigrating to the west or shacking up with
Al Qaeeda, it is throwing turmeric, cardamom and likewise spices into each and
every meal. The Yemeni restaurant is a hate-it-or-love-it cafeteria in Dokki.
The beans with eggs are delicious, however consistency is not; several visits we either found the food over spiced or under spiced.
However, they are one of the few venues in town that offer food from the
peninsula.