written by
Habiba ElSafady
We have to give local brands full credit for being there for our skin and hair. These Egyptian brands have been great to us, with incredible products that, as promised, helped us achieve the best results. From cute packaging to the healthiest ingredients, these amazing local brands will leave your hair, body, and face feeling fresh while giving you the perfect glow.
Bræs Hair and Skin
Since its launch, Bræs has been encouraging women to love their natural hair and skin while teaching them how to take care of it. They have become a lifesaver to women of all ages, skin, and hair types as their products are very effective, whether they focus on hair growth, hair styling, hair thickening, having moisturised and soft skin, and more. Whether you have straight, wavy or curly hair, all their products will leave your hair feeling nourished and looking fresh while being completely harmless as they are cruelty, paraben, sulphate, silicon and fragrance free. They're always working on expanding their collection, which explains why they created a PMS kit to help all women through those rough days. All their products are adorably packaged in white and pink packaging, which is the perfect combination, making you want to use the product even more.
Shop their collection online or find them in pharmacies. 
Mothernaked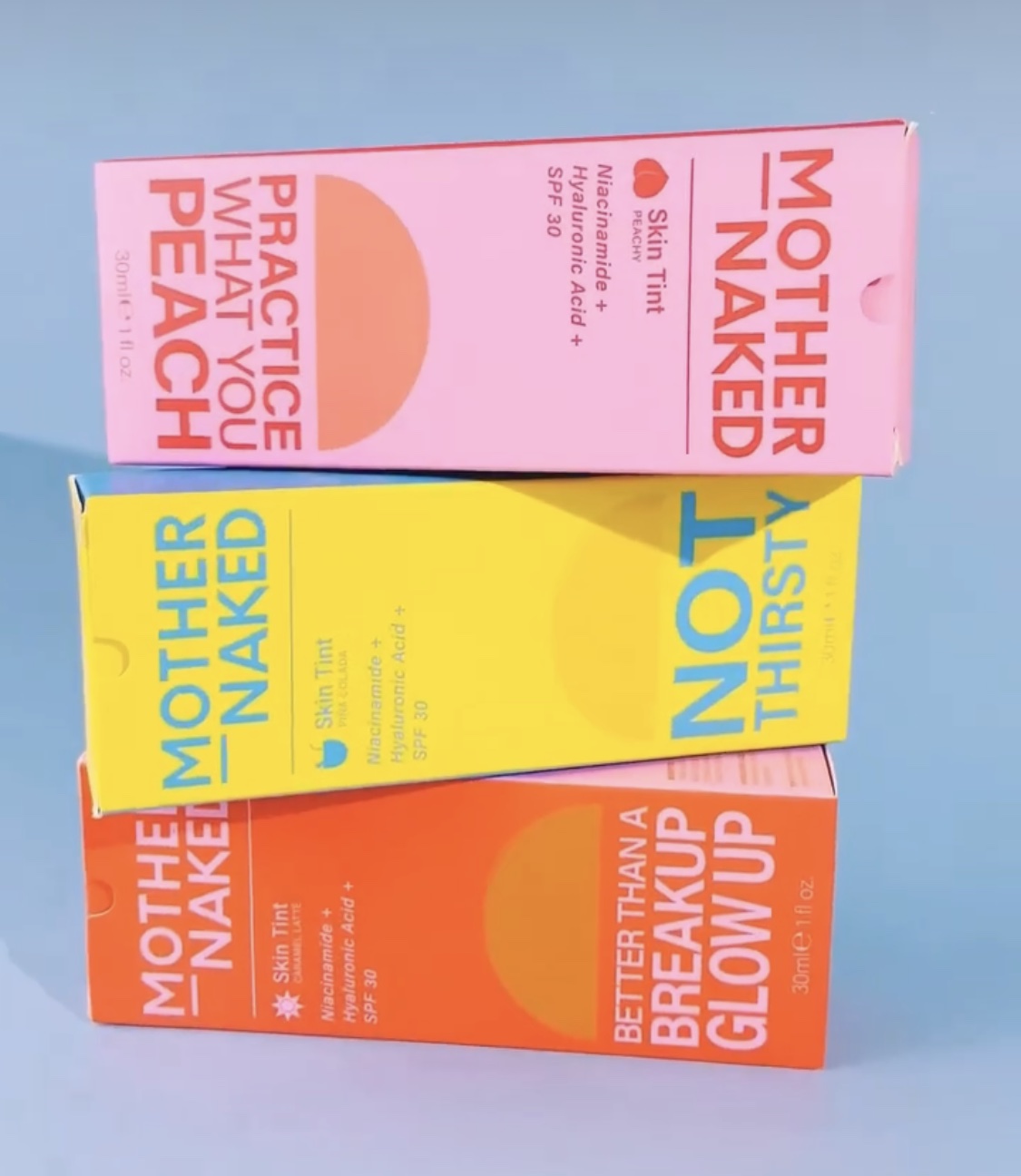 How about makeup that simultaneously works as skincare? Mothernaked is a skincare-infused makeup brand that is here to keep your skin feeling and looking fresh while giving you the perfect glow. Their products are clean, vegan, cruelty-free, and come in three different shades depending on the look you want. So whether you want to go for a peachy colour, something to brighten your skin or a sunkissed glow, you'll find it there. Saving the best thing for last, all their products contain 30 SPF, so your skin will be protected while looking flawless.
Shop their products online.
Bless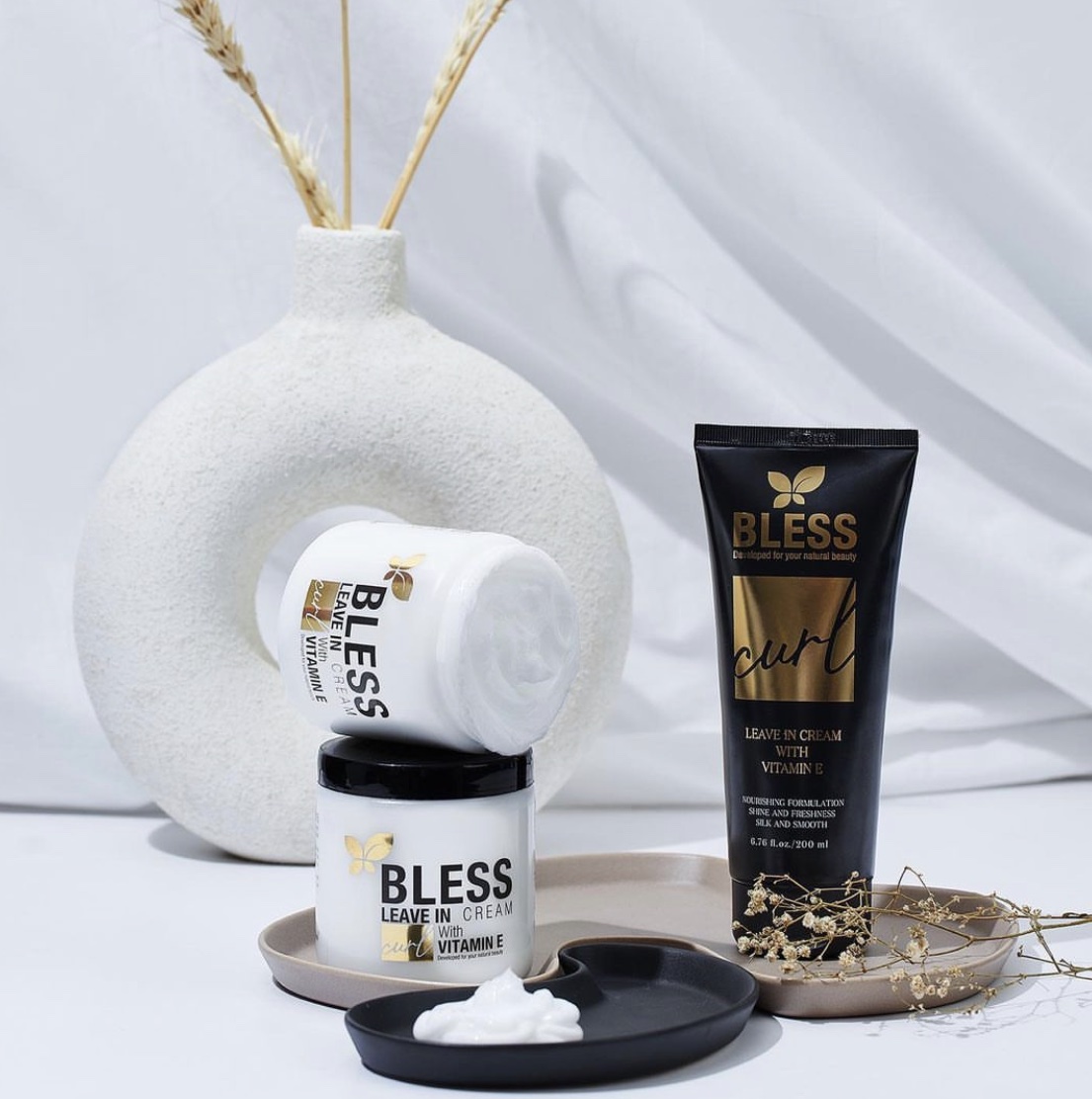 This one is for the curly heads out there who have been looking for products to keep their curls looking gorgeous while not ruining them. Bless will be your best friend throughout your heat-free journey with leave-in creams, shampoos, conditioners, hair oils, and more.
Shop their products through their website or in pharmacies.
Locken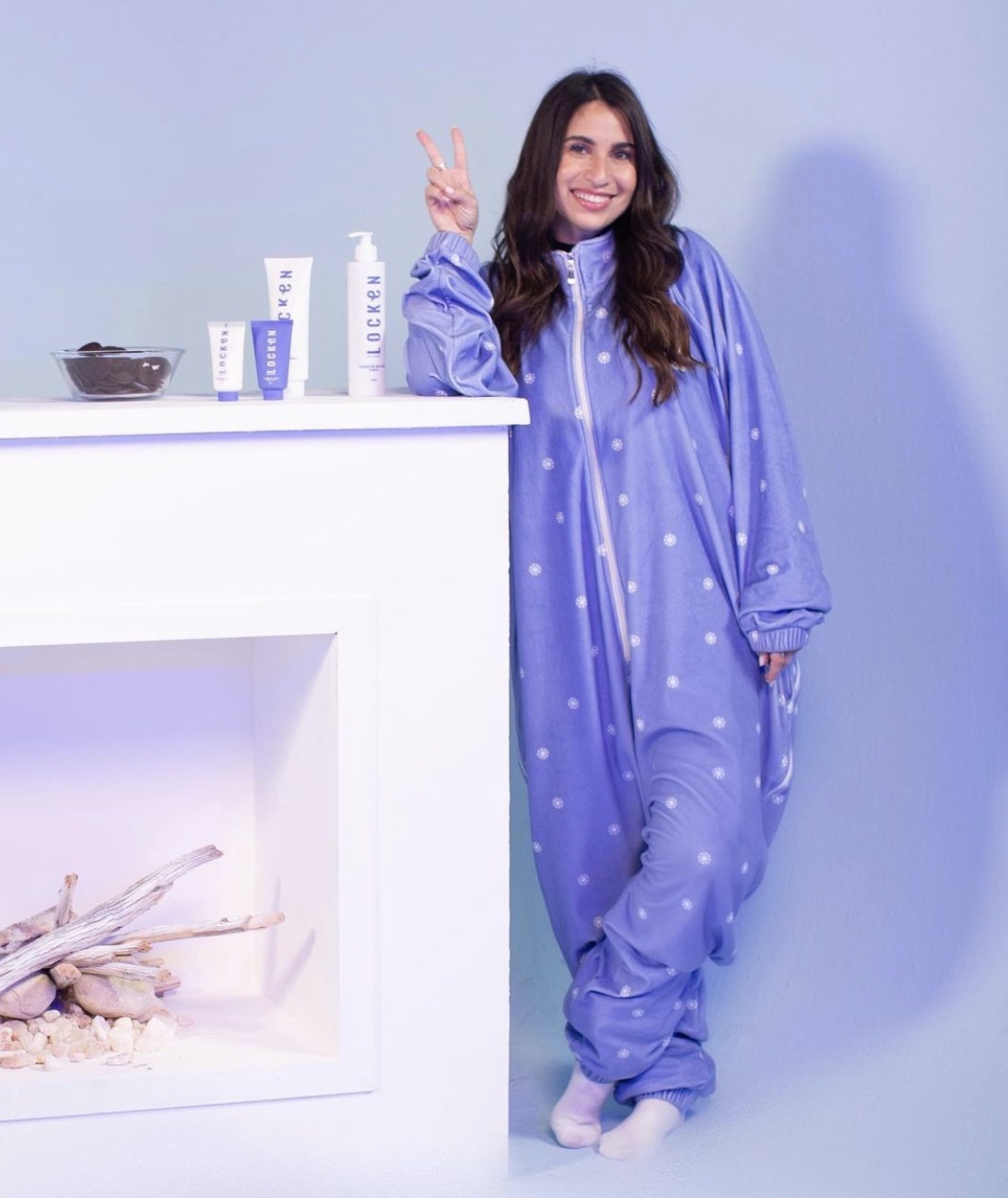 Locken, founded by the singer, actress, YouTuber and entrepreneur Hana Ghoneim, has been acting as women's best friend since their launch. With clean and cruelty-free hair products that will do wonders for your hair no matter what type, Locken will definitely be part of your daily routine.
Eva
Eva has been impressing us with their products for almost 50 years now, and they still never fail to impress us with their latest products. We know that you use at least one of their products daily as they have many lines released, such as their shower line, keratin line, hyaluronic acid line, kids line, and more.
Find Eva products in all pharmacies around Egypt or shop their collection online.
Glazed Beauty Skin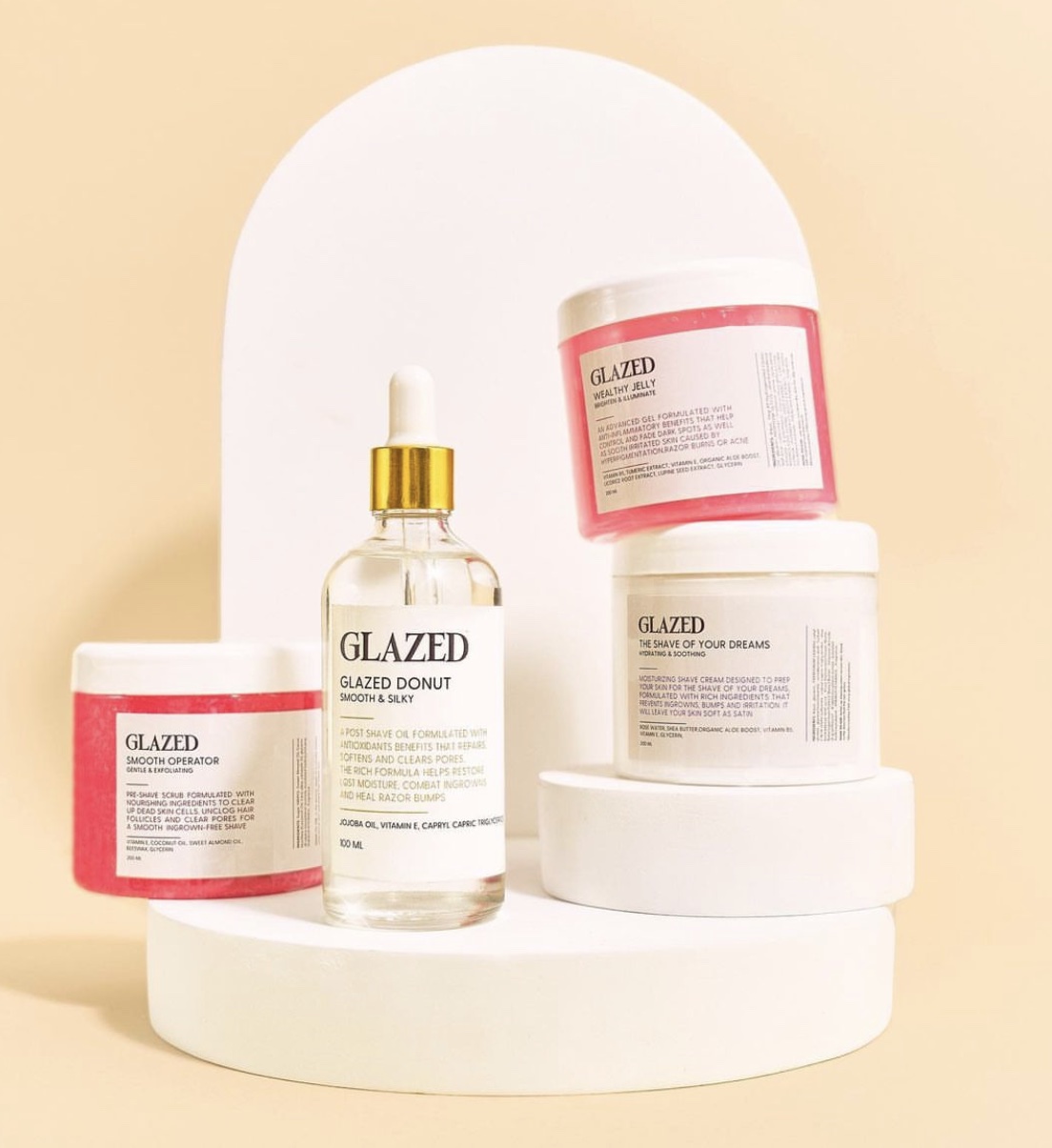 Glazed's products will give you the feeling that you're using candies and smoothies for skincare, thanks to their heavenly smell and bright and colourful designs. They are the first Egyptian brand to come out with shaving products that are guaranteed to leave your body feeling softer than ever. From their Glazed Donut Body Oil and Wealthy Jelly Brightening Gel Treatment to their Smooth Operator Scrub, your body will thank you for making it feel this good. 
Clementine Organics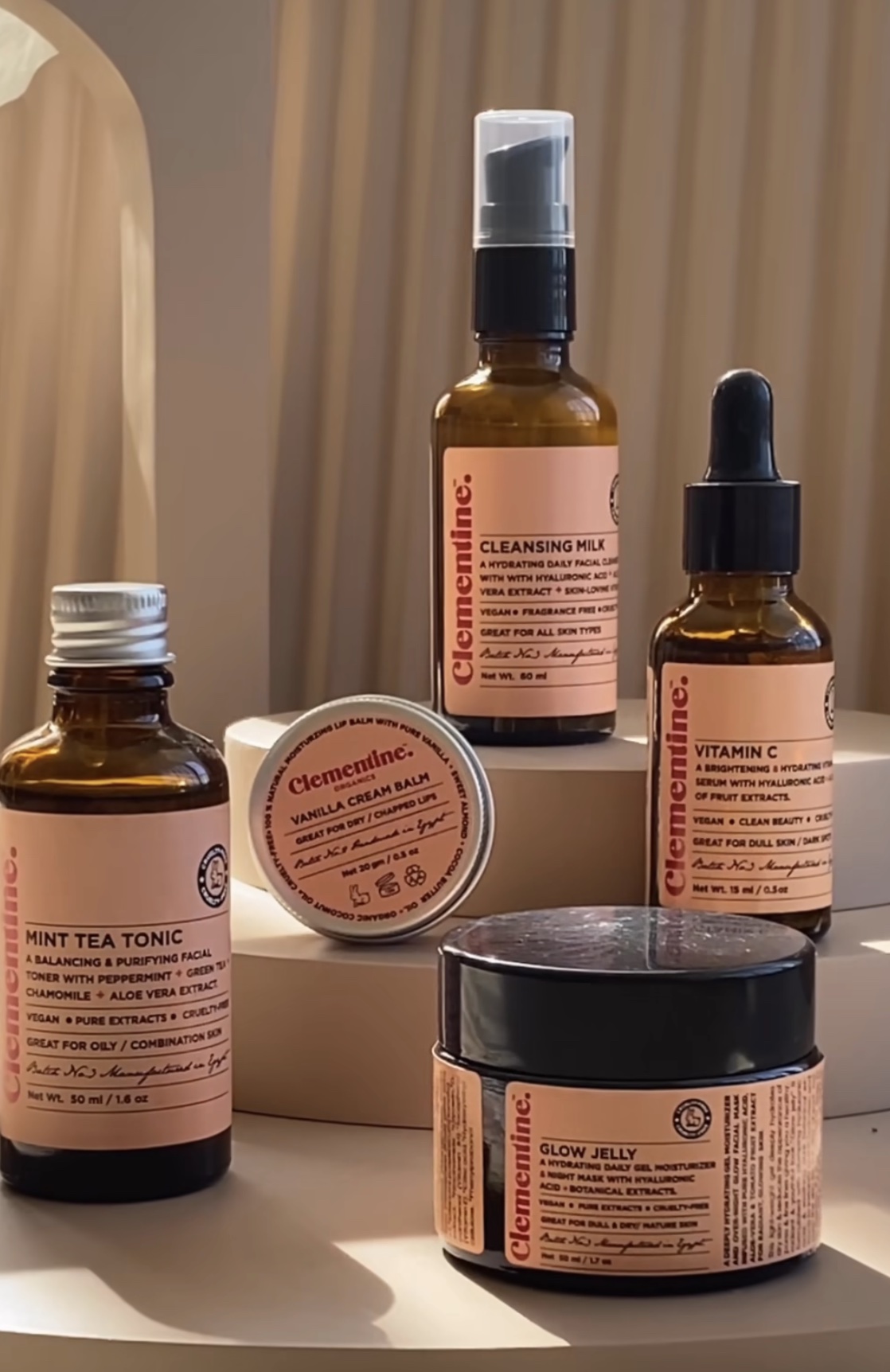 The elegant packaging of Clementine Organic products is something else, and you will definitely feel great after purchasing them, which is a good start. You are guaranteed to find what your skin needs amongst their products. So whether it's an eye cream to brighten under-eye circles or a sleep mask in the form of a lightweight gel that will deeply hydrate your skin while reducing the appearance of pores and fine lines, giving your skin a healthy, radiant, and youthful look. 
Check out their collection here.
Trace Cosmetics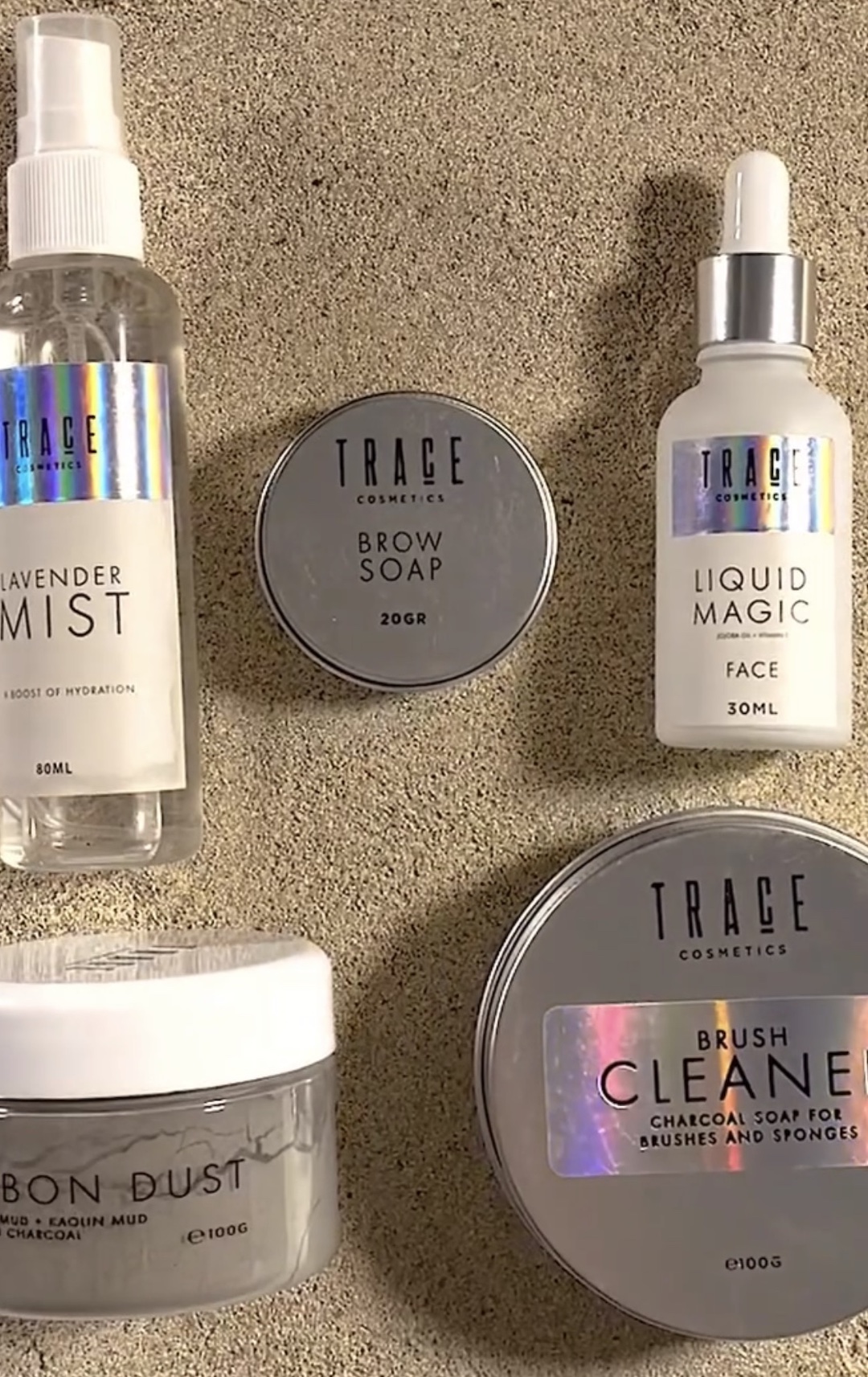 Trace Cosmetics has something for everyone. If you're looking for effective face masks, you'll find several targeted towards different skincare concerns. If you want to achieve the perfect brow look that has been trending, their brow soap paired with their brow brush and rose or lavender mist will achieve it with products that are 100% safe. They've also made brush cleaning very simple, so you won't have to worry about it with their charcoal brush cleaner that will help you get all your brushes clean in seconds. We recommend trying their liquid magic, which is actually liquid magic bottled up and enriched with essential oils promising to pamper and hydrate your face.
Browse their products here.
Leda Beauty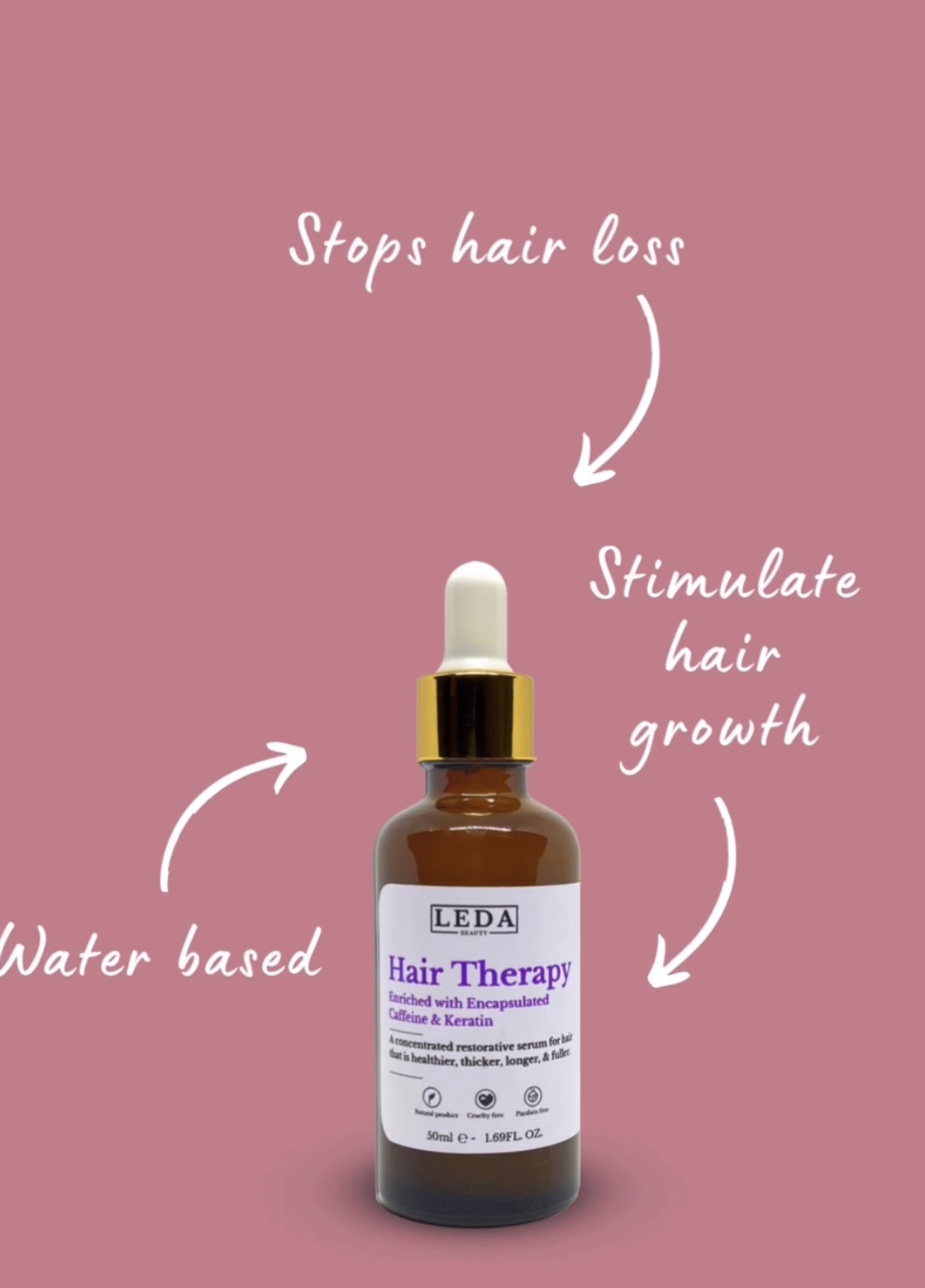 Leda Beauty, founded by a mum and her daughter, is the place to shop for natural hair, skin, and nail products. If you want to grow your nails naturally and quickly, their oils will happily give you strong and long nails. However, if you want to focus on having healthy, long hair, their hair therapy is fantastic, promising excellent results while leaving your hair smelling like bubblegum. You can also check their other products, like their facial collagen softening cream, lip mask, hair sunscreen, soap bars, and hair and body perfumes that will get everyone asking what scent you're wearing.
Shop their collection online.
Bubblz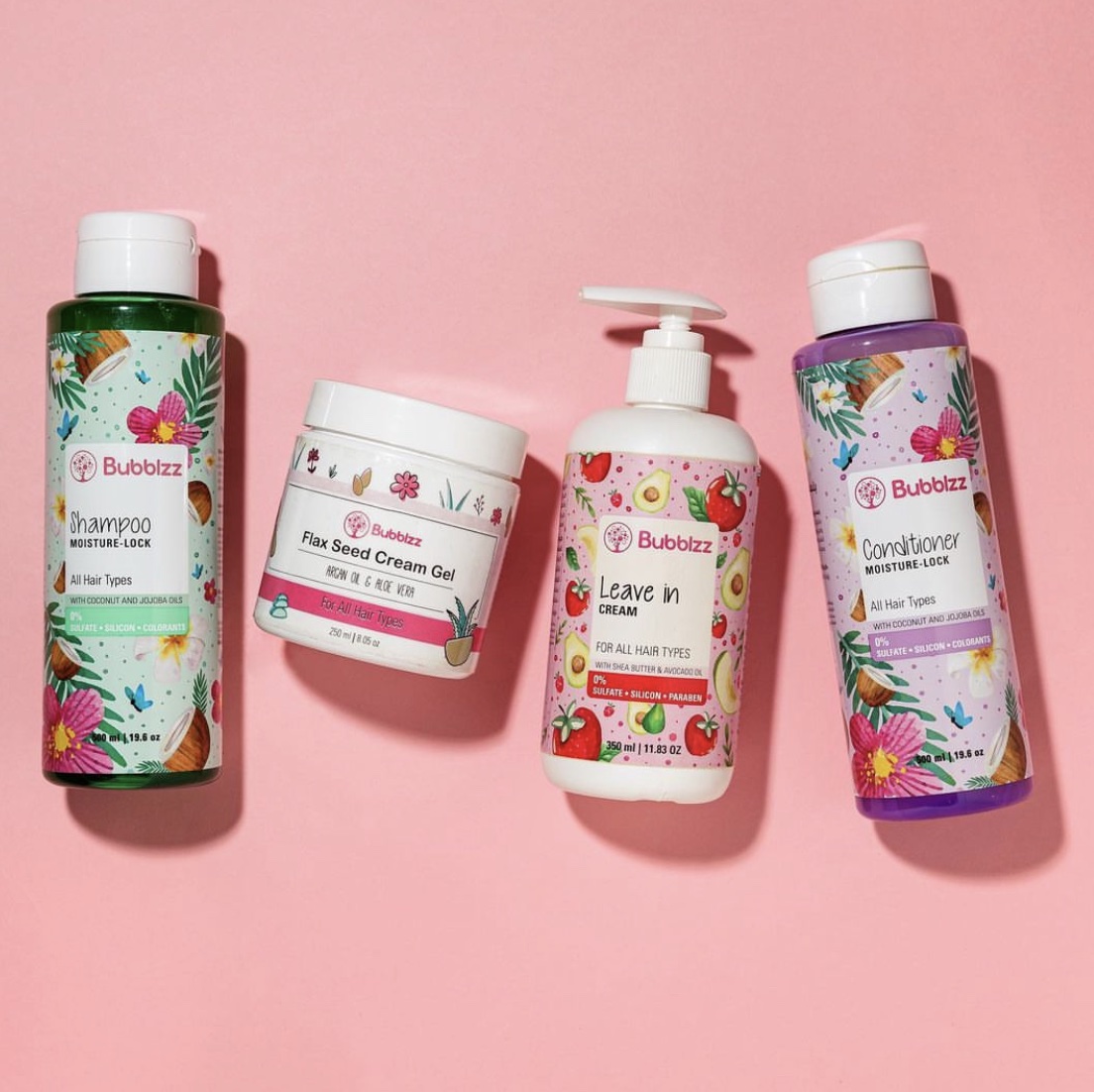 From bath bombs to fizzy bath powder, strawberry and cream body scrubs to heavenly-smelling shower gels, Bubblz is here to get you through the perfect self-care routine, making you forget all the stresses in the world. Of course, we know you won't get enough of their products and will end up trying every single one!
Visit one of their stores in Cairo or Alexandria or shop their collection online.
Raw African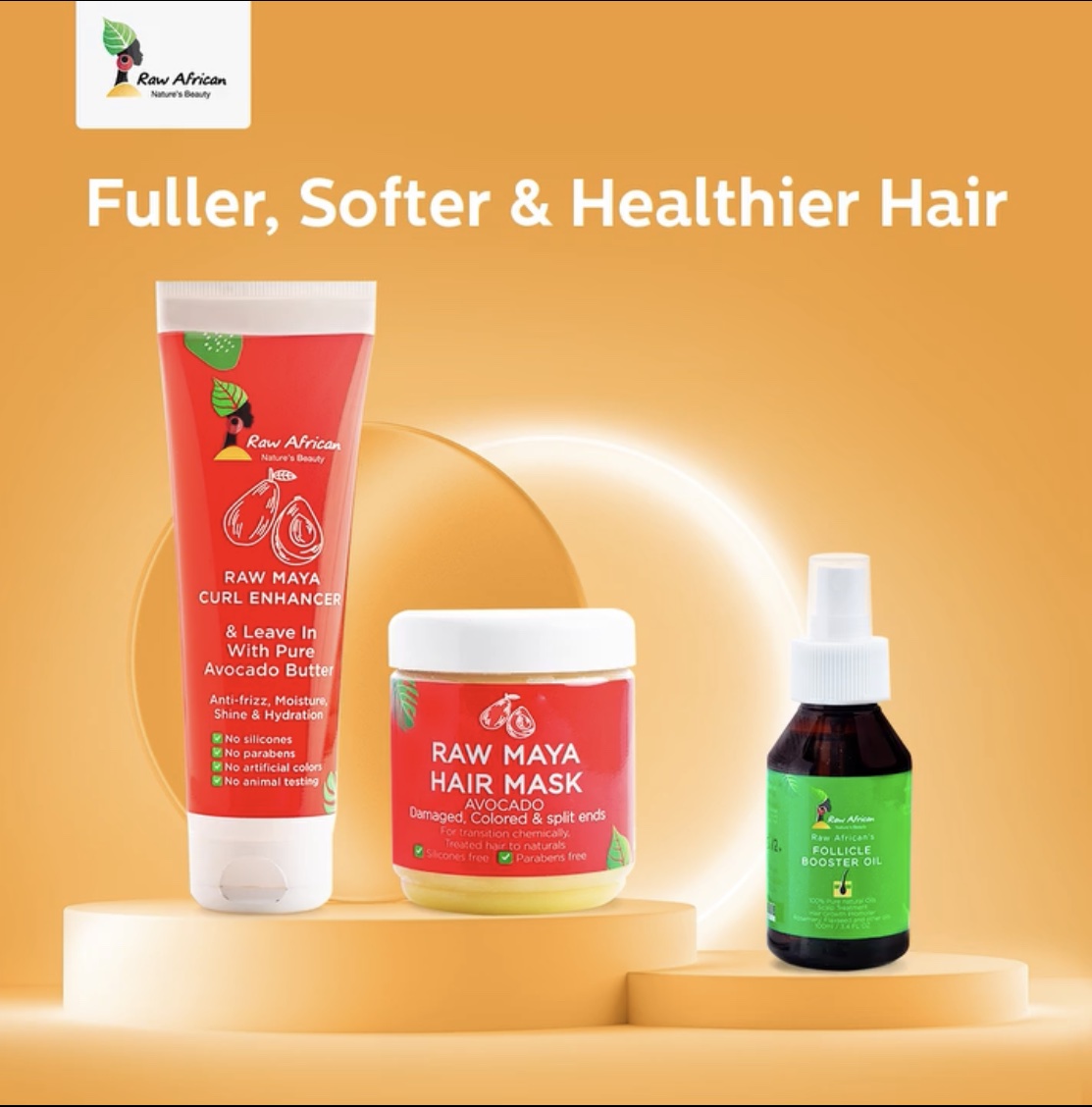 You've either tried one of Raw African's products or have had a few on your wishlist due to the positive reviews you always hear about. They have a huge collection, and each product will potentially change your life, making you purchase it over and over again.
Visit one of their booths around Cairo or shop their collection online.
Essentiāls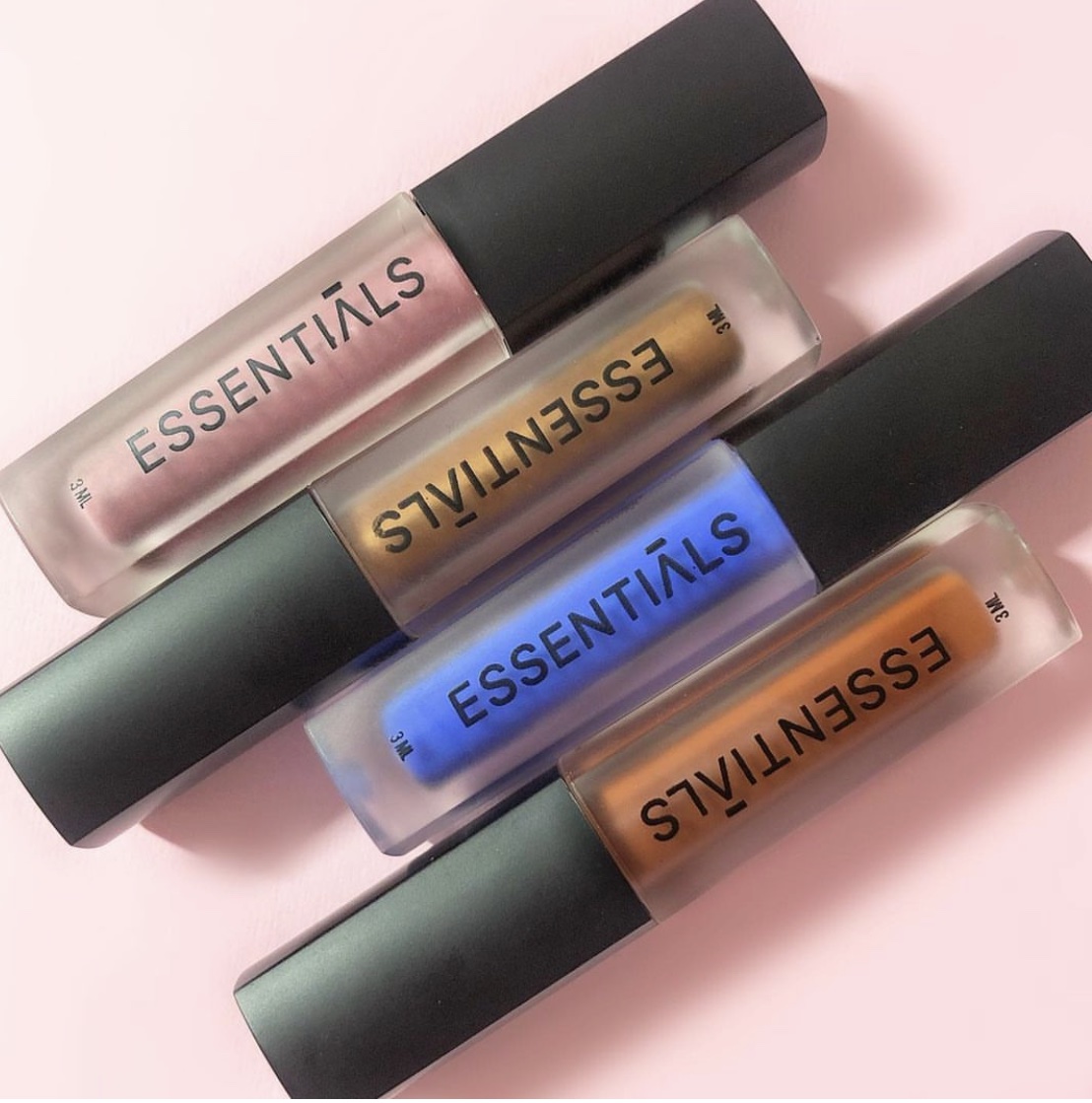 Essentials gives us safe and high-quality skin care, hair, and beauty products. Their makeup collection is perfect whether you are going for a bold look for a night out or a simple look for a morning date with their massive collection of vibrant and simpler shades. You can also check their skincare products, like their natural deodorants or body butters, which are available in many wonderful scents.
Visit their booths around Egypt to shop for their products or order online.
Joviality
Joviality's products will help you beat the winter dryness, leaving your skin feeling soft and moisturised. You can also shop their Moisture Bae bundles for a discounted price. Check out their wide range of products, where you'll find whatever you may need, such as body butters, natural shampoos, eyebrow growth serums, and so much more.