Smartphones have become an integral part of our daily lives that is now unavoidable, with many smartphone companies vying for a bigger market slice. A recent contender into this arena is Chinese-based company, Shenzhen CHENYEE Technology Co. Ltd. With a revamped business model, it has launched its new product line, Soda Smartphones, into the Egyptian market.
Soda Phones launched in Egypt on the 18th of March, quickly gaining ground in the market. With two models on offer, the S1 and the E1, Soda also offers a number of separate accessories like chargers, headphones, two power bank models, and colourful data cables. Soda provides its clients and users with all smartphone-related needs. You can be a pioneer owner of this Android smartphone.
CHENYEE has a long-established track record, with business operations in Europe, North America, Latin America, Africa, and South Asia; its products are available in a total of over 50 countries. It has its own professional hardware stack team, software design team, and hardware design team.
Based on its slogan "Quality for All", Soda Phones seeks to offer innovative products with a cost-effective price. They currently offer two phones in Egypt, the E1, and the S1.
E1 Soda Phone
The E1 Soda Phone is a 4G phone with a large display and a large battery. With a very respectable 5.5" HD IPS display, users can navigate social media and video viewing activities with ease. A 16 GB internal memory with the ability to further add an additional memory card up to 256GB, plus the option of housing two SIM cards on the device. Taking pictures is made possible with a 13 M.pxl rear camera, and a 2 M.pxl front camera. What's interesting about this phone is its battery: a whopping 4000 M.Ah. This phone is all about functionality. A large display, with a good chipset and RAM will make daily usage smooth and will enable it to last.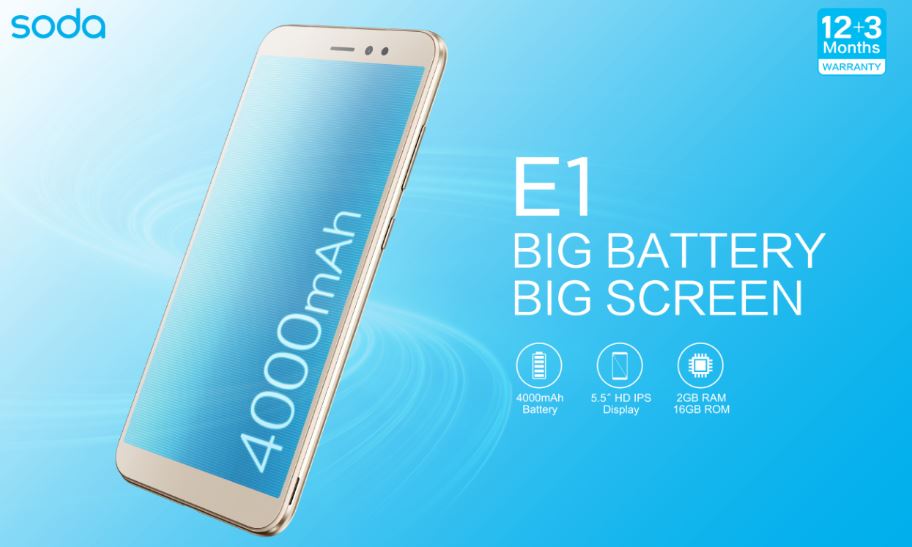 S1 Soda Phone
The S1 Soda Phone is smaller in size compared to the E1 but with a similarly sized display. Its screen is made of Corning Gorilla Glass and offers a better 1440 x 720 pixels resolution with full screen display, as well as a larger 32 GB internal memory. The highlight of the phone is its Selfie Camera, as it comes with an 8 M.pxl front-facing camera equipped with flash for better selfies. The S1 is a fun-sized phone that doesn't compromise on screen size, internal memory, or camera capabilities.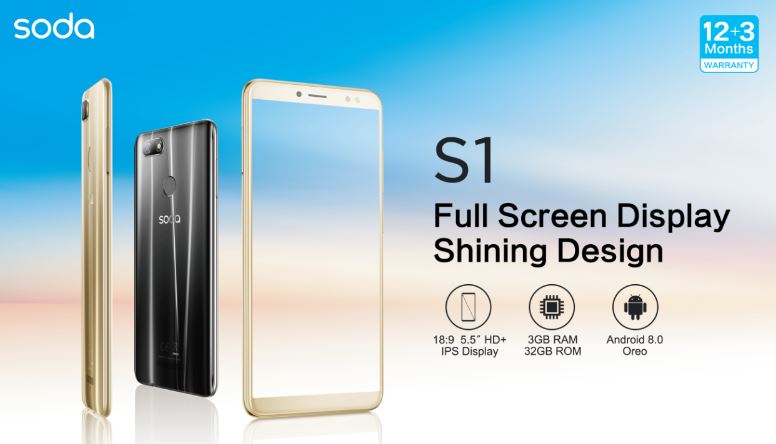 CHENYEE Soda Phone Privileges
With the purchase of a Soda Android Smartphone comes a bonus warranty of 15 months, while the warranty for the separate accessories is one year, and for the cable, 6-months. RAYA is the official service center for Soda Smartphones, so should the phone require any servicing, the qualified hands of the technicians at RAYA will do the job.
So, which is your favourite? The larger E1 with more battery life, or the slimmer S1 with a better camera and display?