Aziza Tanani: Interior Design in Egypt & the Design Emporium Nationwide Street Fair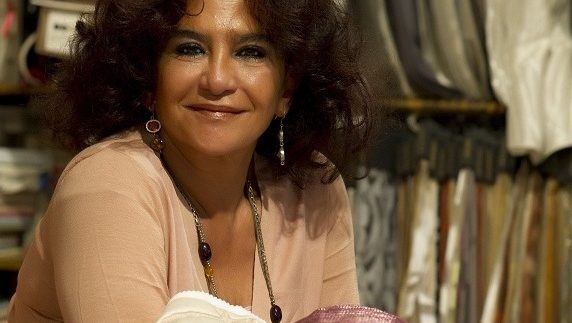 This week, Cairo, Alexandria and El Gouna will be awash with hoards of interior design enthusiasts, for the biggest interior design event Egypt has ever seen.
Design Emporium is behind it all, as the Zamalek-based interior design pioneer launches its spring/summer 2014 collections with a huge, multi-day street fair across the best showrooms in the country between the 2nd and 5th of April
It's a fitting celebration for Design Emporium, which was built on a vision that has seen it become a trailblazer in bringing the best interior design innovations from around the world. We sat down with founder, Aziza Tanani, to find out what's in store.
Design Emporium has been operating for almost 24 years – what's been the key to its success?
Customer service, keeping up with the interior design world, the great brands we represent – as their designs and quality keep clients coming back – and, the most important factor in Egypt, word of mouth.
We as a company devote ourselves to servicing clients with in regards to products, respecting delivery times and my staff's knowledge of the products. All those factors make the difference and have helped Design Emporium maintain a strong presence in the market.
How did you get involved in interior design and what are some of the obstacles you faced in founding what has gone on to be one of the most enduring local businesses in Cairo today?
I started the business by pure chance; I had a translation business in London and a friend wanted to start a soft textile products shop in Egypt. I joined her and quickly realised there was a niche in the market for good interior brands, even though I never thought I would ever come back and live in Egypt.
The greatest obstacle was the red tape and not knowing much about what you might call 'the usual' here. But we persevered and now we set the standard in the industry.
You guys bring some of the best interior design brands to Egypt – what are the Design Emporium's criteria in choosing what to stock?
We don't chose stock, we chose designers, or what they call interior world, 'editors'. We love great designers who design different collection and set the trends for the new season, so that we are always one step ahead. These are the editors that spend millions in research and development, the best materials, the producers, etc.
What do you make of local interior designers? Can they ever make a name for themselves on the world stage?
They've came a long way. There are excellent, up-and-coming designers, some of whom have won awards overseas. But not much in the textiles and wallpaper scenes, which is a puzzle to me because we were one of the world's top textile producers – for thousands of years!
There are some local brands with good designs of good quality; however, sadly, imitation is still rife in Egypt.
It's clear that the whole Design Emporium team is excited about the fair – what made you take the decision to announce the SS14 collection in such a spectacular way?
The market has seen rough times in the past three years due to the situation in Egypt. But there is a new energy in Egypt now.
The new collections are fantastic and we felt that we needed some excitement; we decided to do something different and involve other excellent designers and architect with us, so that we can all show our products. We very much believe in team work and we've been working with most of them for many years.
Other than launching the new collections, what is the aim of the fair?
It's a tool for designers to expand their perspectives and see new and different products to enhance their projects. Or, even for someone who is just interested in interior design, it's a simple way of exposing themselves to the best international and local interior design.
What are some of your personal favourite collections from SS14?
Well the ones to watch at the presentations we have are Designers Guild and Christian Lacroix at Design Emporium on the Friday 4th at 3PM and Osborne & Little and Lorca Paris at Eklego on the Thursday 3rd of April at 3PM.
For the best wallpaper collections, there is, of course, Cole & Son. We recently launched a big marketing and sales push and are getting great response from clients.
But you have to come and ask us yourself!
For more info on the Design Emporium SS 14 Collection Street Fair, check out the Design Emporium Facebook page.