Best Shops in Cairo: A Look Back At 2010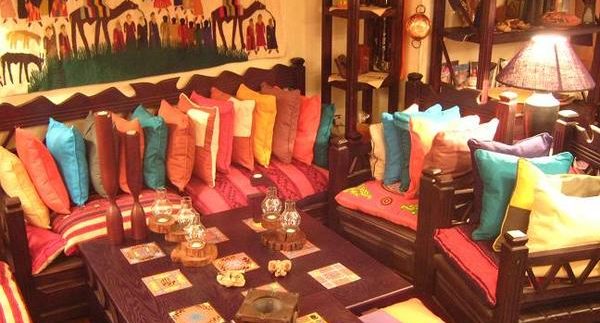 It's very difficult to rate a shop in
Cairo; one shopper's favourite can be another shopper's nightmare. We've
compiled here the best of the shops that we've reviewed during 2010, and taken
into consideration our readers' feedback. We're very proud that all our top picks are Egyptian shops that stand
their ground against the international brands operating in
Cairo. If your favourite shop is not included, or you've heard about a new
venue that deserves to be featured, let us know via Twitter, Facebook or email;
and we'll make sure to send out our spies during 2011!
Best
Jewellery And Accessory Boutique: Mounaya
Gallery
This little gallery on the Zamalek Corniche
stocks cabinets full of intricate jewellery pieces such as gold-covered rings, delicate
charm bracelets and large stone pendants, as well as bags, clothing, bedding
and home accessories such as tea sets, trays, place mats and large candles. The
one thing that all these items may have in common is that they are either all
locally made or from the Middle East region with an oriental-inspired design.
Mounaya Gallery stocks products by popular local designers such as Amina K.,
Hebz, Mailaka and sought-after regional designers such as Sarah's Bags. Buy This: Sarah's Bags come in several
sizes from miniature purses to oversized clutches, starting at 800LE. Honourable Mentions: KDS, Nomad
Best
Body Care Shop: Nefertari
This
local body care range has booths in possibly every mall in Cairo and a shop in
Zamalek. Producing 100% natural and handmade body care products with
Egyptian-sourced ingredients such as lavender, brown sugar and olive oil,
Nefertari offers a cheaper alternative to products by The Body Shop. Choose
from their body oils, foot pedicure sets, natural soaps or bath salts, or try
their selection of organic towels, robes, slippers and loofahs. Buy This: A small box of three different
and prettily moulded soaps (20LE) makes a cheap and perfect home gift, or try
their heavenly and very thick body creams (starting 30LE).
Best
Cheap Home Shop: Cavalli
Corner
This tiny shop in Maadi doesn't get the
exposure that it deserves. Located around the corner from Cellardoor
Bistro, Cavalli Corner sells very moderately priced and well-made furniture,
focusing mostly on dark wood and ethnic Bedouin accents. The owner purchases
his products from all around Egypt, including
Siwa and Fayoum, and the end result is comfortable, ethnic-inspired pieces. The shop also sells kheyameya print material, bags, kaftan shirts, framed
photographs and brass jewellery with semi-precious stones. Buy This: The dark wooden king-sized bed (2250LE) or the cream
linen curtains (starting at 75LE). Honourable
Mention: Tao,
Down
To Earth, La
Maison De Mireille
Best
Expensive Home Shop: The LOFT Gallery
The LOFT
Gallery is one of the reasons why we love shopping in Cairo. Opened in 2002, the
first-floor gallery is packed with beautiful light fixtures, old ironwork
coffee tables and painted wardrobes, all of which are heavy with a vintage,
oriental charm. Some prices are staggeringly high; but it's worth browsing
through the shop for inspiration on how to add an elegant, oriental element to
your home. Furthermore, a few consignment items can be found in the shop for as
little as 20LE. Buy
This: The Turkish-style
trays (950LE) are beautiful and can be used as wall decorations or coffee table
surfaces. Honourable
Mentions: Theodor's, Razzmatazz
Best
Designer Fashion Boutique:
HIP
With two small branches in Cairo, this
designer clothing boutique stocks edgy designer labels such as Zach Posen,
Lanvin and Alexander McQueen with amazing seasonal sales and offers. Steering
away from their contemporaries' tendency to stock over-sequined, flamboyant
pieces, HIP's selection speaks to the trendy, urban woman. Understandably, the
items on sale are very expensive, but if you know your designers, you'll
appreciate that the prices here are not much higher than in Europe or the US. Buy This: Anything during their
seasonal sales, which reach up to 80% off. Honourable
Mentions: Beymen
Best
Concept Store: Villa
Baboushka
Located
on Ismail Mohamed Street in a quiet white-washed villa, Villa Baboushka is an
impeccably designed and classy shop that makes you want to curl up on their
cream couches for a while and enjoy this boutique experience. Offering designer
clothing, costume jewellery, funky bags, art work and lighting pieces as well
as flower arrangements and cupcakes, Villa Baboushka is an admittedly pricey
but elaborate shop that caters to the chic and trendy Cairo shopper. Buy This: If you can afford them, the art
pieces (which have been collected from all around the world) are glamorous
additions to any living room. Honourable Mentions: Amuse
Best
Ethnic Jewellery and Accessories Shop: Sami Amin
This local designer works with leather,
bronze and other metals, and the products have become recognisable staples in
many Cairenes' lives. The leather bags are finely crafted and follow an ethnic
oriental design, but their quality and durability make the price tag worth it.
Take your time to browse through the Zamalek branch and you're bound to fall in
love with a leather wallet, bronze keychain or a heavy buckled belt. Buy
This: Sami Amin's wallets (between 65LE and 115LE) use thick leather with
heavy stitching and brass clasps to close. Honourable Mentions: Ganoob
Best
Bargain Shop: Soraya Mostafa's Optical Store
As much as we love our designer shades,
this year's trend in vintage eyewear has helped us stumble upon this gem of a
shop in Downtown Cairo. Located around the corner from El
Horreya Bar in Bab El Louk, this hole-in-a-wall shop sells affordable and
funky frames from all around the world. Pick out a pair of 1950s shades or
vintage aviators, or perhaps you'd like to try their collection of equally
ancient reading glasses. Eyewear starts at around 75LE and the most expensive
eye glasses may cost you around 250LE, and bargaining is actually possible
here. Buy This: Gold-rimmed aviator glasses
(75LE). Honourable Mentions: Nile
Stock
Best
Deli: Voila
Egyptians take their food seriously, which
is evident in the number of deli shops that have sprung up around Cairo in the
past year alone. We may be a little biased in choosing Voila because it is the
first and only outlet to sell Ben & Jerry's ice cream in Egypt. However,
the shop also has a wide and very impressive selection of gourmet foods,
including smoked meats such as bresaola and smoked salmon, British cheddars,
French crackers and a rack of exotic spices that would make any aspiring chef
cry. This shop is extremely expensive; so it probably won't be part of your
daily shopping round. Buy This: Ben
& Jerry Funky Monkey (20LE) or the Lockfyne smoked salmon (110LE). Honourable Mentions: Oscar,
La
Fromagerie, Gourmet
Egypt, La
Bottega Italiana
Best
Bookshop: Diwan
Despite healthy competition from its
contemporaries, this book chain made the top of our list because of their keen
interest in promoting the reading culture around Cairo and helping to expose
up-and-coming young writers. With chains all over Cairo, Diwan offers a relaxed
reading environment, where you browse through their bestsellers or magazine,
search through their used books section and DVDs, and end your day with a
coffee and a slice of carrot cake. The book chain regularly features workshops,
book signing events and seminars. You can also order any book that you want
from anywhere in the world, and they will deliver it to you within weeks. Honourable
Mentions: The
BookSpot, Books
And Books, Lehner
& Landrock
Best
Stationery Shop: Abd
El Zaher Atelier
While many shops around Cairo have caught
onto the trend of leather bound notebooks with soft, recycled paper, this shop
in Islamic Cairo has a history to it: the shop is a family business with three
generations of bookbinders who are passionate about preserving this traditional
craft. Their shelves are stocked with handmade leather journals, notebooks,
photo albums and address books. Designs vary from leather covered in Arabic
calligraphy to covers bound in kheyameya material. You can even customise your
notebook to have it engraved with a personal message in golden font. Buy This: A medium leather-bound
journal (75LE). Honourable Mentions: Qirtassiyat
Diwan, Hallmark
Best
DIY/ Art Shop: El
Nomrossy
If you know your way around a thimble and sewing
needle, then you must have heard of El Nomrossy. This tiny shop in Mohandiseen
stocks pretty much everything that you would normally go to Darb El Barabra to
buy to customise your clothing with: gems, beads, feather boas, buttons, glue
guns and multiple jars of sequins. Prices are very reasonable, starting at 0.25LE for a thimble of sequins,
and if you can bypass the nonchalant sales attendants, you can easily spend a few
hours rifting through their racks of lace and tulle. Buy This: Flower appliqués (5LE), and embellished diamond buttons
(around 15LE). Honourable Mentions: Alwan