Cairo Guide to High-End Supermarkets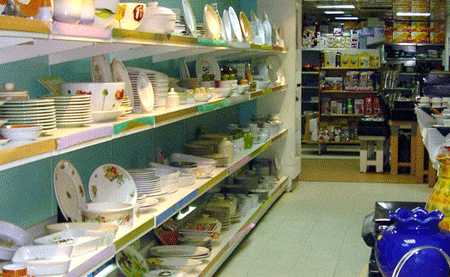 written by
Melissa Howell
With a population of
over 17 million Egyptians, Cairo has a vast number of supermarkets spread out
through the city. From neighbourhood grocery
shops and vegetable stands to supermarket chains and hypermarkets, it can be
difficult to determine where best to buy your food stuffs. While Cairo also has
its share of budget supermarkets offering local products at almost wholesale
prices, if you're looking for imported produce, head to these high-end
supermarket chains: Metro, Alfa and Seoudi. Here's what you need to know:
With over twenty
branches throughout Cairo, Metro Market is Egypt's largest supermarket chain. Aside
from causing a good deal of confusion when asking for directions– 'station or shop?'–
Metro Market offers local and imported groceries that are difficult to find at
smaller markets. Larger branches, such as the Misr-Helwan Agricultural Road branch
in Maadi, have great deli counters for sliced meat, fresh chicken, fish and
cheese. You will find a good variety of locally produced and imported sandwich
makings in a wide range of prices. Those working behind the counter often offer
you a taste of your order to ensure satisfaction with your selection.
Metro's baking section
is well-stocked with essential dessert ingredients that are sometimes difficult
to find, such as flavour syrups and imported bake mixes. Their frozen food selection is also more
comprehensive than that of their competition and if you've spent all your
energy shopping and have lost the will to cook, Metro Market's prepared food
department serves up hot items like brown rice with almonds, roast chicken and
macaroni for a quick and easy meal. Dips
such as hummus, tehina and baba ghanough are available next to a selection of
pickled vegetables, perfect for party food.
However, Metro's
produce tends to be overpriced when compared to local vegetable shops and often
overripe or poorly handled. If you're
looking for a specific shape of imported pasta, cereals or ground coffee beans;
Metro has you covered.
Shopping at Seoudi
Market is a much more intimate deli experience. It doesn't have the atmosphere of a
large chain the way Metro Market does. Seoudi has fewer branches that are generally smaller than those of their competitors. This inevitably means that Seoudi's stock is
more limited and they are prone to running out of certain items occasionally,
but you will also find it comparatively cheaper than Metro and Alfa.
Seoudi Market normally
has a great selection of fresh herbs, organic milk such as Dina Farms, Ocean
Spray Juice, and fresh cherries and strawberries. The shop also has a winning bakery, where fresh
bread is baked twice daily and far better than the bread and savoury pastry of Metro
and Alpha. Seoudi is definitely the best
spot for value amongst Cairo's major supermarkets, unless you're in search of a
rare food item, in which case; head to Alfa Market.
Alfa Market is so more
of a hypermarket than a grocery store, where you'll find everything from food
to stationary items, kitchen supplies and even sporting goods. You can pretty much furnish your whole kitchen with one shopping trip to Alfa.
The supermarket has a
wide selection of imported food items and cleaning supplies that can get pretty
pricey. You'll find the local brands too, but should you order delivery; be
sure to specify your preference or you're likely to be paying a hefty price
difference. Still, Alfa's selection of
specialty items such as dried seaweed, Hoisin sauce and other ingredients for
Asian cuisine make it a good place for more exotic finds. Their butcher counter is equally impressive: an
order of minced meat is usually ground to order from a thick fillet of beef.
Nearly any household
or kitchen appliance is available at Alpha Market, but not in the greatest
selection. Your choice is often limited
to either a lower quality or a really expensive brand, with no mid-range
appliances available. The supermarket
also has a wide range of flatware, glasses, and food storage containers at moderate
prices. TVs, computer screens and sound systems are available in the Zamalek
branch, while the Maadi Corniche branch has a good collection of sports goods,
equipment and beach toys.
Alfa also has a
selection of midrange sheets, towels, clothes, and some sporting goods. Although they won't have the best bargains in
town, the convenience of having everything available under one roof can save
you a lot of hassle.
If you're more
interested in price than imported luxury items, stay tuned to our upcoming
guide to the Best in Budget Supermarkets in Cairo.